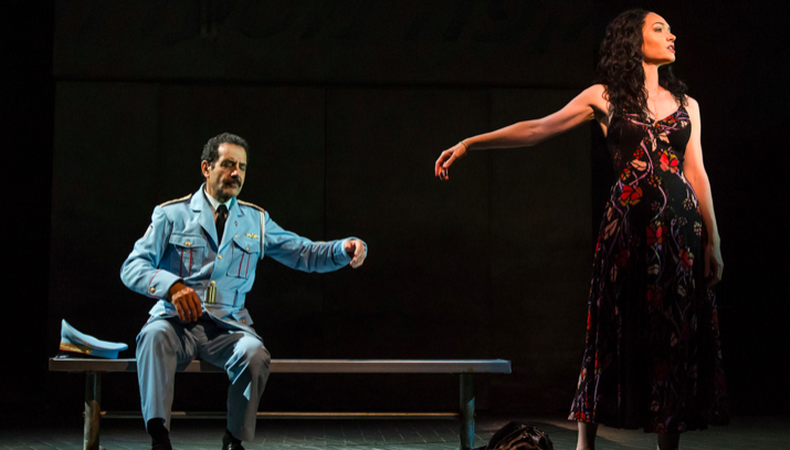 "I think you can come at something a million ways," says director David Cromer. "Since there are a million shows, there's got to be a million ways to do shows."
With Broadway's "The Band's Visit," there are now a million and one.
Based on the 2007 Israeli film of the same name, "The Band's Visit" opts for desert-fatigued stillness in lieu of ensemble dance breaks; it's not evocative through 11 o'clock ballads but elongated silences. It is, for all intents and purposes, in stark opposition to everything tradition dictates a musical should be. And yet, after a sold-out run Off-Broadway at the Atlantic Theater Company in 2016, it was swiftly ushered to Broadway, where it is now nominated for 11 Tony Awards, including the coveted best musical prize in addition to Cromer's direction.
"If I did anything, I just kind of championed the fact that it didn't have to be too much of a 'musical.' It didn't have to do all the things people think theater has to do," Cromer says of the show, which features a book by Itamar Moses and score by David Yazbek (both Tony-nominated, as well). "There is silence in life as well as talking and sound. This is an unconventional story, and it seemed to ask for [silence]."
It's an impressive—and, frankly, shocking—feat for a Broadway hit, the plot of which is practically secondary. Depicting members of an Egyptian orchestra who, through a miscommunication, find themselves stranded overnight in an arid Israeli town, the whole of the 100-minute tuner occurs over the course of one evening and subverts all intrinsic notions of what those two historically clashing cultures may bore.
That's because "The Band's Visit" is entirely disinterested in the implicit politicism of its storyline. Instead, it focuses on issues much smaller: the dissolution of relationships, the yearning for connection, anticipation that may never be realized. In the tangible sense, not much happens—and yet, everything happens. That's in large part due to Cromer's direction, and particularly, his encouragement of actors to mine the realism of human emoting, antithetical to "acting" in every traditional sense.
"This is an ongoing belief I have about the way people express something that is moving to them, that is painful for them: I don't think, generally, people act out the emotions of that when they're telling you about it," he explains. "The show is filled with things like a death or a breakup or a loss or something did not turn out the way they needed it to, and they're just facts. It's something I've said to actors for a long time. People don't act out how they feel."
Read: 'The Band's Visit' Star Katrina Lenk Is a New Kind of Broadway Leading Lady
A show that revels in what's unsaid seems a hard sell even in an intimate space, such as the 200-seat Off-Broadway house where "The Band's Visit" began. But to maintain and extrapolate that magic for a theater fives times that size, such as the Ethel Barrymore Theatre where the show currently runs, requires a tender tug and pull on behalf of both the cast and creative team.
"We constantly worried about it," Cromer admits, speaking to the Broadway transfer. "The question was whether it needed to reach the back of the house, or whether it needed to allow the back of the house access to it. We didn't think we had to shout, but we wanted to make sure the channel was open between the stage and the back of the house. The show was always set up that we wanted people to lean into it, so we just had to work to expand that."
That expansion also included the show's movement vocabulary which, again, proved highly unique for a musical adaptation of a film whose ethos dwells mainly in stasis. "It was physicalizing their anxieties, physicalizing their waiting, physicalizing their disappointment," says Cromer. "We had to figure out how to take the stillness of the film and turn it into something that would be compelling onstage—stillness that seemed to constantly be dragging itself forward, somehow."
The solution, it turned out, was lurking in a turntable, near-constantly lulling beneath the characters to insidious effect. "Everything is in a kind of strange slow motion," he says. "There's a grasping for something so that the characters are not defeated. You don't want to watch people being defeated, you want to watch people striving, even if they aren't sure they're striving. They don't know what they're waiting for, they're not even sure what they want," he adds, taking a beat. "But no one is."
That striving does, ultimately, take the form of hope. But as Cromer makes clear, hope in "The Band's Visit" is not hope as defined by, say, Obama-era grandeur or the prospect of Middle Eastern peace. Hope in "The Band's Visit" is in life's minutiae: a shared human experience, however brief, that removes a brick from a long-standing protective wall, or that helps to ignite first-time connection.
"Hope is a word that gets thrown around and it tends to suggest something overly sweet, like a baseless optimism," Cromer says. "Whereas I think hope is kind of a bitch. Hope is the difficult and complicated thing to have and to want because it comes with the opportunity for failure. But hope is life pulling you forward no matter what."
In giving its characters reason to hope, the show, Cromer suggests, gives that permission to audiences, too, however myopic that hoping may be. "One of the hopes it offers is, when you are relatively certain that nothing really good or really new or really different is going to show up in your life, it can still happen," he says. "Something new and something beautiful or something exciting can still happen to you at any point. It can still happen, and that's not a bad thing to know and not a bad thing to be reminded of."
Inspired? Check out Backstage's theater audition listings!