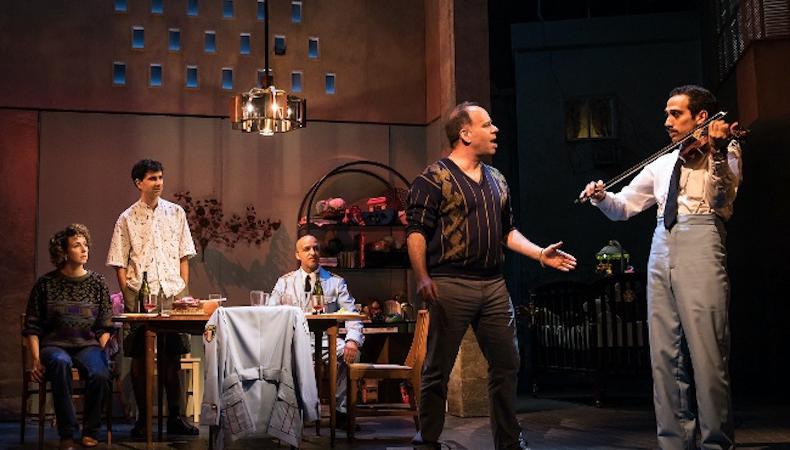 John Cariani is a stalwart of New York theater. He received a Tony nomination for his role in "Fiddler on the Roof," and was a member of the original Broadway cast of Tony-winning comedy "Something Rotten!" He is also a prolific playwright; his best-known work, "Almost, Maine," is one of the most frequently produced plays in the country. Cariani is now back on Broadway in "The Band's Visit," reprising the role of Itzik after originating it in the musical's Off-Broadway run last year. Mere hours before the show's official opening on Nov. 9, Cariani stopped by Backstage HQ to discuss the ways the piece has made him rethink acting and how its onstage musicians inspire him to make bold choices.
'The Band's Visit' has taught him to embrace the unknown as an actor.
"It's been really interesting to learn how to stay slow. [Director David Cromer] said, 'Remind yourself to stay slow.' As an actor, you're often taught, 'What are your given circumstances? What do you know?' He's told us to remember, 'What don't you know? What don't you understand?' Lean into that and it will give you the pace we want and the silence that we want."
The onstage musicians inspire him to take risks.
"The coolest thing about having musicians onstage is that they are brave and they improvise and it makes all of us actors want to be brave—not that we give the same performance every night, but really be brave and explore new territory every night, like they do. Hearing the clarinet...inspires me to go for it, to jump off the cliff, and not play it safe."
On the evolution of a Broadway performance.
"One of the hardest things about Broadway is improving badly, and I'm the king of improving badly. You want to get better, you want to improve, you want to keep it fresh and alive, and then you learn you're actually kind of ruining it. It's not bad because it's actually part of what we do, but you just have to be reminded sometimes: Remember what the story we want to tell is, and stay within the bounds of telling that story."
READ: 'The Band's Visit' Star Katrina Lenk Is a New Kind of Broadway Leading Lady
There is very little overlap in playwriting and acting.
"As a playwright, you're thinking about everything, and as an actor, you can't think about everything. You have to think about what you're doing. I like to call it 'dumbing down': dumbing down in a way that doesn't make you dumb, it just makes you open. I think [the two are] so separate that I don't think they're related, actually."
He wants to blur the line between musicals and plays.
"I'm interested in blurring that line [between plays and musicals]. I want us all to stop talking about what the difference is because I think when they're all well done, it's just great theater. Some people have come to our show and said, 'I hate musicals.' And I'm like, 'No you don't; you like this one.' "
Transferring the show from Off-Broadway to Broadway means getting to finish it.
"We got to finish what we started. I think a lot of people don't know that: A lot of times the first pass through something is often the first pass. And David Cromer said it beautifully the other day before our last rehearsal: 'We got to finish what we started.' There are probably hundreds of tiny changes [between incarnations] that add up to something very different. It's much deeper. We all know who we are now. It's such economic storytelling; we have a limited amount of time to tell a lot of story, and I feel like we all know how to do that now."
On the importance of telling all kinds of stories.
"I teach a lot of playwriting classes. I go to Maine a lot to teach because people from Maine, where I'm from, most kids haven't ever seen a Broadway show or don't have much access to a lot of stuff that people in cities do. They're underprivileged in a way that people don't necessarily think of as being underprivileged. I'll go to Maine anytime and teach because I want people there to have confidence in where they're from and what they do for a living, whether it's working at a factory that makes french fries or working in a mill. Telling stories about being a lobsterman is important because people need to know stories about people who work for a living; people who work for a living actually know what's going on in the world."
Check out Backstage's theater audition listings!