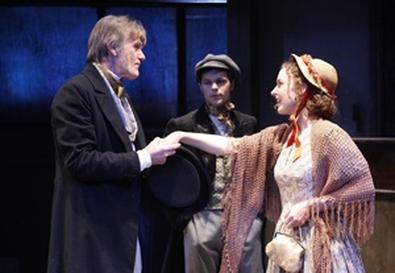 They were known as the draft riots, a week of violence that pitted mobs against the authorities and ethnic groups against each other. Out of such raw material, Peter Quinn fashioned his 1994 novel "Banished Children of Eve." As adapted for the stage by Kelly Younger, in a world premiere at the Irish Repertory Theatre, this potentially fascinating slice of history misses the mark.
New York City, July, 1863: The Civil War rages on. A conscription act is passed, calling up able-bodied men, except those who can scrape up $300 to buy themselves out of the draft. On one side, the Irish, many newly arrived from Europe. On the other side, blacks freed from Southern slavery. Both vie for jobs, leading to underlying tensions egged on by whites, who so fear both "the other" and their own impending loss of status that they quickly form themselves into rampaging mobs.
Younger tells the tale through characters who represent various points of view. Jack Mulcahey (David Lansbury) is a white actor who blacks his face to play a minstrel man. Co-starring in the show is his mulatto lover, Eliza (Amber Gray), who used to clean fish at the Fulton Market with the Cassandra-like Euphemia Blanchard (Patrice Johnson). Jack and Eliza have a child, the dark-skinned Squirt (Christopher Borger), who must be hidden from the rioters. Also in the mix are Jimmy Dunne (Jonny Orsini), a young Irish American being taught to thieve by the all-American "Yankee scum" Waldo Capshaw (Graeme Malcolm), and Margaret O'Driscoll (Amanda Quaid), the girl Jimmy seems to be romancing.
Hovering over the action is the strange figure of Stephen Collins Foster (yes, that one), now a drunk at the end of his career. As played by the accomplished Malcolm Gets, he wanders through the action like a ghostly observer, playing the piano and at one point singing "Beautiful Dreamer." Unfortunately, like the play itself, Foster, tenuously connected to events, drifts in and out. Hints of what might have been, how these great gobs of narrative might have been handled, occur in the opening and closing scenes, which border on the surreal. Sounds (bottles banged, fish scraped, bells rung) and bodies in motion create a cacophony of confusion and vitality that mirrors both the riots and the verve of a big city.
When Younger gets down to the main plot, he cannot tame the vast canvas that Quinn painted upon. Considering the source material, a 612-page novel, the evening is necessarily more cinematic than theatrical. Perhaps that's the path that should have been emphasized. The acting is uneven, but director Ciarán O'Reilly does keep it all moving along. Many scenes work well individually, and set designer Charlie Corcoran's sliding panels are an asset. Tellingly, however, it's Foster's story that is most engaging. At the end, when his wish to add music to a version of "Uncle Tom's Cabin" is finally realized, we get a tinge of how Quinn's novel might have been reimagined for the stage.
Presented by and at the Irish Repertory Theatre, 132 W. 22nd St., NYC. Oct. 24–Dec. 3. Wed.–Sat., 8 p.m.; Wed., Sat., and Sun., 3 p.m. (No performance Thu., Nov. 25; additional performance Fri., Nov. 26, 3 p.m.) (212) 727-2737 or www.irishrep.org. Casting by Deborah Brown.