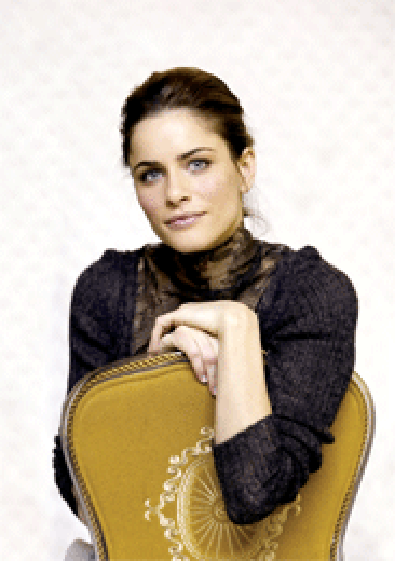 Amanda Peet has revealing thoughts about making her Broadway debut. She is terrified--stage fright for her is a constant battle--but her anxieties have more to do with "live performance and the number of people in the audience" than the pressure and high-profile exposure of Broadway, she maintains. And while a Main Stem credit--playing a lead role, no less--looks good on the résumé, it's not necessary for an acting career. Indeed, the 34-year-old Peet, who already has a number of high-profile movies under her belt (including Something's Gotta Give, with Jack Nicholson and Diane Keaton, and Woody Allen's Melinda and Melinda), insists she didn't decide to do the old chestnut Barefoot in the Park as a career steppingstone. The turn-on was the chance to perform in a "Neil Simon play and work with such actors as Patrick Wilson and Jill Clayburgh," she says.
And there is another-almost mystical-motivation behind Peet's decision to take on Simon's 1963 play: It's nothing short of destiny, she suggests a little self-consciously. "When I was a student of Uta Hagen, she assigned me a scene from Barefoot in the Park. Uta thought the role was perfect for me. And she gave me the secret to understanding Corie," recalls Peet, a reserved and thoughtful New York City native. "So when [director] Scott Elliott approached me, I felt I had to do it. It was my way of honoring Uta, and perhaps even impressing her from beyond."
Set in 1965--Elliott has updated the play by two years--Barefoot in the Park is a romantic comedy that peeks into the lives of newlyweds Corie and Paul Bratter (Wilson), who have just moved into their first apartment, a rundown walkup. They are madly in love but have little in common. Corie is a free spirit, while her husband shows himself to be a buttoned-down, not especially fun-loving attorney-a Felix Ungar prototype. Their marriage begins to unravel--with Corie threatening divorce--following an ill-fated evening on the town that includes Corie's widowed mother (Clayburgh) and the Bratters' aging bohemian neighbor, Victor Velasco (Tony Roberts). Corie is hopeful that her mother and Victor will hit it off. Neither knows it's a romantic setup, and nothing goes as planned.
Barefoot in the Park, slated to open this week at the Cort Theatre on Broadway, is full of acting challenges for Peet, starting with Corie's relentless innocence. "It's very hard to play naïveté without playing dippy," Peet says. "Corie is truly hurt about Paul not being the man she thought he was. I have to commit myself, as honestly as possible, to the experience of disillusionment and loss.
"And I can't look at this play from the outside, because then I start playing ideas: the idea of youthful exuberance, the idea of the '60s housewife, the idea of being effusively, ecstatically in love," she continues. "Playing an idea is always a trap and nowhere more so than in comedy. The key to playing comedy is to play it seriously--as if it were a drama--and then there will be comedy."
Comedy also requires onstage ease, and that's no laughing matter for Peet, who, as noted, suffers from stage fright, which "doesn't let you do your job: to use whatever it is that's happening onstage and to allow your imagination to wander freely. When you're nervous, you're orchestrating and controlling and trying so hard to be good that you're not. And it's that much more difficult with comedy." Still, she feels lucky because "I'm onstage nonstop from the beginning. That leaves little room for stage fright outside of the first few moments."
And Peet does not find the play's premise implausible: ostensibly loving newlyweds who are ready to split in the wake of one disastrous nocturnal outing, or even a husband and wife who are temperamentally worlds apart getting together to begin with.
"I do think opposites attract," she contends. "Corie and Paul have amazing sexual chemistry. And in the old days, if two people felt fireworks for each other, they got married without necessarily knowing each other too well. Corie is not just reacting to a bad evening but [to] her growing conviction that Paul can't let go and be wild. The failed evening is symbolic of a larger issue."
The Los Angeles-based Peet was seen on the New York stage last season in the Public Theater's production of Neil LaBute's This Is How It Goes, opposite Ben Stiller and Jeffrey Wright. Among her other theatre credits are Whale Music (Rattlestick Theater), The Country Club (Long Wharf Theatre), and Awake and Sing! (Jewish Repertory Theatre, opposite Stephen Lang and Tovah Feldshuh).
Among her other screen roles, Peet has appeared in such films as Syriana, A Lot Like Love, The Whole Nine Yards, Igby Goes Down, Changing Lanes, and Identity. She recently completed filming The Martian Child, Fast Track, and Griffin and Phoenix, the last with Dermot Mulroney, and will be starring as a network executive in Aaron Sorkin's new television drama, Studio 7.
Peet is doing mighty well, thank you. And Elliott has no doubts about his decision to cast her as Corie. "I've been in love with her from afar for years," he says. "She makes me laugh until I cry. She has an honest, joyful quality that's perfect for Corie. There's not a jaded or cynical bone in Amanda's body. She's delicious.
"Amanda brings a warmth to the role that Jane Fonda in the movie version did not," Elliott continues. "While Fonda was funny but brittle, Amanda brings a vulnerability to the part. During the fight scene with Paul, she has emotional depth that moves me--and she's also hilarious. And she's able to embrace physical comedy without pushing. Amanda reminds me of Lucy [Ball]."
Co-star Wilson agrees. "There are few people who are that pretty and funny, that vulnerable and believable. It's amazing," he says. "Amanda is honest, open, and excited about everything. Her enthusiasm and energy keep us working and keep us all alive. She's also very giving and open to someone else's suggestions." He adds, "Amanda has big shoes to fill"--not only Fonda's but also Elizabeth Ashley's in the original Broadway production. "I admire her for taking a big risk in doing this."
A Theatre Fan From Early On
As a youngster Peet did not know what she wanted to do with her life, although she adored movies and plays. Her parents--a lawyer father and social-worker mother--frequently took her to the theatre when they lived in New York and during the four years they were relocated in London. "If I loved a performance, I'd become obsessed and at the end of the show just sit there and stare," she says. "I couldn't leave the theatre. I remember my feelings when I saw Judith Ivey in Lanford Wilson's Moonshot and Cosmos, and then Lili Taylor and River Phoenix in the film Dogfight."
After graduating from Manhattan Friends, a Quaker high school, Peet attended Columbia University, where she majored in history. "By my junior year I felt rudderless," she admits. "But I still had that passion for theatre and actors, and I spent a lot of time reading movie magazines. I was infatuated with stars and celebrity and glamour."
Peet was determined to give acting a shot and started training with Uta Hagen. During the four years she studied with Hagen, Peet graduated from Columbia and began pounding the pavement in search of jobs and agents. She landed her first agent, Stephen Hirsh (now with the Gersh Agency and still Peet's representative), the summer of her junior year. "I got him by auditioning for him. I wasn't a natural, and I wasn't very good at auditioning," she says modestly. "But that was a good day."
Assignments began trickling in, and by 1999 Peet was cast in the WB sitcom Jack & Jill, which ran for two seasons. Her move to Los Angeles at the launch of the show was terrifying. "I would not have gone to L.A. without a job," she says. "To me Los Angeles was a scary and dangerous place where all the women had fake boobs and everybody smoked cocaine and did neurotic things." Experience changed her view: "I found that the smartest people I've ever met live in L.A."
Working on television was crucial to Peet's professional and artistic development, she says. The speed involved in churning out episodic TV circumvented her paralyzing fears. "You learn the lines and shoot the scenes," she notes. "You have no choice but to go with your intuition. Working on TV brought me back to the freedom I had when I was 13."
Television also paved the way for a major career turning point: co-starring with Bruce Willis in The Whole Nine Yards, a comedy in which Peet played a hit woman. She auditioned for the role three times, and she acquired a personal manager at the same time.
"Truthfully, I wasn't sure what a manager did that was different from an agent. But my manager, Eric Kranzler, explained that an acting career is not unlike a swimming race, where one-tenth of a second can make the difference. Eric said that's where the manager comes in--creating that winning one-tenth of a second with those extra phone calls, propaganda, and buzz." Peet credits her manager with helping her get the Whole Nine Yards job, and she has great feelings of gratitude toward Willis as well: "I will always be indebted to him. He picked me out of nowhere and changed my career. He is also a lot of fun to work with, very available as a person, and present as an actor."
But as a result of that film, "for the next two to three years no one would consider me for a dramatic role," she says. Two small independent movies changed that perception: "In Igby Goes Down I played a heroin junkie, and in Changing Lanes I played Ben Affleck's conniving Upper East Side wife."
Peet emphasizes that while appearing in those films may have been a good career move, she was not the one choosing her projects. "Early on in any career you don't make too many choices," she points out. "In Hollywood it's very difficult to say no to anything if you've been invited to the party and want to be at the table. And I wanted to be at the table.
"Of course, there are roles I took at that time that I now regret," she confesses. "I won't say which ones, but I will say that the problem was not that they were small supporting roles. Actors shouldn't be afraid to take small roles--especially if those roles demonstrate an actor's versatility. Thanks to some of those small roles, I was no longer seen as a one-trick pony."
As noted, Peet has been tapped to work with people such as Keaton, Nicholson, and Allen, and intimidation has been her constant companion. Nonetheless, she's enjoyed working with the superstars.
On Nicholson: "He's exactly what you'd think: a lot of fun, a big heart. He loves acting. He revels in it."
On Allen: "He has a no-fuss directing style that I like. He's not interested in talking about a character's backstory or whether an actor's hair is right."
On Keaton: "Very few people in the universe are as unpretentious as she is. I'm a little surprised she doesn't understand she's an icon. Her inimitable style makes her one of my favorites."
Peet would love to do more film work in addition to certain coveted stage roles, such as Desdemona in Othello and Lady Kate in Henry IV, Part I. "Playing Amelia Earhart would be nice," she adds.
Sentimental Journey
At the moment, however, Peet's thoughts are centered on Barefoot in the Park and the journey she has taken, specifically as a child of the '80s, not the '60s. A leap of imagination was called for to place herself in that heady moment of history just prior to the sexual revolution and the women's movement. Indeed, Elliott moved the play's setting to 1965 because he wants the piece--and the characters' conflicts--to foreshadow, however subtly, the changes that lie ahead.
Peet talks about how the vintage costumes evoke the era and about Corie's particular sensibility. The '60s predate the actor, yet they make her feel nostalgic and "sentimental about my mom," she says. Abruptly, she is pointing to a photo, one of many family shots taped to her mirror. The picture features a young woman in a miniskirt standing in front of a VW bus and beaming happily. "My parents were on their honeymoon," Peet says, explaining the occasion for the photo. "They ultimately got divorced, and it was a rude awakening for my mother, who was truly an innocent. The picture shows a woman full of hope who cannot imagine what lies ahead. My mother was a free spirit who wasn't able to spread her wings. Wearing that dress onstage and then looking at the photo clues me in to the poignancy and helps me feel moved by Corie's situation. Instead of judging her, I feel supportive. It's crucial that I feel supportive as opposed to blaming her for sounding whiny, annoying, or babyish.
"What most prepared me for playing Corie, however, was the work I did with Uta Hagen," she continues. "Uta said Corie's secret--and it's the key to understanding the big fight she and Paul have--is that on some level Corie believes she did something terribly wrong to her mother that evening. Although she strongly defends her move--introducing her mother to Mr. Velasco--Corie has to suspect she put her mother in an awkward position and deceived her. Uta said that fanaticism of any kind comes from insecurity and uncertainty. Certainty always belies insecurity."
Peet is not certain about anything, short of her desire to act. And she is willing to take risks onstage--metaphorically removing her shoes for a barefoot romp on Broadway.