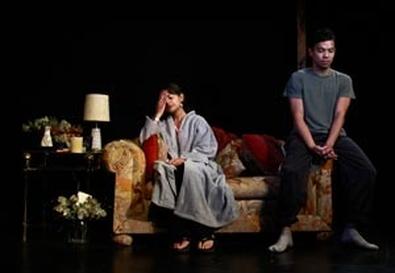 By the first anniversary of Sept. 11, so many playwrights had been inspired by the terrorist attacks that a marathon at Town Hall titled "Brave New World: American Theater Responds to 9/11" featured 50 such plays. That same week, Rehana Lew Mirza's "Barriers," a look at how the event's repercussions affected a New Jersey Muslim family, debuted at Here Arts Center. On the 10th anniversary of the attacks, there is, for better or worse, a resurgence of Sept. 11 plays, including revivals. One of those is "Barriers," which has returned to Here with a new subtitle, "Ten Years Later, a Look Back."
It is four months after the attacks, and the members of the Abbas family are suffering. The father, a Pakistani immigrant, no longer gets along with his wife, a Chinese immigrant who converted to Islam when she married him. She accuses him of seeing another woman. Their 16-year-old son has dropped out of high school, probably out of fear of getting beaten up, as happened to a classmate. Their daughter, who is getting her PhD, returns home with the aim of telling her parents that she is engaged to marry a professor, a difficult mission for her at least in part because he is white. Prank callers constantly ring their phone but hang up when a member of the family answers. Halfway through the 90-minute play, we learn that their oldest son was killed in the Twin Towers.
In the program, Mirza explains that her decision to revive "Barriers" is intended to help counter current anti-Muslim hysteria in the West. Unfortunately, director Colette Robert's production is not effective enough to do that. The script is cluttered and too often vague, and the six-member cast is uneven, though there are standout performances from Pooja Kumar, as the daughter, and Jon Norman Schneider, as the teenage son.
At its best, though, "Barriers" offers a few telling glimpses of a time whose details we might not realize we have forgotten. The father holds up one of those then-ubiquitous "Missing" posters, outraged that the photograph of his son on it has been defaced. At another point he says, "Every day I sit at my desk, I smile at everyone who tiptoes around me like I have explosives tied to my back."
Presented by Desipina & Company at Here Arts Center, 145 Sixth Ave., NYC. Sept. 9–18. Tue.–Sat., 7 p.m.; Sun. 2 p.m. (Additional performance Sun., Sept. 11, 7 p.m.) (212)352-3101, (866) 811-4111, www.theatermania.com, or www.here.org.