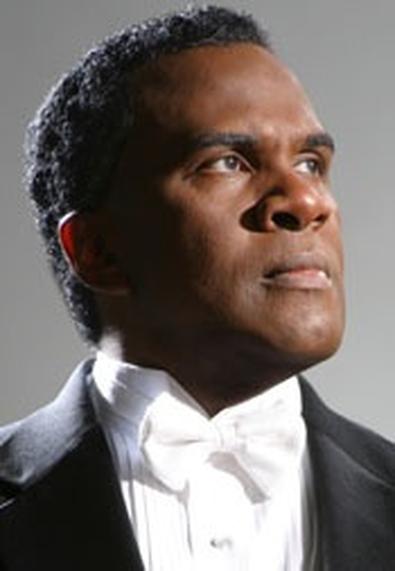 NASHVILLE — Veteran actor, playwright, and director Barry Scott loves to compete. But whether on the football fields he graced as a young man or on the stage today, his focus, he says, isn't on just winning. It's on making himself and his community stronger.
"I think I pursue arts in the same way I pursued sports," says the 51-year-old Scott, sitting in a conference room near the theatre he manages at Tennessee State University. "Through my father and mother I learned that sportsmanship was more important than winning the game. I think I chose theatre as I chose sports — it gave me the chance to express myself."
And certainly Scott has done a lot of expressing. For one thing, he manages the Tennessee State University Performing Arts Center's Cox/Lewis Theater. His lengthy résumé also includes work as a producer, teacher, motivational speaker, and voiceover artist. He's also a community activist who was chosen Nashvillian of the Year in 1993 by a panel of city leaders. Fourteen years ago, Scott founded the American Negro Playwright Theatre (ANPT), which has produced such works as A Raisin in the Sun by Lorraine Hansberry and Looking Over the President's Shoulder, a play about Alonzo Fields, the first African American chief butler of the White House, directed by Emmy-winner Robert Guillaume.
"A lot of things ANPT has done have a historical foundation," Scott explains. "It is a classic approach to telling stories that must be told. But we also want to give Nashville audiences the chance to see top-notch actors in productions that deal with life as it is today" — hence such recent works as William A. Parker's Waitin' 2 End Hell, which Scott directed, about a contemporary husband and father struggling to define his role within the family. "We're constantly exploring the relationship between our artistic endeavors, the needs of the community, and the growth of Nashville. A show like Waitin' 2 End Hell is modern. It's relevant."
Those who have worked with Scott in any capacity talk about his dedication to fellow artists. When New York producer-director Woodie King, Jr. (For Colored Girls...) directed Scott in a 2005 production of August Wilson's The Piano Lesson at Tennessee Repertory Theatre, he remarked in an interview with The Tennessean how Scott "easily moves from actor to playwright to director," how he "shares his knowledge with younger blacks who want to be a part of the black theatre," and how he "always brings new insights into a rehearsal."
Scott's friend and colleague, actor Kenneth Dozier, offers a similar assessment: "I think Barry is a very sincere artist. He approaches the craft with dignity and intensity and thoroughness. He challenges you to go further."
For several years, Scott has been speaking the words of Dr. Martin Luther King, Jr. in a piece he created called Ain't Got Long to Stay Here. While Scott has presented the play on stages nationwide, two venues stand out: the Ebenezer Baptist Church in Atlanta and the Dexter Avenue Baptist Church in Montgomery, Ala., both places where the slain civil rights leader once preached.
Scott's convincing portrayal one led King's widow, Coretta Scott King, to seek him out during the intermission of a performance in Atlanta. "She thanked me for causing her to think about things she hadn't thought about since her husband was alive," Scott says. "After the show we had a long discussion...everyone had left by the time we went out the door. I cherish that experience with her."
Here's another example of how Scott's competitive streak fuels not only his quest for self-improvement but his efforts toward social progress. "I'm not concerned with how much money we make, or doing something just for ourselves in isolation from our community and its needs," Scott says. "Our work is about — and for — the community."