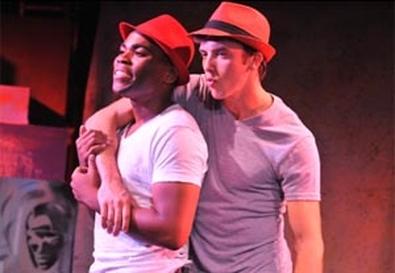 There probably isn't a show in town that feels more "on the fringe" than this thrilling hourlong musical by co-writers Chris Craddock and Nathan Cuckow and composer Aaron Macri. The Canadian-bred two-hander makes its West Coast bow, offering an inspirational portrait of gay marriage, simultaneously recounting a harrowing story of a horrendous hate crime. The shared creative voice of the collaborators is profound and uncompromising, boasting up-to-the-minute relevance. This knockout entertainment is consummately staged by director-choreographer Ameenah Kaplan, kicked into high gear by two electrifying performances and the masterful contribution of music director–electronic accompanist DJ Jedi.
The gripping narrative, set in Canada, might be considered a "West Side Story" for the 21st century. In a rousing prologue, we are introduced to this tale of two star-crossed lovers by narrators: the fey Feminem (Sean Bradford) and the self-assured homeboy T-Bag (Chris Ferro). As the story gets under way, Ferro takes his primary role: as Dillon, a teenager who has left home due to gay-intolerant parents. Bradford plays Jack, the streetwise but pure-hearted youth whom Dillon meets in a bar. The two fall in love and are ecstatic to get married when Canada passes its Civil Marriage Act of 2005. Their joy is short-lived when Jack is brutalized by homophobic punks and the enraged Dillon becomes a time bomb waiting to unleash revenge.
Kaplan's enthralling staging is buoyed by the nonstop energy of the performers and the pulsating power of Jedi's musical backup. The dialogue and narration are almost entirely conveyed in hip-hop verse. Bradford and Ferro display astonishing versatility—playing multiple characters, such as parents of the youngsters, and going through their dance steps with grace and panache. Each is extremely likable, which is crucial in making the characters' journey meaningful. The brilliant text brings the material full circle, as the piece ends on a note of resiliency and hope.
Evan Bartoletti's imaginative scenic design reconfigures the Celebration space to give the show a stunning immediacy. The shifting moods are further enhanced by Christian Epps' lighting, Naila Aladdin Sanders' costumes, Marc Rosenthal's amazing projections, and Robert Arturo Ramirez's sound design.
This is the final Celebration production to be overseen by artistic director Michael A. Shepperd. He ends his three-year tenure eloquently, bringing us a galvanizing production among the Celebration's 29 years of credits.
Presented by and at the Celebration Theatre, 7051B Santa Monica Blvd., Hollywood. June 10–July 22. Thu.–Sat., 8 p.m. (323) 957-1884. www.celebrationtheatre.com.