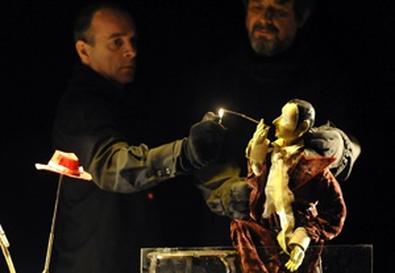 In the opening image of "The Battle of Stalingrad," the puppet-theater piece by Georgian writer-director Rezo Gabriadze, now in a return engagement at Lincoln Center Festival 2010, a peaceful, melancholy face emerges from a mound of sand, followed somewhat delicately by its corpselike body. The ghost methodically recovers tokens—a flag, a helmet, a cross, a star—and presents them to us before returning to a seemingly endless slumber. This brief but memorable scene anticipates the structure of the 90-minute performance to follow. From the sands of a forgotten history, half-remembered stories and dreamlike fantasies vanish as quickly as they appear, leaving behind the awesome responsibility of remembering.
"The Battle of Stalingrad" commemorates the battle that altered the course of World War II, leaving over 1.8 million dead and its eponymous city demolished. Rather than deliver a historical account of the battle, Gabriadze offers a series of fantastical vignettes. An aging Kiev handyman compares human restlessness to the ever-agitated amps and volts of electricity. A young soldier tries to halt his beloved's wedding to another man. In the one recurring plot, a horse and his lover (also a horse) seek a moment of bliss amidst growing chaos. They find it in death, as do each of the characters, snuffed out at the end of their scenes like candles after a séance. More abstract sequences—boat masts and soldiers' helmets cross the stage like phantoms—along with the sounds of battle and occasional Russian folks songs add to the sense of the evening's slippery transience.
Just as a funeral depends for its full effect on knowledge of the deceased, so "The Battle of Stalingrad" will stir most those with a relationship to the real event, whether through their own memories or family lore. Many audiences in America, where Stalingrad is not as well remembered as Normandy or Iwo Jima, may feel disconnected. But the shock of war and the transience of life are universal themes. On top of that, the company's first-class puppetry would be memorable regardless of the subject. Fragile yet remarkably expressive, the puppets' physicality is the perfect medium for Gabriadze's blend of the vital and the vanishing.
Presented by Rezo Gabriadze Theatre as part of Lincoln Center Festival 2010 at the Clark Studio Theater, Rose Building, 165 W. 65th St., 7th floor, NYC. July 20–25. Tue. and Fri., 7 p.m.; Wed. and Thu., 6 and 9 p.m.; Sat. and Sun., 3 and 7 p.m. 212-721-6500 or www.lincolncenter.org