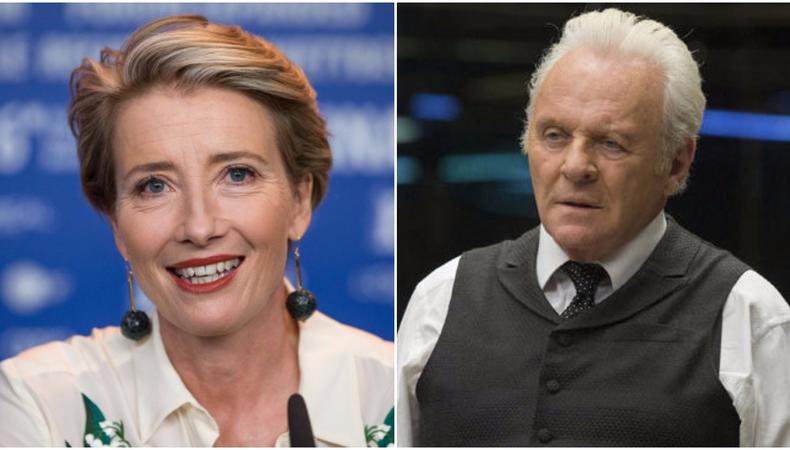 Welcome back to another Backstage roundup of news from stage and screen. We'll be looking at stars of tomorrow, long hours today, and what Brexit will bring in years to come. But first, let's look at some casting news for Shakespeare on screen.
BBC lures a star cast for "Lear".
Emma Thompson and Anthony Hopkins are to reunite for the BBC's upcoming "King Lear". They lead an all-star cast including Emily Watson, Christopher Eccleston, Jim Broadbent, and Jim Carter. Adapted and directed by Richard Eyre, the screen "King Lear" is a BBC co-production with Amazon Studios and begins filming this month, arriving on BBC Two in 2018.
Hopkins and Thompson have on-screen history, having previously starred in Oscar-nominated films "The Remains of the Day" and "Howard's End". Richard Eyre and Emma Thompson are also fast friends and workmates, the two having just finished shooting "The Children Act", an adaptation of Ian McEwan's novel of the same name.
The upcoming "King Lear" is set in an alternate England of the present day, with Lear presiding over a totalitarian military dictatorship. Thompson will play his eldest daughter Goneril, Emily Watson is middle daughter Regan, and Florence Pugh will be the youngest, Cordelia. Jim Broadbent plays the Earl of Gloucester and "Sherlock" star Andrew Scott will play his son Edgar. "Downton Abbey" butler Jim Carter will play the Earl of Kent, with Christopher Eccleston as Oswald. Also in the cast is Tobias Menzies, Anthony Calf, Karl Johnson and John Macmillan.
The stars of tomorrow have just been anointed.
Screen International has released their list of stars of tomorrow, an annual celebration and showcase of up and coming film talent from both sides of the camera. They have an exciting track record of predicting emerging actors, directors, producers, and writers with past lists featuring Benedict Cumberbatch, Oscar-winner Eddie Redmayne, Carey Mulligan, and John Boyega long before they hit the big time. Last year included Florence Pugh ("Lady Macbeth" and the upcoming BBC "King Lear") Fionn Whitehead ("Dunkirk"), and Josh O'Connor ("God's Own Country").
And now some theatre news!
New British musical "The Grinning Man" is set for a London transfer at the end of the year. Based on "The Man Who Laughs" by Victor Hugo, the musical with book and lyrics by Carl Grose follows an orphan who is scarred with a smile. It has music by Tim Philipps and Marc Teitler and is directed by Bristol Old Vic's Tom Morris. The world premiere in Bristol last year starred Louis Maskell who is continuing on to Trafalgar Studios when the production opens in mid-December. The rest of the cast is yet to be announced.
Barrie Rutter is to star in "The Captive Queen" at Shakespeare's Globe. Rutter, best known as the outgoing Artistic Director of theatre company Northern Broadsides, will play the role of The Emperor in his own reimagined version of John Dryden's 1675 drama in the Sam Wanamaker Playhouse from February next year. It is a co-production with Northern Broadsides.
"An American in Paris" is closing at the Dominion Theatre in London. The final performance will be on the Jan. 6. The George and Ira Gershwin musical has been running for nine months.
BECTU to hold a Brexit event.
Union BECTU is holding an event called "Your Industry Your Voice" to discuss the impact of Brexit on the screen industry. Taking place on Oct. 18 in London, the talks will also look at working practices including days longer than 10 hours and safety and wellbeing for workers.
Organised in partnership with the London Production Division, a union for crew members, the talks aim to tell audiences "what to expect" from Brexit. BECTU says that film, TV, and commercials "contribute billions to the economy" and are driven by a "diverse and multi-national workforce". Speculation around how Brexit will change the makeup of casts, crews, and the funding landscape is ongoing in the industry, with reports that future projects have been shelved and that international relationships and distribution models for content will have to be radically rethought. The founder of Raindance spoke about his concerns ahead of the festival launch last week.
BECTU will also be exploring working hours with their "Eyes Half Shut" campaign. Having conducted industry research, the union will present findings that reveal poor working conditions for many crew members. They hope to challenge the culture of unnecessarily long hours and poor management practices. Read more and sign up for the event here.
You're all caught up on the news from across the industry this week! We'll be back next week with another roundup.
Check out Backstage's London audition listings!