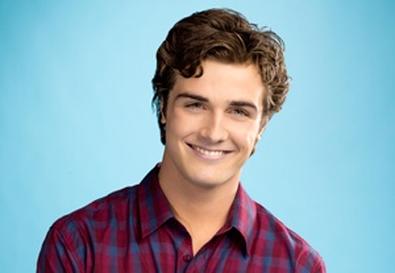 At 23, Beau Mirchoff has already made a name for himself in both film and television. He got his first big break in 2006's "Scary Movie 4," and three years later landed a recurring role in the ABC series "Desperate Housewives." Now, Mirchoff is most recognizable as Matty McKibben, the athletic heartthrob in MTV's teen drama, "Awkward," which has its second season premier on June 28. But despite this success, Mirchoff says that he's still "figuring it out." He hasn't stopped growing and learning as an actor, he says, and continues to take classes every week.
"My work is always changing; my process is always changing," says Mirchoff. "I'm always finding new things that work for me. It's an evolution."
Back Stage caught up with Mirchoff to talk about the show and how he keeps developing as an actor.
When did you decide to become an actor?Beau Mirchoff:
When I was probably 5 or 6, my mother put me into an acting, singing, and dancing class. I remember really enjoying it, but I was also very self-conscious of the older kids. I didn't think it was cool. I didn't get along with anyone, and I wanted to leave. And then when I was 12 years old, my sister was acting and she had an agent. I met her agent and I expressed interest. She said "OK, get in acting classes and then we'll talk." I did, and I started auditioning, and it pretty much writes itself from there.
What kind of classes did you take?Mirchoff:
I started in a scene study class, which went over everything — objective, circumstances, tension. It was great to do at such a young age, but I don't think I really started fully grasping it until a few years later. I'm still sort of figuring it out. I did private [classes] with an acting coach later, when I was 16 until I was about 19. He was a very creative guy, and we were able to collaborate on things. That was when I really started enjoying it. I was like, "Wow, this is really fun, coming up with things and trying things."
Now you're starring in "Awkward." What did you think when you first read the script?Mirchoff:
I loved it. I really loved it. It was very fast-paced, and I felt that the characters were all really well-developed. It's a nuanced story, and it was fun and kind of just different. It wasn't a trite piece of work that you come across. It was new. I laughed out loud when I was reading the script.

How does "Awkward." compare to other projects that you've done?Mirchoff:
I would say "Awkward." is more easygoing. You have more capabilities and freedom to do what you would like to do. Everyone is very open to your ideas and what you think the scene should be, so that's what's been a little more fun to do. It's just faster, too. We only filmed "Awkward." in eight weeks. You just move a lot faster [compared to film], and you have to be prepared because you're only going to get a take or two. That's a little daunting for some people. I 'm very grateful that I've had experience in previous TV shows, so I kind of understand the format. I'm able to do it in a take or two, and I don't go home hating myself, thinking that I didn't get it.
Are you still taking acting classes? Mirchoff:
All through filming, I was still in a scene study class, workshopping a scene or a couple of scenes. That's the most fun for me. We do scenes from plays. We're actually in pre-production now, we're putting on a production in August. So I'm really excited. "Awkward." is a little different, especially my character. I don't get as much to do as I would in a play. I think [taking classes] keeps you better; it keeps your mind working. We're constantly evolving.
What advice would you offer an aspiring actor?Mirchoff:
Get in a class where you feel comfortable — maybe not comfortable, that's not the right word. Get in a class where you can do scene study, you can do plays, and you have a coach who will tell you the truth, not stroke your ego, and give you the advice that you need to hear, not what you want to hear, so you can grow as an artist.

The season two premiere of "Awkward." airs on MTV on June 28.