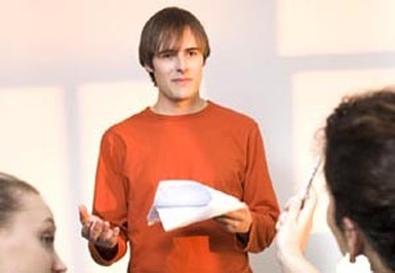 Geoffrey Soffer, a New York–based casting director who has headed his own company, Geoffrey Soffer Casting, for one year, casts "Ugly Betty" for ABC and "The Beautiful Life," a new drama produced by Ashton Kutcher, for the CW. From 2003 to 2008, he was a casting director at ABC, where his credits included "Dirty Sexy Money" and "Army Wives" (for Lifetime) as well as pilots, TV movies, and miniseries. Before that, he was a casting associate at New York's Roundabout Theatre Company. For the last six years, Soffer has also taught a class in auditioning for television at the Brown University/Trinity Rep Consortium. He has been an actor and studied musical theater at the University of Cincinnati's College-Conservatory of Music.
Your Passport to the CD
We look at everything that comes in—well, as much as possible. Though now, with two shows, we get twice as much mail. But we do bring in actors without representation, actors just starting out.
The headshot is the passport into the casting director's office. It has to say something about who the actor is. There are many headshots that are general. Actors try to stay in the norm, and that may not be true to who they are. A pretty headshot does not always serve the actor in terms of getting an audition. The headshot has to capture the actor's personality and let us know what we can cast him in, especially if we don't know who he is. Will he play the best friend or the bad guy? The headshot helps us put actors in a category, and that's especially useful for episodic television. The picture has to make me feel that the actor could be part of the show's world. But I don't need the actor to write a cover letter telling me what he thinks he'd be good for.
Acting experience on a résumé grabs me. If it's a New York actor, I like to see that he's working in the theater, has studied with solid acting teachers, or comes from a great school—or great agency. Any one of those factors helps. But even if an actor doesn't have amazing credits or hasn't studied with a major teacher or graduated from a top school, that doesn't mean the actor won't get seen. But it will be a little more challenging.
I don't look at self-submitted reels. I may look at a reel if it comes from an actor I've met or an agent. A reel shouldn't be more than three or four minutes, and its production values as well as the level of acting on it should be high. A reel can feature just one scene from a TV episode or even something from a student film. But I don't want to see the actor doing a scene with a partner. I need to see the actor on film.
I might look at a website if it has a reel I'm interested in seeing. I might also look at a Web series. We just hired Natalie Floyd for "The Beautiful Life" on the basis of a Web series, "Private," on Teen.com. She has a big recurring role on "The Beautiful Life," and this is her first network role. But she came to my attention through an agent.
Defining Your Character
"Ugly Betty" is unique in that we're casting actors who look like they could work at a fashion magazine and actors who look like real New Yorkers. I need gorgeous models and professional types and blue-collar types—street vendors, cops, security officers, and those who work in salons in Queens. We're always looking for diversity in terms of ethnicity and age.
"The Beautiful Life" revolves around the lives of New York supermodels. We want to showcase the most beautiful people New York City has to offer. We're telling the story of that world, and it is a young industry. We're not excluding other ages, but in terms of keeping it real, the age range is largely late teens to early 40s. We'll be looking for actors who can play photographers, directors, paparazzi. We're looking for authenticity with a certain edge. The show is sexy, dangerous, and exciting, but at the same time the actors have to be TV-friendly.
A good actor is a good actor, and the bar is set high for both shows. We're looking for actors who have accessibility and the ability to take the material and bring it to life. For any audition, you have to have a clear idea of who you are and what it is you bring to the story. You have to define the character and know where the character fits in the story. A lot of actors give general, nonspecific auditions and think the rest is up to us. The truth is, the casting director, the writer, the producer are hoping the actor will bring something to the role. The important thing in an audition is to have a vision of the character, even if it's the wrong vision. The only wrong choice is not making one.
Preparation is so important. Know the lines. Know the character. Know the show's style. "Ugly Betty" is a comedy with heart that explores some important themes, and that's why so many people identify with it. "The Beautiful Life" is an adult soap opera.
Take the Pressure Off the Present
You're either right for a role or you're not. You can't
make
yourself right for a role. You have to go in, do what you do best, and leave. Auditioning an actor is not only about finding the actor for a role. It's about meeting the actor and seeing the actor's work. If the actor is not right for one role, he might be right for another. We're constantly bringing actors back who we've turned down in the past.
Actors are more in control of their careers than they give themselves credit for. Besides preparation and hard work, it's really important that they believe in themselves and their work. If you don't believe your work is good, no one else will either. You have to believe you deserve to be there without being cocky and self-righteous. We remember the actor's self-confidence.
It's natural to question what you're doing, but it's not always about what you're doing now. Actors have to be able to see where they are, know where they want to be, and acknowledge the steps that have to be taken. It's a journey, and if you're able to accept that idea, that takes the pressure off what you're doing now.
Following an audition, some actors like to send thank-you notes. It doesn't hurt, but it's not necessary and it doesn't guarantee that you'll be brought in for the next audition. Post cards are a great way of getting your face out there, but again, don't expect it to bring you to my next audition, even if I've seen you. I have a good memory and really good notes. I don't rely on post cards. Still, post cards are a great informational tool if you've booked a film, for example. It keeps you in our minds. But it's not an imperative.
—Reported by Simi Horwitz


Geoffrey Soffer will be a panel member for "Getting Cast in Gotham" at New York's Actorfest Oct. 24.