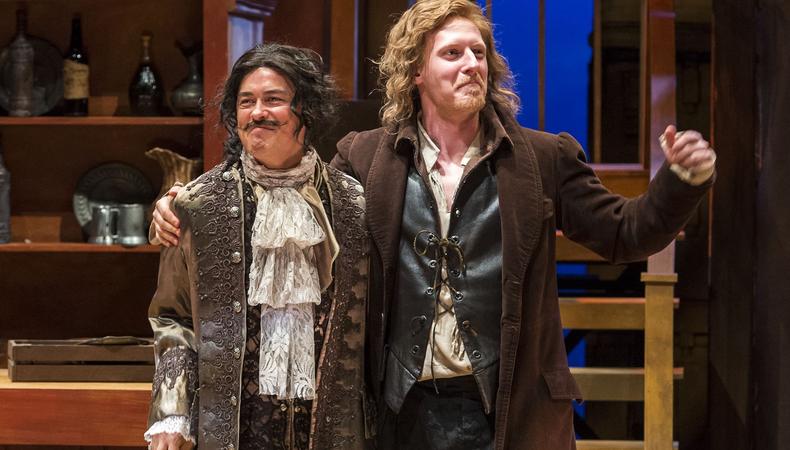 In Thornton Wilder and Ken Ludwig's adaptation of George Farquhar's 1707 comedy "The Beaux' Stratagem," fortune hunters, highwaymen, saucy serving wenches, and adventure- and pleasure-seeking rogues all converge first at an inn, then subsequently at a country residence. Their hearts are (mostly) good, their accents thick, their perukes all manner of crazy. One could probably find a spare forceps clamp somewhere in the wild white tease of hair sported by Deborah Strang's scene-stealing dowager Lady Bountiful.
Those inclined to blanch and flee at the very mention of the words "restoration comedy" should instead pull up a bar stool at A Noise Within, where director Julia Rodriguez-Elliott and her delicious cast go through their paces, all for our considerable enjoyment. In this West Coast premiere, it's difficult to see—much less care—where one century's dramatist leaves off and another begins. Blake Ellis' Archer—one of the two titular beaux—largely paces the action, but with every new character holding forth during a philosophizing soliloquy, we see how rich this play remains. As Rodriguez-Elliott's players romp across the stage and occasionally through the audience, they appear to be having an absolute wingding of it, and if they're not, they ruddy well should be.
Lusty and skirt-chasing though they both profess to be, neither Ellis nor Freddy Douglas' Aimwell are pushing the libidinous gas pedal to the floor. With his prissy voice and Salvador Dali mustache, Aimwell in particular seems more than content to lose his heart to the first eligible woman he sees. That it happens to be the wealthy heiress Dorinda (Malia Wright) makes things doubly convenient. And while Ellis' Archer professes a willingness to give the innkeeper's daughter Cherry a spin—and given the fetching Alison Elliott's looks and repartee skills as Cherry, who wouldn't?—kitchen quickies don't much appear to be driving him. An attraction to the married Kate Sullen (Abby Craden) catches Archer seriously off guard, and he has to figure out—albeit comically—how to resolve it. Indeed, Mrs. Sullen's libido seems to match if not exceed Archer's.
As the perpetually pickled Mr. Sullen, Robertson Dean artfully filches every scene in which he appears, turning a monologue on the state of marriage into a veritable showstopper. Time Winters does rich double duty, first as the clergyman-highwayman Gloss and later as the affronted French pastor Foigard, wearing a wig that makes him look like a human poodle.
Kudos also to fight choreographer Ken Merckx, whose orchestration of a melee among Archer, Aimwell, and a few unlucky highwaymen, with Dorinda and Mrs. Sullen assisting, is a work of art. It makes for a welcome splash of derring-do to cap off an utterly charming evening.
Presented by and at A Noise Within, 3352 East Foothill Blvd., Pasadena. April 6–May 26. (626) 356-3100 or www.anoisewithin.org.
Critic's Score: A