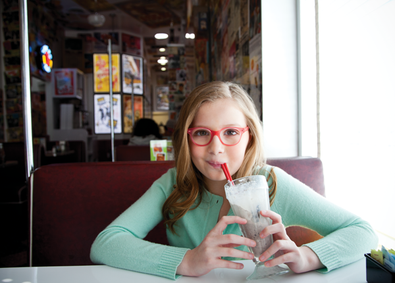 Bebe Wood is looking for a place to sit at Café 50's, a Hollywood diner known for its 40-plus varieties of milkshake. She stops just short of a section near the back that has some saucy retro photos on the walls and reads the sign: " 'This room is Rated PG-13.' OK, I can't go in there."
The reminder that Wood is 11 years old is a bit jarring. Calling young actors wise beyond their years has become cliché, but anyone who's caught Wood's performance as the bespectacled, scene-stealing Shania on the NBC comedy "The New Normal" can testify to her maturity and intelligence and a comedic timing that would make actors three times her age jealous. Not many 11-year-olds would even know about Maggie Smith on "Downton Abbey" or Little Edie from "Grey Gardens," let alone be able to pull off devastating imitations of both. At the same time, it's refreshing to see that Wood is, indeed, a kid. She struggles with math. She "freaked out" when she spotted her favorite actor, Robert Downey Jr., at the People's Choice Awards. And when she listens to the "Book of Mormon" cast recording, she has to skip the dirty songs. "There are two I've never heard. My mom told me, 'Bebe, with iPhone technology, I'll know if you don't skip the songs.' "
Despite her age, Wood is more than able to hold her own opposite the impressively pedigreed cast of "Normal." Andrew Rannells ("The Book of Mormon") and Justin Bartha ("The Hangover") play a loving couple who decide to start a family with the help of a surrogate named Goldie, played by British actor Georgia King. Along for the ride are Tony winner Ellen Barkin as Goldie's unfiltered grandmother and "The Real Housewives of Atlanta" star NeNe Leakes as Rannells' co-worker. It's another eclectic cast from "Glee" creator Ryan Murphy, and Wood fits right in.
Her onscreen mother has nothing but praise for Wood, who she calls "this small, perfect little piece of dynamite." Adds King, "Bebe is a phenomenal little lady. I love spending time with her and have started having withdrawal symptoms now we've finished Season 1! She is funny, energetic, bright, quirky—and has more hobbies than anyone I have ever met. She also hugs me pretty constantly when we're on set. We're like magnets. I certainly take pride in being her 'second mom.' "
Wood's journey from children's theater in Kansas City to sitcom star was fairly straightforward—and began at the age of three. That was when her mother took her to see the musical "Chitty Chitty Bang Bang" while on vacation in London. "We were in the front row," Wood recalls. "Oh, my gosh, my first live show, in the front row, with a car flying overhead." At one point, the Child Catcher—the villain of the piece who resembles something out of a Tim Burton movie—approached Wood. "He put his little hook on my nose and said, 'I'll get you, kitty witty,' " says Wood. "Then he kind of stopped himself and realized how scary that might be. But I started laughing hysterically. I think he was relieved I didn't cry." After the show, Wood waited at the stage door to meet the actor and get an autograph. "Right then, I knew I wanted to do what he did," she says. "I told my mom, 'I want to be an actress.' "
Wood says her family neither encouraged nor discouraged her new goal. "My mom said, 'Whatever makes you happy,' " she says. "My parents have been really supportive." Once back in Kansas City, a friend of Wood's mother recommended a program called Music Theatre for Young People, an organization that has a summer camp and mounts several productions throughout the year. Wood participated in several shows there, including "Snow White and the 17 Dwarfs." Yes, 17. "Because everybody wanted to be a dwarf," says Wood. "And people got to make up their own dwarf names. One kid named his 'Spongebob.' " During the run of that show, everyone was asked to come up with a nickname that started with the first letter of their first name, which is how Wood earned her moniker—Broadway Bebe.
While visiting New York with family, Wood landed an agent, but she had to put herself on tape for everything out of Kansas. She admits she wasn't getting much work because of being so far away; when her family moved to New York in 2010, things changed. She made her TV debut with a small part on "30 Rock" as a girl who reminds Liz Lemon of herself. A part on the HBO series "Veep" followed, though Wood wasn't allowed to read the script. "It wasn't appropriate for kids," she says. "They just gave me my lines." She had several pilot auditions, including a series regular for the quickly canceled comedy "Bent," but she says nothing really spoke to her like the "New Normal" script. "I really, really wanted to do it from the moment I got it," says Wood. "It was my favorite." Wood went on tape for the part and a week later was told she got it. No network test, no producers' meeting. "I just had the part," she says. "They said, 'You're coming to Los Angeles!' It was amazing."
In fact, Wood didn't meet any of her co-stars until the first table read—with the exception of Rannells, whom she admits she was "stalking just a little bit" in New York. Recalls Rannells, "I first met Bebe Wood at the 'Submissions Only' Season 2 premiere party. She marched up to me and explained that while she was 'not allowed' to see 'The Book of Mormon,' she had watched my Tony performance and was a 'huge fan' of mine. She also told me that she would love to work with me one day. This was a couple months before any of us knew 'The New Normal' existed, but there was something about her level of confidence that I was sure we would probably indeed work together at some point. Bebe is incredibly charming and self-assured in a way that is rare in people. Not just kids but people. I just love that little gal." Wood is still his biggest fan, and the two regularly sing songs from the hit musical together. "I'm a Broadway geek, so we were singing 'All-American Prophet,' " she says. "I was singing all his parts, and he was singing all the other parts except him."
Still, Wood says her goal isn't necessarily to go to Broadway some day. Last December she returned to MTYP for a run of the musical "Seussical," which she says was one of the hardest things she's ever done. She has other interests, including her own clothing line called—you guessed it—Broadway Bebe. And she's interested in directing. "And my biggest goal right now is to be in an action movie," she says. "I've seen 'The Avengers' six times. I took up boxing because of Scarlett Johansson."