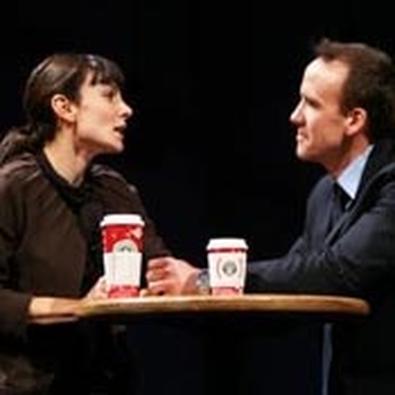 It seems as though all the hot action in Becky Shaw takes place offstage. A daughter has a nasty confrontation with her mother's new lover in a hotel lobby. Newlyweds have their first serious fight. A Japanese businessman breaks down and confesses to being gay and having a longtime affair with his just-deceased male boss. But playwright Gina Gionfriddo manages to make the dissections and recriminations resulting from these unseen scenes fascinating. She is more interested in how people deal with the aftermath of dramatic confrontations. She also creates characters who are neither altruistically pure nor black-heartedly manipulative. They're a little bit of both. They occupy a gray zone, and that's where real people dwell.
Though Becky is the title character, she is not the main one. This train wreck of a woman serves as the catalyst for all involved to rethink their life choices. Becky, a temp with lots of emotional baggage and no family or prospects, and Max, a hard-driving financial manager, are set up by newly married Suzanna and Andrew. Complications ensue when their blind date is interrupted by an armed hold-up man -- offstage, of course. Gionfriddo uses the interactions between these four and Suzanna's domineering mother to examine the blurry line between self-interest and obligations toward family and friends.
The main connection is between Suzanna and Max, who, though not related, were raised in the same house after Max's mother died and his father was facing prison for white-collar crime. Emily Bergl and David Wilson Barnes pack layers of subtext into these roles. They heatedly quarrel like brother and sister while always acknowledging their barely hidden mutual sexual attraction. Bergl brilliantly depicts Suzanna's struggle to overcome Max's cynical influence while respecting his strength. Barnes is a tornado sweeping across the stage, telling everyone exactly how to live their lives. He's nasty, bullying, yet charismatically attractive -- and almost always right. When his defenses crumble late in the play and he has to admit defeat, the crash of this giant is staggeringly funny and sad.
Annie Parisse gives an equally complex performance as the troubled Becky. Both playwright and actor keep us guessing as to whether she's a pathetic victim or a crafty con woman, with Parisse providing both sides of this enigmatic waif. Thomas Sadoski gives the good-natured Andrew much-needed backbone. The character could easily have gotten lost amidst the stronger personalities, but, as he did in Neil LaBute's Reasons to Be Pretty, Sadoski holds his own.
As Susan, Suzanna's debilitated but still-vibrant mother, Kelly Bishop makes a strong impression. Struck with multiple sclerosis, Susan compensates with a sharp wit and no-nonsense manner. This is a woman who knows what she wants and has no qualms about going after it. Bishop has only two scenes, but she makes an unforgettable impact.
Director Peter DuBois stages the play with just the right touch of comic spin while maintaining credibility. Kudos as well to Derek McLane's spare but versatile sets and Jeff Mahshie's character-commenting costumes.
Presented by and at Second Stage Theatre,
307 W. 43rd St., NYC. Jan. 8–March 15. Tue., 7 p.m.; Wed.–Sat., 8 p.m.; Wed. and Sat., 2 p.m.; Sun., 3 p.m. (212) 246-4422, (800) 766-6048, or www.2st.com.