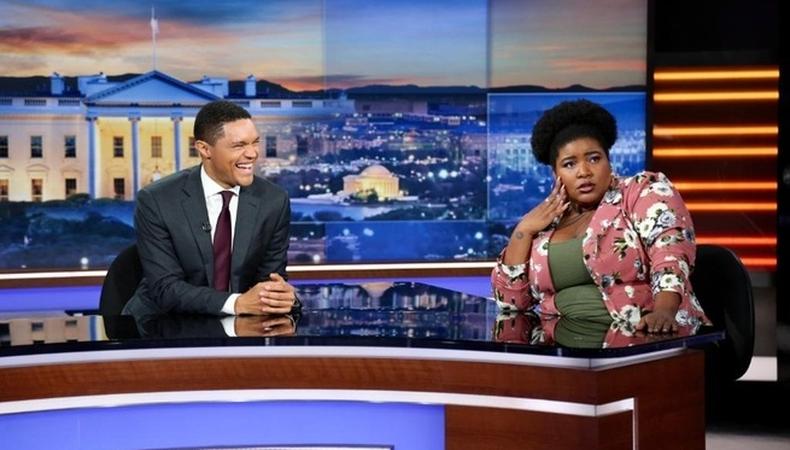 Behind being a comedy news show, "The Daily Show" tends to be known mainly for its host. After all, his name is right there in the title of the show. But current host Trevor Noah doesn't do it alone. Helping to comedically highlight the events of the day is a team of correspondents that adds a chorus of voices and jokes to Noah's. It's a feature of the show that's been around since its beginnings in 1996, and for those lucky enough to book the gig, it's one of the most unique comedy assignments on television.
Correspondents enhance the show's format using field pieces and segments with their own commentary on today's issues. They play off Noah during chats and use their individual performance style to create a product that feels fresh and different from the news comedy genre it has pioneered, all while making everyday news funny—and bad news bearable.
READ: How to Find the Funny in Every Scene
In September, one of the most diverse casts in late night (Noah is joined by correspondents Desi Lydic, Hasan Minhaj, Michael Kosta, Ronny Chieng, and Roy Wood Jr.) added a seventh voice to the chorus by adding Dulcé Sloan, who had previously been making a name for herself in stand-up comedy. Noah spotted her during a late-night set on "Conan" and instantly liked to her style. "Dulce is raw—she is authentic," Noah tells Backstage by email. "Most importantly, she is funny. That's the kind of voice that we need on the show."
So how does someone like Sloan snag a covetted "Daily Show" spot?
Well, it's more than just comedy chops and Noah's approval as host that make someone a fit. The show requires a set of surprisingly specific skills from its correspondents. We spoke with the nightly's executive producers Jen Flanz and Steve Bodow, supervising producer Eric Davies, and senior coordinating producer Jocelyn Conn to find out exactly what it takes to make the cut.
The first thing one might notice about the current news team is that each have a singular comedic spin and style—but that wasn't always the main draw. "You used to be able to pick any correspondent for a segment, and now it's the opposite of that," says Bodow. "That's a distinction on this show. The correspondents are playing a version of themselves, so we need to see who they are and what their interests are." Easier said than done. A process that was once partly outsourced to casting directors has since come fully in-house. "It's a specific skill set that you need to have," explains Flanz. "It's not quite stand up, it's not quite improv, it's not quite acting—it's all of these things. We started looking on our own and came up with a great system."
Once the correspondents roster threatens to drop below five members, the producers put that system into action and begin searching for new talent. They seek out reps and outlets for all types of talent who can add a voice to the show that's not already there, and who has that Swiss Army Knife skill set. "We've had both [improvisers and stand-ups] and they've worked out amazingly well on the show," says Flanz. She adds, though, that "having a background in stand-up may help cultivate a voice, which is what 'The Daily Show' has evolved into." That said, the show has featured all types of comedians and even actors. The proof is in the long list of correspondent alums, which includes names like Steve Carell, Ed Helms, Jessica Williams, Stephen Colbert, Samantha Bee, Larry Wilmore, and many more.
READ: Jessica Williams Is Done Keeping Quiet About What She Wants
Their casting system helps the team separate the many funny and talented candidates from those that are the level of funny and talented that "The Daily Show" needs. Flanz says candidates "need to have a point of view." Once an audition tape gets their attention, "We have them write something of their own to speak to who their character would be, which we never used to do. We also have them record a version of one of our chats. That's the easiest way to see what they'd do on the show," she says.
Conn watches all the audition tapes, and once she and Flanz whittle down the selection of talent to get the OK from Noah and the executive producers, they bring them into the studio for a test. "So much of it is about the chemistry with Trevor because it's his show and everybody else is playing around him," Flanz continues. Additionally, "What they put on tape isn't always the same thing as what their personal interactions will be," adds Davies. "During the recent last round, we put people in front of an audience, and that was really telling, too."
Beyond comedy experience, there's an indelible "x" factor needed to get cast. "This is a really specific skill, and it's [both] easy and hard to find people because of that. Once we do find someone, it stands out," says Conn. That makes it simple to spot a person who is better suited for a different show. "You have to care about what we do on the show," says Flanz. It's not the brilliant character comedians who end up on "Saturday Night Live," and it's not the same sensibility you need for sitcoms. "It's reality," says Davies. "Half of your job is actually talking to real people and being fearless enough to say something ridiculous in the middle of a conversation. That's not the case with other shows."
Plus, the job is one of the more demanding ones in late night. "We're set up like a newsroom, which is the difference in how we sit on the comedy landscape. We are a news show and a comedy show, which means we do twice as much work," says Davies. "They're engaged in the content, people, and process," adds Conn.
"We're looking for a work ethic," says Bodow. "The people who do best here are the ones who will come into a morning writers' meeting with their own ideas." Davies also says that it "goes so much better" when correspondents come in with ideas that they are truly passionate about.
"The Daily Show" show celebrated its 20th anniversary in 2016. That many years on the air has helped the series solidify its identity as well as the talent that are right to be on it.
In the end, it's a competitive system, but it's not always unforgiving. Correspondents have been hired after first auditioning and being rejected—sometimes more than once!—and using the time after that initial disappointment to hone their skills eventually booked them the job.
"We always say keep doing what you're doing, keep making internet videos, keep doing your stand-up, keep doing improv, and [keep] meeting people," says Conn. "The world is smaller than you even think." In other words, if you stick with it long enough and put in the work, you never know when a "no" will turn into a "yes."
Want to make people laugh? Check out Backstage's comedy audition listings!