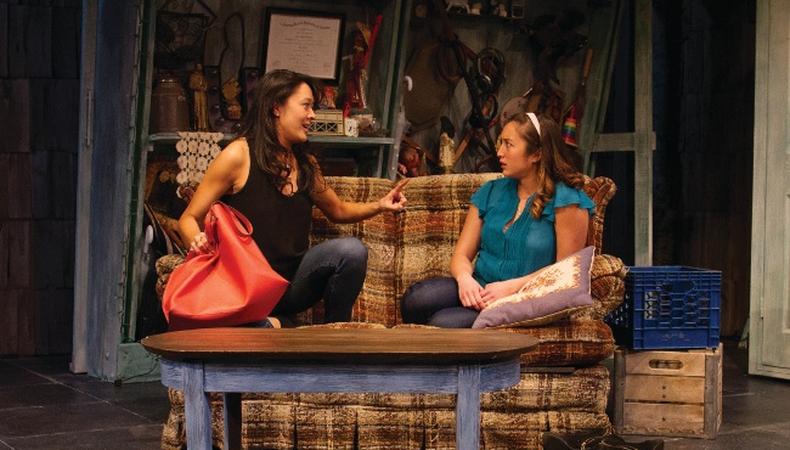 Before Leah Nanako Winkler joined Youngblood, she was, as she puts it, "choosing between eating and making plays—and choosing making plays." Ensemble Studio Theatre's collective of playwrights under the age of 30, however, allowed her to have her career and eat, too.
"As soon as I got into Youngblood there was an outpouring of resources I wouldn't have had otherwise," remembers Winkler, who joined the New York City–based group in 2012. "My work began to change in an extremely positive way because I didn't have to focus on producing, on 'Which rehearsal space am I going to use?' I really found a home base.... We've all made this crazy decision to be a playwright. Everyone's there to work."
The fact that the program retains participants until age 30 is the key to its success, says William Carden, EST's artistic director. "What that means to a writer in his or her early, mid-, or late 20s is that he or she has support in a critical period of development. They're often trying to find their voice and decide, 'Is this really what I want to do with my life, a life in the arts?' "
Youngblood's success is reflected in the achievements of its alumni: Annie Baker went on to win a Pulitzer Prize, Amy Herzog developed her chops there before writing the Obie-winning "4000 Miles," and Lucy Alibar's one-act "Juicy and Delicious" was adapted into the award-winning film "Beasts of the Southern Wild." Robert Askins took "Hand to God," his play about a demonic hand puppet, from developmental readings at EST all the way to Broadway and a Tony nomination.
"Part of what happened with Rob [with] 'Hand to God' was he wrote the parts for the actors here," explains Carden. Askins was able to hone his work by writing roles for Geneva Carr and Steven Boyer, two of the studio's ensemble members. More important, thanks to the theater's commitment to getting Youngblood plays on their feet, he was able to hone his voice. "The playwrights start to see their play in terms of what's happening [onstage]," Carden says. "We're trying to look for opportunities for them to get their work in front of an audience as much as possible, because that's really what makes a playwright."
READ: "Robert Askins' 'Hand to God' Brings Fire and Brimstone to Broadway"
The program offers its writers countless opportunities to do so—while hearing their words read by professional actors. Each EST season kicks off with Unfiltered productions that provide Youngblood members weeks of rehearsal; the Brunch is a monthly, themed short play series served with mimosas and a buffet; Asking for Trouble has writers pulling actors and play titles from a hat; and Bloodworks is an end-of-season reading of full-length pieces. In 2015, Askins also began offering exit commissions to graduating playwrights.
"You're given the opportunity to fail, safely," says Winkler. "That's how you grow. You get to discover what works in your writing and doesn't because it's literally in front of an audience." Her newest play, "Kentucky," presented by EST, the Radio Drama Network, and Page 73 Productions, opened this spring to rave reviews.
"I was told it would never get produced," Winkler says of her play, which features a whopping 17 characters. After bringing in some semipersonal notes to her Youngblood colleagues, they encouraged her to go for a full-length stage adaptation. "[EST] never says, 'No, you need to pare this cast down in order for this to get produced.' They care purely about the artistry, which is a complete blessing."
How does an aspiring playwright get into such an artistic haven? Carden's advice: Don't write what you think will bring success. "Where writers get confused and lose their sense of self is when they try to please," he says. "The playwrights in the Youngblood program are writing the plays they want to see, the plays they believe in. They're not worrying about what other people think. And they're writing a play to say something.
Inspired by this post? Check out our theater audition listings!