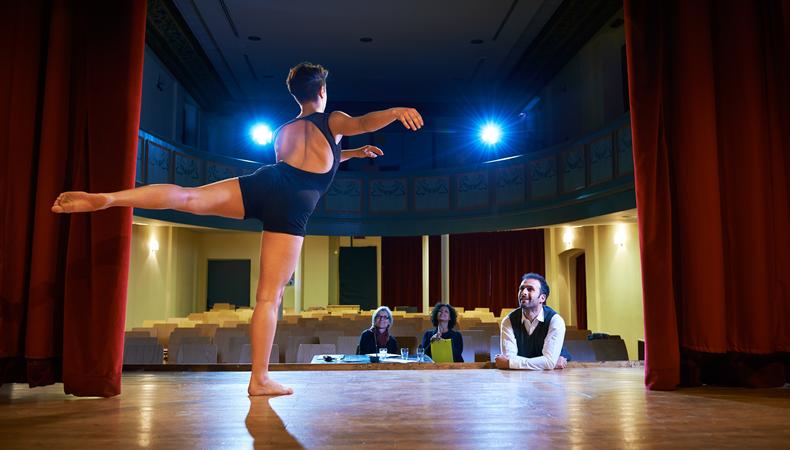 Are you a visionary of the stage? Or maybe you've just always wanted to try directing? Either way, Backstage has the tools to help thespians achieve their directing dreams.
This site's casting notices include opportunities for more than just actors; writing, film crew, and stage management gigs regularly surface, as do various jobs for theater directors. Aspiring helmers in New York City, Los Angeles, Chicago, and Atlanta in particular should keep their eyes peeled when browsing Backstage casting listings. Use the "Production Type" filter on our casting calls page. After pulling down the menu and selecting "Stage Staff & Tech," click "Search" (or "Save Search" if you'd like to come back to this filter) and exciting gigs for directors and other theater artists will be listed below. You can even narrow results further by typing "director" or "directing" into the "Keywords:" box.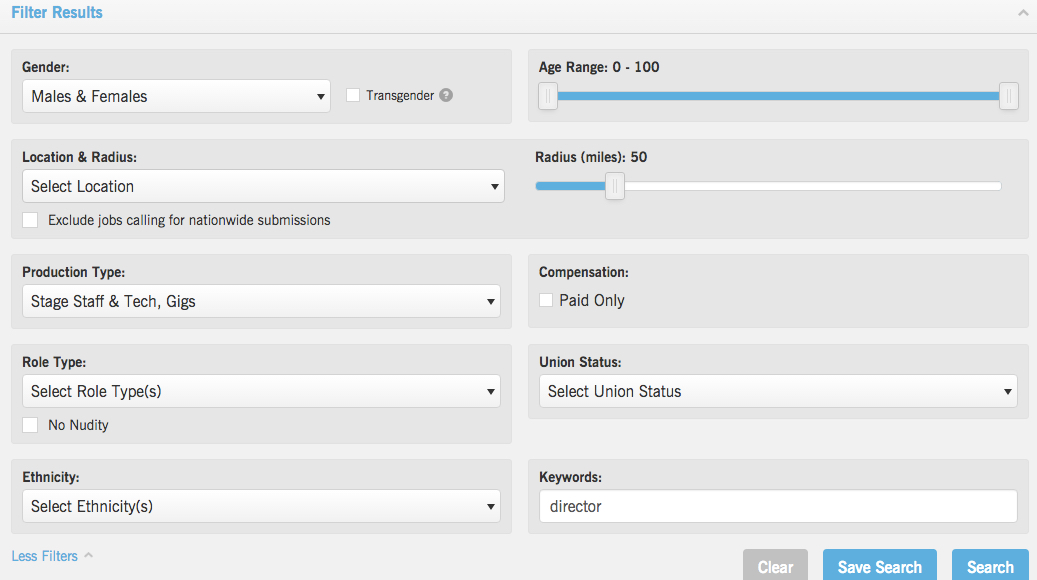 As you comb Backstage for assistant director or festival gigs and begin to reach out to potential collaborators, here are a few pointers to keep in mind. Below we've rounding up advice on launching a career in directing theater from some of the industry's most illustrious professionals.
Work with people you admire.
Three-time Tony Award–winning director Jack O'Brien ("Hairspray," "It's Only a Play") has experience directing everything from William Shakespeare and Tom Stoppard to blockbuster musical theater. Aspiring directors, he says, need only find collaborators they get along with both artistically and personally. Don't be afraid to create opportunities to work with similar creatives you admire, or simply ask them. And let the learning process begin.
"You must gravitate to the most talented people you know and find some way to get close to them—to work with them, to observe them, to be around them," O'Brien tells Backstage. "That's the finishing school of directing: when you get around people you admire, whose aesthetic matches your own."
READ: "How to Become a (Successful) Playwright"
A directing career is a road, not a ladder.
Staging Laura Eason's "Sex With Strangers" at the Geffen Playhouse, director Kimberly Senior ("Disgraced") developed a personal, intimate relationship, not with fellow collaborators, but with the play itself. "It goes from casually dating for a couple months to being in a serious relationship," she says of the directing process. "Over time, it's like I let the play see me in a bad mood."
"I get to take things that were previously in one dimension and put them into three dimensions using my imagination and intellect and people skills," Senior also says. Directing theater is unlike TV or film, where things are a bit more clear-cut. Working as a freelance stage director, she says, is a road—not a ladder. "I've never seen this career as something vertical. I'm just as thrilled to work in a basement as I am on Broadway.
"I think to understand the longevity of our career is something that's very challenging, because you're wanting to do it, you know how to do it, you're hungry to do it, you're watching other people do it. There are moments where you feel the scarcity of jobs and money, but also moments when you're feeling an abundance of collaboration and joy." There's no summit directors eventually reach that means they're done accomplishing or learning from theater. Be patient and stay flexible. As Senior says, "You're always beginning as a director because you're always encountering something new."
Take great care to cast the right actors.
Tim Hedgepeth, co-founder and artistic director of Allegro Stage Company in Texas, also stresses the importance of choosing the right collaborators. Find a stage manager, he advises, who "will be your second pair of eyeballs, catch all the little things you might overlook or forget when reworking a scene," and hang onto him or her for life. "I especially like working with designers who, like me, find exhaustive research fun, not drudgery. I am not trained in lighting, or costume construction," he adds, "so I look to our design team to bring the show to life visually."
The same goes for actors, some of a director's most intimate collaborators. During a show's audition process, Hedgepeth looks for actors who have plentiful and continuous training. "Your body and your voice are the only tools you have to create characters. They need to be constantly exercised, further trained, and challenged. You can always be better; you can always be stronger." Cast actors who demonstrate an understanding of that concept and who are determined to continue growing their talent onstage.
READ: "9 Things You Must Know Your First Time Directing"
Experiment and play, but make clear choices.
Perhaps your directing career is tied up in a new theater company. Eric Tucker, artistic director and co-founder of Off-Broadway company Bedlam (responsible for Kate Hamill's hit adaptation of "Sense and Sensibility"), has plenty of advice for early-career thespians. "As a [freelance] director I've always wanted to have a place I could go to work that's almost like your own little laboratory. Whether it fails or wins, if people like it or not, without anyone else's rules or any other aesthetic, you get to do your thing."
That kind of space frees artists up to experiment, make mistakes, and learn which moments work and which don't onstage. Tucker says not to underestimate the power of your mind's creativity. "You have to use your imagination, and you also have to rely on the imagination of the audience," he says. But don't sacrifice clarity, he adds. "Language needs to be top-notch and the storytelling clear.... When something is really, really good, people will hear about it and they'll go."
Join Backstage.
To stay abreast of directing opportunities, save searches on Backstage's casting filters. As you continue to study great theater and begin exercising those directing muscles, check out our articles full of advice and insight from industry professionals. Using Backstage as a resource, the directing world will be your oyster!
Explore the rest of our new audition listings! And for more advice, check out Backstage's YouTube channel!