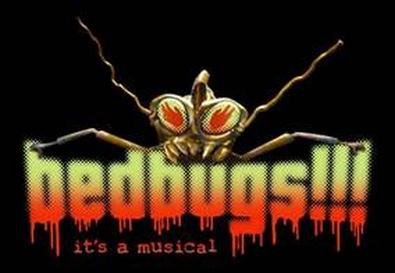 My collaborator Paul Leschen and I started writing our first show together in 2007 with the dream of an Off-Broadway production, a cast album, and eventually a movie version. We never imagined it would take seven years to get to that first step.
In 2008, "Bedbugs!!!" played in the New York Musical Theatre Festival, which was a huge stepping stone in both the progress of our show and for us as new writers. We made a big splash, receiving fantastic reviews, awards, and much buzz. We thought it was in the bag. Then reality set in. The Zipper Theatre (where we hoped to have it produced) closed; the stock market crashed; we faced a multitude of delays and unfortunate setbacks.
But we never gave up. We continued developing the piece with table readings, rewrites, a Kickstarter campaign, an industry reading, and concert versions until we finally found a producer who was kooky (and ballsy) enough to take on a show called "Bedbugs!!!." Dale Joan Young optioned the show and brought on a daring new director, Robert Bartley, and together we presented a showcase at the Chernuchin Theatre in 2012. After more rewrites, we were ready for its Off-Broadway production at the Arclight Theatre, starting Sept. 9!
How has the show itself changed since NYMF? That version was a camp-fest, and it worked very well. But we needed to clear up plot points, flesh out characters, and trim the fat. Along the way, the show has progressed through numerous drafts—some more political, some more gay, and some downright bizarre.
The Chernuchin showcase gave us the chance to see the show at face value. You can think something is working but then when you watch it in front of an audience, you may find that by the fourth performance, you never want to hear a line ever again. That's why it's important to develop and workshop a show in front of audiences.
Our director knew that to have a show with legs, we needed to bring out the heart. So we deepened the relationships, reworked the ending to keep people guessing, and camped around the main characters while keeping them more realistic and grounded in emotional truth. There are now moments that may even make people, dare I say… cry. If we can get people to laugh and cry at the same time, we've achieved our goal. We've also updated the jokes and incorporated the public's growing knowledge and evolving relationship to the bedbug epidemic. What we have now is a deeper, richer, funnier, tighter, faster, and more emotional musical that is ready for the big time.
Through all the changes, we have kept the show just as wacky and irreverent as the first read. It still contains almost all the same songs, the same basic structure, and all the rock and roll spirit. Lucky for us we still have Brian Charles Rooney as Dionne Salon and Chris Hall as Cimex, both of whom have been with this show since its inception in 2007.
The other thing that hasn't changed is the title, though "Bedbugs!!!" has been a source of many migraines. Everyone from potential producers to potential audience members have taken issue. But not one of the hundreds of titles we have considered over the years has felt right for our show. And like Carly, we must learn to love ourselves for who we are. So we kept it, we embraced it, we celebrate it, and our dream is that when people hear the word bedbugs, they think of the musical, not the bug.
Oh and by the way, we are recording a cast album. Keep your fingers crossed for the movie!
Fred Sauter is the bookwriter and lyricist of "Bedbugs!!!" With collaborator Paul Leschen, Fred is developing the musicals "True Tales of Modern Love" and "Karma Kills." He's written music and lyrics for "Whale-Song" and "Asia Apollo, a Rock Opera." Fred's work has been seen at Ars Nova, Laurie Beechman Theatre, Dixon Place, Joe's Pub, and Baltimore Theatre Project. His band Lola and Spaceboy is currently recording their debut album. He holds an MFA from NYU's Graduate Musical Theatre Program and a BA from Maryland Institute, College of Art.
Inspired by this story? Check out our theater audition listings!