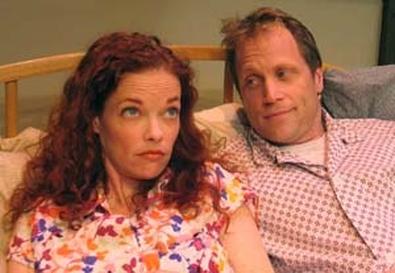 Like a lesser Schubert or a lesser Cezanne, this not-so-masterful script by Alan Ayckbourn still makes for two hours of playful fun. The artistic strokes are there but not formed into a memorable oeuvre. Director Ron Bottitta and a worthy ensemble do more than their share of the work, emphasizing the life in this slice-of-life play about our silliest self-expectations.
As per Ayckbourn's wont, the play comprises a gimmick and groups of clearly recognizable types of British folk. Set in 1975, the play follows four couples in three bedrooms (set design by Darcy Prevost). In the dusky, heavily floral room lives the somewhat tony older couple, Ernest (Robert Mandan) and Delia (Maggie Peach). Their day-to-day issues include how much to dress for dinner out and how much to tip, but they also don't like their daughter-in-law Susannah (Regina Peluso), preferring their son Trevor's (Anthony Michael Jones) former girlfriend Jan (Ann Noble). Malcolm (Jamie Donovan) and Kate (Kate Hollinshead) occupy the bedroom currently—and probably perpetually—undergoing renovation. Nonetheless, they are hosting a housewarming, to which they have invited Trevor, Susannah, Jan, and Jan's husband, Nick (Scott Roberts). But Nick remains at home with an excruciatingly bad back, stuck in the play's third bedroom—part Zen, part thrift shop. We can only imagine the fourth bedroom, probably decorated in neo-battleground.
Solid craftsmanship abounds. Noble remains highly energized throughout and charms as the perky wife. Roberts convinces us of Nick's outsize pain and petulance. Mandan earns Ernest a little empathy as a man who could afford repairs to his home but insists on performing them himself, garbed in a tuxedo. Donovan makes a likable lunkhead of a do-it-yourselfer. Peach and Peluso deserve their own play as their characters settle into a night's probably oft-interrupted sleep. Hollinshead, with her adorably squeaky voice, seems perfectly true to life as the young bunny. And Jones' realistic embodiment of mid-1970s "let it all hang out" energy astounds, his period correctness redolent of those wild and crazy years. Costumes by Kathryn Poppen likewise recall the embarrassing days of ill-matched patterns and hideous sheepskin jackets. Good thing styles are so different now, as are our daily problems.
Presented by and at the Odyssey Theatre Ensemble, 2055 S. Sepulveda Blvd., L.A. July 24–Sept. 26. Thu.–Fri., 8 p.m.; Sat., 2 and 8 p.m.; Sun., 2 p.m. (Except Sun., 7 p.m. only, Aug. 22 and Sept. 26. Added Wed., 8 p.m., July 28–Aug. 11.) (310) 477-2055. www.odysseytheatre.com.