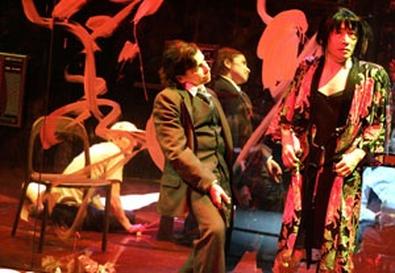 In program notes for "The Bee," co-writer and director Hideki Noda writes about how "this habitual trait of ours—of being nice to ourselves and being incapable of the same to others" can, when one is plunged into grief, turn to violence. And in this unnerving but arresting play—written with Colin Teevan and based on a story by Yasutaka Tsutsui—Noda illustrates his theory with almost unrelenting frenzy and feverish theatricality.
The story tells how Ido, a Japanese businessman, comes home from work one day to find his wife and 6-year-old son have been taken hostage by Ogoro, an escaped convict. Ogoro won't release them until he's visited by his unwilling wife. Faced with inaction by the police, Ido takes matters into his own hands, taking Ogoro's wife and young son hostage. Thus begins a battle of escalating gruesomeness between the two men.
Performed in English, the production, originally done in London in 2006, clips along, mixing theater of the absurd with story theater. Actors in the accomplished ensemble of four often switch roles instantaneously, generate sound effects, and lend their portrayals a seriocomic aura. There are passages of dialogue-free balletic movement, performed to a soundtrack of widely varied music.
In a stunning performance, English actor Kathryn Hunter plays Ido straight on, with no concession to the gender switch in casting. Dressed in a dark vested suit, sporting a short haircut, and carrying a big briefcase, Hunter at the start is a model of middle-class salaryman propriety. As things progress, her Ido takes on a near-monstrous visage and a tightly packed, malevolent macho energy.
In another gender switch in casting, the multitasking Noda plays Ogoro's wife, imbuing her with a tremulous feminine sexuality and maternal concern as her young son is threatened. Also impressive are the split-second switches in character by Glyn Pritchard, going from a hyperactive special-force cop to Ogoro's frightened son and Ogoro himself. Clive Mendus completes the cast as an officious police inspector, various reporters, and a TV chef.
As for the titular character, it is indeed a bee—unseen by the audience but enacted by sounds produced by Noda—that sends Ido into a short-lived paroxysm of fear, even as his bravura sadism builds. And just in case you're thinking that you could never fall into such violence, the striking set by Miriam Buether is backed by a reflective material that brings an image of the audience right onto the stage.
Presented by and at Japan Society as part of the Public Theater's Under the Radar Festival, 333 E. 47th St., NYC. Jan. 5–15. Mon., Wed.–Fri., 7:45 p.m.; Sat., 7 p.m.; Sun., 2:30 p.m. (212) 715-1258 or www.japansociety.org.