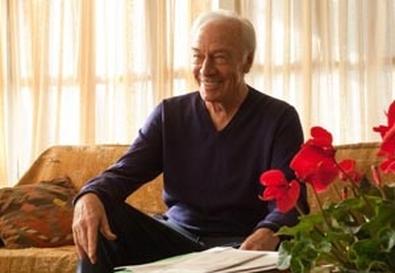 Writer-director Mike Mills had indie success with his first feature, "Thumbsucker"—an award winner at Sundance in 2005—but truly steps it up with "Beginners," a funny, honest, heartfelt, human, and just plain wonderful movie. It's the kind of life-affirming film that makes going to the cinema worthwhile.
"Beginners" expertly blends comedy and drama with such apparent ease you would think Mills had made 20 narrative films rather than just two (he also directed a documentary called "Does Your Soul Have a Cold?" in 2007). Perhaps the leap in quality is due to the autobiographical nature of the material. Mills based "Beginners" on his own experiences when his 75-year-old father, married to Mills' mother for 45 years, suddenly came out of the closet, completely changing his life and that of his son. He died from cancer five years later but proved there can be a new "beginning" at any stage in life. Mills starts his story with the death of Hal Fields (Christopher Plummer), then flashes back to chronicle the relationship between father and son Oliver (Ewan McGregor), as we see the new world his dad is immersed in, the spark in his step, and the impact this "traumatic" change of events has on Oliver. The parallel story is how Oliver takes his own tenuous steps into a relationship with the charming Anna (Mélanie Laurent) only months after Dad dies, and the film darts back and forth between those flashbacks and the present.
Mills has crafted a decidedly small film but one that sneaks up on you and touches the heart. A nonhuman link in all this is Arthur (Cosmo), a very needy Jack Russell terrier who was devoted to Hal and now has been inherited by the son. It's a new beginning for the dog as well, and Oliver discovers that the need for connection, human or otherwise, is pervasive.
You know the old adage "Don't act with kids or dogs." It certainly applies here, as Cosmo steals every scene he's in. Don't cry for McGregor, though, as he handily holds his own in a terrific performance that is one of his best in some time. He slyly underplays most scenes and adds moving narration that keeps the story on track and does not detract at all from the narrative thrust of the film. Laurent doesn't have as much to do, as it's not her film, but she proves, as she did in "Inglourious Basterds," that she's an actor of great skill and variety. Goran Visnjic also enjoys a nice change of pace as Hal's new boyfriend. But Plummer is the one we remember. This veteran star is over 80 but gives what is surely the first Oscar-worthy performance—male or female—of 2011. He's an old pro who never takes it over the top but shows how the acting game is played.
"Beginners" is a must-see for anyone starved for a beautifully acted, quiet slice of life in the blockbuster-oriented summer months.
Genre: Comedy/drama
Written and directed by: Mike Mills
Starring: Ewan McGregor, Christopher Plummer, Mélanie Laurent, Goran Visnjic.