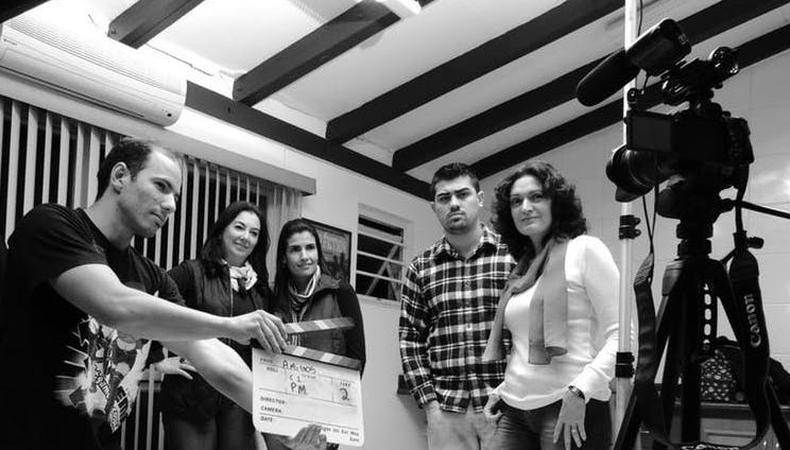 With the Emmy Awards just around the corner (the ceremony will be held Sept. 17), this week Backstage is angling our spotlight on predictions for the small screen honors and all the marvelous actors vying for them. But before Elisabeth Moss or Sterling K. Brown ever stepped foot on a TV set, they were beginners who probably didn't have much of a clue and could have used a confidant to tell them what's important when it comes to auditioning for television, what you need to know onset and, for goodness' sake, what it means to "check the gate." Allow our Backstage Experts to be that confidant for you with this beginner's guide to all things acting on TV.
Know your lingo.
"As actors and dancers onstage, we learn very quickly what upstage, downstage, etc. mean when blocking a performance. This lingo is a shortcut language. That same type of language exists when working in television.
"You probably can use common sense to figure out what things like 'cut' mean, but do you know 'checking the gate'? What about 'last looks'? Try to learn as much of the lingo as possible before showing up on set so you're not completely in the dark. Same goes for who's who." —Carla Renata, blogging/branding expert, founder of the Branding Buddha, and Backstage Expert
When it comes to direction, no news is good news.
"A TV director is busy. Every department on set needs her time and input, she's desperately trying to satisfy the creative vision of the writers and creative producers while not losing her own, and she's one temperamental lead actor away from not being asked back to direct another show. She's up earlier than you and going to bed later than you, trying to finish the day before the whole set goes into overtime. And she's always aware that lurking around every corner is a potential creative or technical snafu waiting to throw the set into disarray. So, if after your scene or after a couple takes she doesn't redirect you or tell you that you did a great job, don't sweat it. Rest assured that if you weren't giving her what she needed, she would tell you. In a professional setting, personal validation is not a reasonable expectation. They expect that you're going to know your lines, have a clear point of view, be ready to go, and deliver. When you do, they move on. If you get a chatty director who wants to work with you, great. If not, it's not an indictment of your work. She's just busy." —Risa Bramon Garcia, director, casting director, co-owner of the BGB Studio, and Backstage Expert, and Steve Braun, L.A.-based acting coach, actor, co-owner of the BGB studio, and Backstage Expert
Study the TV you love—it will help.
"First, record the shows you watch religiously. Study them, commercials and all. You're more likely to land work within your wheelhouse; styles you're familiar with and that you find entertaining.
"Second, make a point to see popular shows you've heard of but haven't yet seen in order to stay on top of popular references. Do a quick web search of the top 25 shows and you'll likely discover at least 10 you've been meaning to catch.
"Third, the direction you're likely to get on auditions and gigs will be based on references from network television, cable, premium channels, and various streaming services. We've never had this much content! It's really astounding. Nevertheless, if it's popular, you should watch at least six-to-eight consecutive episodes to get a feel for the style, genre, tempo, and characters. It's your job as a professional to stay on top of what's current." —Kate McClanaghan, casting director, producer, founder of Big House Casting & Audio, and Backstage Expert
You need to do your research on the given show.
"The most important thing you should suss out is knowing what you're dealing with in terms of the style and tone of the project. If you're auditioning for a hospital show, for example, there are obvious differences between 'Grey's Anatomy,' 'Scrubs,' 'ER,' and 'Code Black,' which means you're going to interpret each one differently.
"'Grey's Anatomy'" deals with high stakes, life or death scenarios like unusual or unrecognizable medical conditions that often parallels the real life drama of the characters lives. Episodes are often punctuated with characters dealing with their flaws and own vulnerabilities as we see their personal dramas enfold. Amidst all this, there is humor and quirkiness. 'ER,' on the other hand, is a straight, heightened drama that doesn't have the same lightness.
"Before any audition, it's crucial to figure out how your character fits the theme and tone of the show. Watch episodes if possible, read as much of the script as you can—really be sure you note the particulars like music, the rhythm of the writing, and the world a show is set in." —Michelle Danner, acting coach, film director, artistic director at the Edgemar Center for the Arts, and Backstage Expert
Your slate counts. Here's what to do (and what not to do):
"Dos: Stand on the mark provided. Equal weight over both feet, or comfortably sit your weight onto one hip. Look directly into camera and imagine you're talking to someone friendly. Say your name, and if requested, agent. If you don't have an agent, say, "Freelance." Speak in the accent of the role for which you are auditioning. Employ charm.
"Don'ts: Slate in character. Slate with glasses, hat, or distracting costume pieces on. Rock from side to side or move about. Mumble. Dart your eyes around. Apologize. Say anything else, unless requested to.
"Though there are exceptions to every rule, no actor ever landed a substantial role from their slating alone. Just keep it direct, clear, and charming, and focus your energy on being as prepared as possible for your audition." —Paul Barry, L.A.-based acting teacher and founder of Acting 4 Camera
Read what is written on the page. Yes, all of it.
"Do you know why it's particularly important to be word-perfect when auditioning for TV shows? Because television is a writer's medium. From Aaron Sorkin to Shonda Rhimes to Vince Gilligan, the writing on TV these days is second to none and it seems like it's only going to keep getting better. We are entering a new golden age of television.
"Look at the TV shows you love, and the executive producer and creator is also most likely the show's head writer. In episodic television, the writers are the engines who drive the show; everyone else is along for the ride. To extend this poor metaphor, while bucket seats and windshield wipers are vital, without the engine, the car goes nowhere. Television writers plan the season, oversee hiring directors and actors, and are intimately involved with making every episode. The show is their baby, their creation. Their child was born of words on a page and most great writers slave over every syllable. They make choices with language the way painters choose color: deliberately. Can you imagine auditioning for Shakespeare and saying, 'To be, or...die?' You wouldn't get cast." —Rob Adler, on-set coach, actor, director, teacher, and founder of AdlerImprov Studio in Hollywood
Know your lines, but still keep your sides close.
"Learn those lines and learn them cold.Know your lines backwards and forwards so that you are absolutely as prepared as possible. Don't stop running your lines to yourself until you hear 'check the gate,' which means they like how the scene went and are ready to move on to the next.
"When they call you to set for a rehearsal, have your script or sides in your hand so you can read it. Even if it is a one liner and you know it cold, it will keep you relaxed to have your script in your hand and feel the rhythm of how things should go. The rehearsal is not like a film or theater rehearsal; it's usually more for the writer and director to see how the scene sounds and how they might want to frame it for the shooting, and if, perhaps, they might want to tweak the lines. Give them a flavor of how you might want to do it. but do read them." —Douglas Taurel, actor-producer and Backstage Expert
Hitting your mark is everything in television.
"There are colored little pieces of tape on the floor, and the camera focus is set to those marks. If you overstep it, you are out of focus. Experienced TV actors know how to hit their marks without looking and say their lines simultaneously." —Matt Newton, acting coach and Backstage Expert
You're ready to get in the game! Check out Backstage's TV auditions!