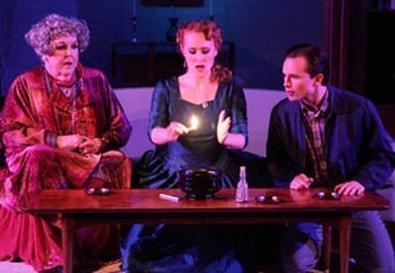 This fanciful 1950 comedy invites comparisons to Noël Coward's "Blithe Spirit" and supernatural TV sitcoms of the 1950s and '60s such as "Topper" and "Bewitched." Playwright John van Druten sprinkled subtle moments of serious reflection amid the frothy goings-on, yet his wistful tale of the attraction between a discontented witch and a neighboring book publisher, which became a fondly remembered 1958 Kim Novak–James Stewart film, hasn't aged well. Director Richard Israel's handsomely mounted and deftly acted production is intermittently amusing, yet the script seems neither as funny nor as engaging as one might expect.
It's Christmas in Manhattan, and glamorous but ennui-ridden witch Gillian (Willow Geer) pines to meet her handsome neighbor Shepherd Henderson (Michael A. Newcomer). Gillian's daffy aunt Queenie (Mary Jo Catlett) instigates magical mischief to disable Shepherd's telephone. This prompts him to stop by Gillian's apartment to borrow hers, leading to a meet-cute. Gillian casts a spell to win Shepherd's heart, but problems arise when her ornery warlock brother, Nicky (Will Bradley), collaborates with author Sidney Redlitch (Benton Jennings) to write a book about modern-day witchcraft. The book's revelations prove too close for comfort for Gillian, whose brush with genuine mortal romance causes her to lose her supernatural powers. Can this complicated love bond survive?
The performers work hard to evoke laughs, and each has moments to shine. Yet the narrative tends to meander, and the production lacks a sufficient sense of urgency, so van Druten's themes of loneliness and human fragility don't come to fruition. Geer is a resourceful actor, capturing Gillian's brittle sophistication and her befuddlement at experiencing human emotion. But the script offers little support in making her dilemma meaningful or worthy of empathy. Newcomer has fun with straight-arrow Shepherd's bewilderment as the character grapples with sudden passions he can't comprehend. There are delightful supporting turns by Bradley and Catlett, whose giddy enchantress is tickled pink that society doesn't know about her powers. Jennings is funny as the alcoholic writer who believes witches lurk around every corner. Israel's incorporation of a few bars from Rodgers and Hart's lovely ballad "Bewitched, Bothered, and Bewildered" is a sweetly nostalgic touch.
Presented by and at the Colony Theatre, 555 N. Third St., Burbank. Oct. 23–Nov. 21. Thu.–Fri., 8 p.m.; Sat., 3 and 8 p.m.; Sun., 2 p.m. (818) 558-7000, ext. 15, or www.colonytheatre.org.