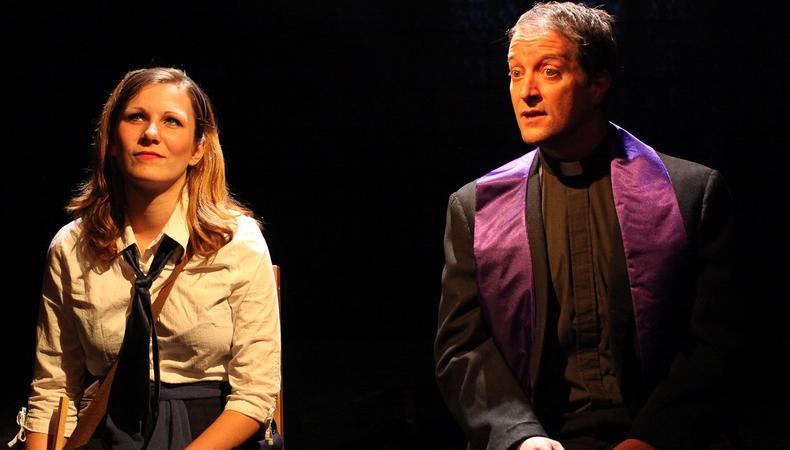 The private tragedies resulting from the "Troubles," the bloody hostilities between the Catholics and the Protestants in Northern Ireland, are depicted with irreverence and an underlying anguish in the world premiere of Nate Rufus Edelman's artfully crafted anti-war work.
The year is 1985; the place is Belfast. Anne Malloy (Sarah Gise) is a brazen, boldly sexual orphan of 17 whose parents were killed in a bombing by the Provisional IRA, as collateral damage in a kind of friendly fire incident. They have since become martyred heroes, but Anne, bereft, bitter, and alone underneath her shameless exterior, wanders aimlessly through life. She goes to confession after a long absence from the practice—but is only there because she has a passion for the priest, Father Reilly (Daniel Blinkoff). He wants to help her heal and make something of her life, but struggles between his feelings for her and his devotion to God.
Along the way, Edelman takes us into the rectory to reveal the men behind the cloth. Reilly's colleague, Father Behan (Billy Meleady), is an inveterate drunkard, given to swearing and maligning some of his parishioners. Even more telling is his deep partisanship, and his glorifying of the bombing that killed Anne's parents because it also killed seven Protestants. The author also laces the drama with sharp humor—as the play opens, Anne's great-aunt Emma (Carol Locatell), who is something of a tippler, is confessing to Father Reilly but struggles to come up with any genuine sins to report.
Director Claudia Weill uses the stage well and has elicited uniformly excellent performances from her actors. Gise, in the title role, fills each moment fully as her emotions ebb and flow. She is at first captivatingly outrageous in her impudent immodesty; later, when she reveals her deep pain and anger over the loss of her parents and her survivor's guilt, her suffering is palpable. Blinkoff gives an earnest yet subtle performance, projecting a basic decency and integrity as he quietly conveys the priest's inner struggle between the desire Anne has awakened and his commitment to his calling.
As the more cynical, flawed cleric, Meleady is, by turns, flamboyant, hilarious, and passionate about his religious and political convictions. It is difficult to sustain a believable drunken scene onstage, but Meleady meets the challenge admirably. And Locatell's work is simply delicious. Her total immersion in her character's skewed outlook is irresistible, while her sober farewell meeting with Reilly near the play's end is simple and touching. Caitlin Gallogly, in the role of Anne's more conventional best friend, displays an engaging softness, intertwined with fiery bursts of assertiveness, which is enhanced by a sparkling, expressive face and melodic voice. The actors would do well to soften their brogue, but that is a minor issue considering the power of this production.
Presented by the Ensemble Studio Theatre Los Angeles at the Atwater Village Theatre, 3629 Casitas Ave., L.A. Oct. 6 –28. (323) 644-1929 or www.ensemblestudiotheatrela.org.
Critic's Score A-