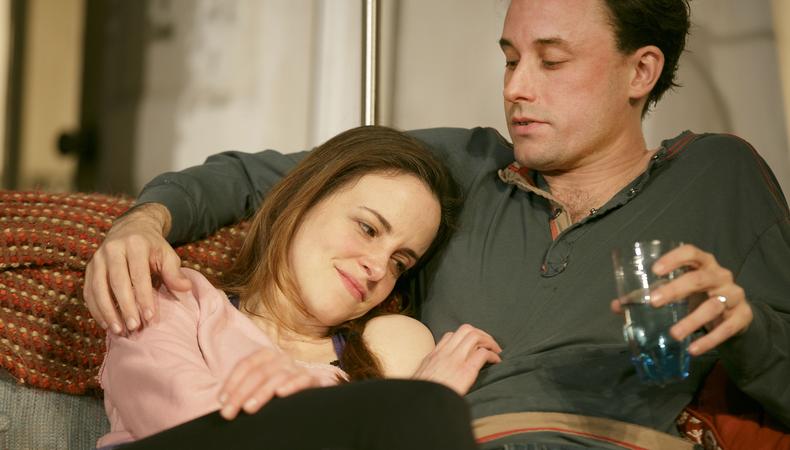 The prolific Amy Herzog hits a snag with "Belleville," a portrait of the seriously dysfunctional marital relationship of a couple of Americans in their late 20s living in the titular bohemian Parisian neighborhood. While Herzog's considerable talent for dialogue and character is in evidence, the play is not stylish enough to be just a thriller, while the nature of Zack and Abby's problems is based on such a web of outrageous lies that the drama fails to resonate beyond them.
It's clear from the get-go that this is a troubled couple with entitlement issues. Abby, a yoga instructor, resents having given up her desire to be an actor to come to Paris with Zack, who got a job with Doctors Without Borders and works on research to prevent children from contracting AIDS. Irritable and edgy, Abby is trying to go off her depression meds, which she began taking five years earlier to deal with her mother's fatal illness. She's also angry because a screw up with their visas, which she attributes to her husband, has made it impossible for the couple to go home for her sister's first child's first Christmas. Zack smokes too much marijuana, lies easily, and is a controlling husband; Abby, in her own words, can be an "emotionally abusive" wife. Also present to provide contrast and further plot is a slightly younger French Muslim couple of African descent; Alioune and Amina are the onsite caretakers of the apartment building and far more mature than their tenants.
While Herzog has created two believable characters in Zack and Abby, they aren't very sympathetic or interesting, and as their life together comes crashing down around them in the course of one day, we start to wonder why we are bothering with them at all. As for Alioune and Amina, they are much more broadly sketched, to the point of feeling like dramatic contrivances.
Director Anne Kauffman keeps things moving and elicits nuanced performances from Maria Dizzia, as Abby, and Greg Keller, as Zack. Dizzia and Keller make a convincing couple, especially in their physical intimacy with each other, but they fail to draw us in emotionally. We are kept on the outside looking in. Phillip James Brannon is a bit too much of a cipher as Alioune, but Pascale Armand works wonders with the little she's given as Amina.
New York Theatre Workshop's confident physical production—set by Julia C. Lee, costumes by Mark Nagle, lighting by Ben Stanton, music and sound by Robert Kaplowitz—reinforces a sense of the banality of everyday life. Indeed, Herzog appears to want "Belleville" to be a tale of how a perfectly ordinary marriage can go shockingly amiss. While it's never less than professional, all I was left with was a single nagging question: What was the point of that?
Presented by and at New York Theatre Workshop, 79 E. Fourth St., NYC. March 3–April 14. (212) 279-4200, www.ticketcentral.com, or www.nytw.org. Casting by Jack Doulin.
Critic's Score: C