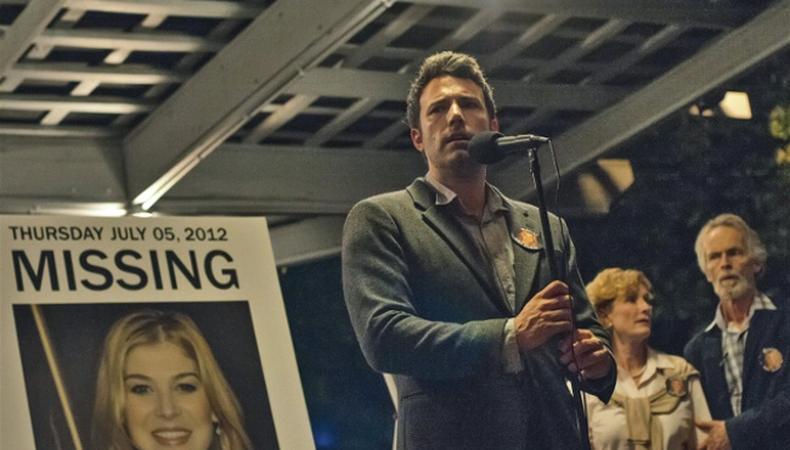 Ben Affleck's boyish charm might have worked against him as Nick Dunne in "Gone Girl." But his inherent likability only added to the maddeningly long list of questions that drove David Fincher's latest film. "Gone Girl," a story of toxic love and deception told through the lens of a man thrust into the spotlight after his wife mysteriously disappears, is a disquieting dig into how much con-artistry can be involved in starting and maintaining a marriage.
Affleck begins as the witty, handsome fella who knows what to do, what to say, and how to say it. He carries himself with a cavalier bravado, but as the film progresses and people begin to question his façade, we see just how much that unassuming perfection disintegrates in the face of life's onslaughts.
As Nick, Affleck got to play it all: the hopeless romantic; the doting lover; the trapped but still blasé husband in the shadow of his wife, Amy (Rosamund Pike); the resentful partner; the schemer; the liar; the redeemed.
"The guy had to make mistakes and risk being unlikable, and that likability is something that we cling to in storytelling—particularly in Hollywood," Affleck says. "Being unlikable and being a protagonist is a big risk, but the idea was to err on the side of realism. [Screenwriter] Gillian Flynn and David had this idea that there had to be a vulnerability to the character that you might not otherwise see in a movie like this that has your classic thriller protagonist."
The realism comes through in an all-too-familiar way. In flashbacks, we see unemployed Nick doing nothing more than schlepping around his apartment, eating Chinese food and playing video games for days on end. The actor says he put on 10–15 pounds to channel "the sort of sloppy everyman of it all" in those scenes. However, with Flynn's characters and the famously dark Fincher at the helm, Nick's nuances and complications transcend the "everyman," picking at the satirical humor that often rides on the coattails of life's varied gaffes.
"I got to play all sorts of different things," Affleck says. "I got to try to keep shifting the audience's evaluation of me as the movie went on so they were hopefully making different assessments about my character: 'What kind of guy is this? What kind of marriage did they have?' There were multiple things to play, and I know that David is somebody who is fastidiously interested in performance, so it would be something really nuanced."
The range Affleck was able to play is what attracted the Oscar-winning actor-director to the part, and he was able to capture the fluctuations in Nick's demeanor through working with Fincher, Flynn, and his cast mates, including Carrie Coon, Missi Pyle, and Tyler Perry, to prepare for the 110-day shoot.
"It was wonderful because David is really smart and he's very verbal," Affleck says. "He kind of likes to communicate in metaphors, which is really effective for me."
The actor says his own experience as a director forged a deeper trust with Fincher that also helped open doors to a sort of friendship, allowing them to laugh with what Affleck describes as a "callous humor" at the situations they found the characters in.
"It was a tough experience in that it is a movie about some tough stuff, so to have that ability to laugh made it easier," he says. "It's not laying brick, but it is coming to work, wallowing in the psychological mud of not only a failed marriage but almost a failed life, and a frustrated life of contemporary, quiet misery."
Inspired by this post? Check out our film audition listings!