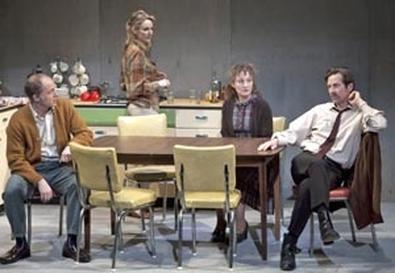 Carl Forsman, artistic director of Keen Company and director of its current production of Michael Frayn's 1984 drama "Benefactors," is quoted in a press release as saying that the play evinces Frayn's "benevolent view that people really do try, in their own, flawed ways, to do the best they can by their fellows." But what I saw on stage at the Clurman Theatre was a work suggesting that we generally act out of selfishness, though we seldom allow ourselves to be aware of it.

An intriguing disconnect, to say the least. Perhaps it was a result of the slightly uneven production, in which the women are more successful than the men. Or perhaps Frayn has written a Rorschach test that can accommodate such diverse interpretations. The one thing that's clear to me is that Frayn is an acute observer of human behavior. He kept my interest for two hours, and he's likely to keep yours too.

The play is set in England in two time periods, 1968–72 and 1984. Narration from the latter is interspersed with scenes in the former until late in Act 2, when the scenes catch up. The story concerns two neighboring suburban couples. Idealistic but practical David runs a small architectural firm, while the chipper, indefatigably competent Jane, who has a degree in anthropology, works for him while also tending to their three children.

Cynical, underachieving Colin, a college chum of David's, is a classical scholar employed by a women's magazine; the uneducated, mousy Sheila is an incompetent housewife and mother with a devastating lack of self-esteem and a knack for obsession. Sheila is always popping round on Jane to share a cup of tea and beg a favor or two. Jane regularly invites Colin and Sheila for dinner and conversation, even though neither she nor David enjoys it. When David lands a big urban-renewal job, it seems like a good thing. Nevertheless, it sets in motion a tide of events that will destroy friendships and marriages and transform all four lives.

On the surface, it appears that Jane and David's initial attempts to "help" Colin and Sheila are selfless, as they draw the couples closer. But these actions also reinforce Jane and David's sense of superiority while allowing them to feel good about themselves. When Jane, who detests Colin, realizes that he is so verbally abusive to Sheila that she is in danger of cracking up, Jane arranges for Sheila to work for David, to take her out of herself, which is as much about sticking it to Colin as it is helping Sheila. Colin cloaks his retaliation in noble motives. And so it goes throughout the play.

Vivienne Benesch is a terrific Jane, immediately suggesting dark areas of judgment underneath a happy-to-be-subordinate exterior and then volcanic when that exterior cracks. Deanne Lorette is bravely uncompromising as Sheila, so convincing in her whiny lack of self-regard and aggressive puppy-dog ardor that we wince more than the characters at Sheila's behavior. Stephen Barker Turner, as Colin, seems to be channeling James Mason, which is not inappropriate, but he misses the aching emptiness in the man's soul. Daniel Jenkins gets the surface right but takes David's comment that he hates a fight too much to heart, reducing the character's capacity for anger and frustration just enough that his transformation amounts to less than it should.

Can you tell I had mixed feelings? I'm still sorting them out, something I think suggests that "Benefactors" is well worth your time and attention.

Presented by Keen Company at the Clurman Theatre, 410 W. 42nd St., NYC. April 5–May 7. Tue., 7 p.m.; Wed.–Fri., 8 p.m.; Sat., 2 and 8 p.m.; Sun., 3 p.m. (Additional performance Wed., April 27, 3 p.m.) (212) 239-6200, (800) 432-7250, or www.telecharge.com. Casting by Judy Bowman.