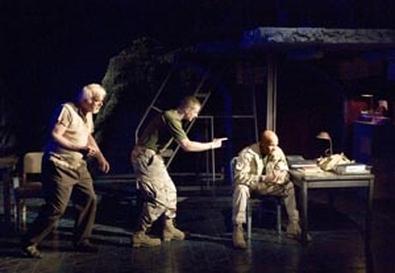 This review originally ran in May 2009 for the Kirk Douglas Production.
The brain jolts to a start at the top of this world premiere and doesn't cease whirring, even after the blood-streaked actors accept their well-deserved ovations. Rajiv Joseph has penned a monumental work that muses on cruelty and nature, language and creativity, religion and remorse, and probably more that still hasn't sunk in.
You'll notice the play's title does not put the feline in the zoo but rather at the zoo. That's a first clue that language is dear to Joseph, proven as the play percolates onward. The tiger, the character with initially the most self-awareness, bemoans his brutal temperament. If he's hungry, he'll kill. But as the world will have it, he is in turn killed—by an equally alien American soldier who, with a buddy he presumes he knows well, guards the beast in an environment none of them can call home. Meanwhile, an Iraqi translator named Musa ponders the vagaries of the English language and how he, too, has been wrenched from his life as a creative and peaceful gardener and is now asking his countrymen to perform "unspeakable" acts. The tiger's ghost haunts the American soldier; Uday Hussein's ghost haunts Musa, who then is haunted by his sister's ghost. Several of the characters' hands are lost, whether to violence or hideous disease. In return, those characters floating in an afterlife—but, as they notice, not in heaven—are given intelligence and insight.
Moisés Kaufman directs with his own earthly intelligence and insight. He brings realism and surrealism to the stage, giving us vivid images, and creating moods of fear and recognition and humor and revulsion. Lighting designer David Lander creates beating sunlight and bloody shadows. Cricket S. Myers' sound design is clear yet allusive, with appropriately "haunting" music by Kathryn Bostic. And Derek McLane's scenic design is massive and unforgettable, with its multistory tiled arch as a symbol of oh so much, plus touches of a messy cramped office, topiary garden, scorched desert, home, hospital, and of course the zoo, the bars as straight and as crooked as the arguments the play makes for and against oh so much.
Beyond technique and into the realm of theater magic, Kevin Tighe is stellar as the tiger, giving a performance worthy of a world-class Lear. Arian Moayed beautifully plays Musa, able to convey humor with a flicker of his tender, nearly teary eyes, able to play fear and loathing with a flicker of his gentle smile. The two soldiers are played by Glenn Davis as the embodiment of greed and Brad Fleischer as the embodiment of youthful violence; Fleischer, not particularly effective as the dullard at the play's top, comes into his own as his more intelligent, knowledge-thirsty ghost. Hrach Titizian is smugly repulsive as Saddam Hussein's deceased son, Necar Zadegan is wrenching as a leper (the makeup could be less-obviously plastic), and Sheila Vand is luminous as the ghost of Musa's little sister, then steps in as a young Iraqi hooker wearing a hijab.
The production is shockingly violent and strangely gentle, highly intelligent and plainly vulgar. Aren't we all capable of all these attributes.

Bengal Tiger at the Baghdad Zoo is in production through May 30 at the Mark Taper Forum, 135 N. Grand Ave., L.A. Tue.-Fri. 8 p.m.; Sat. 2 & 8 p.m.; Sun. 6:30 p.m. (213) 628-2772. www.centertheatregroup.org.