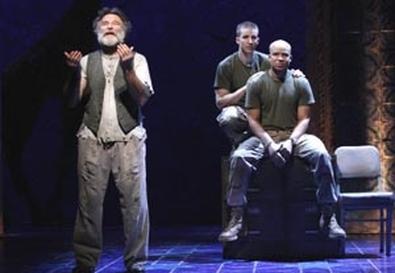 "This place is lousy with ghosts, and the new ones are irritating," says Robin Williams as the titular beast at the top of Act 2 in "Bengal Tiger at the Baghdad Zoo," Rajiv Joseph's weird and whacked-out, Pulitzer-nominated play. Unfortunately, that line describes the work itself, as well as the bizarre afterlife in which it is partially set. The fact that one of those annoying phantoms is played by a comic genius helps somewhat, but not enough.
The action starts promisingly. Williams is discovered pacing in a battered cage, guarded by two American GIs. As a philosophizing jungle cat—costumer David Zinn has wisely clothed him in simple work clothes, with no suggestions of striped orange fur or a tail—Williams launches into a howlingly funny diatribe on the futility of a wild animal's life in captivity. Things take an unexpected turn when Tom, one of the soldiers, taunts the tiger, who bites his hand off. Kev, Tom's buddy, shoots and kills the creature. The dead tiger then searches for meaning in his senseless slaughter and haunts Kev, who in turn suffers a mental breakdown. The plot gets even crazier as Musa, an Iraqi interpreter for the American forces; Uday, one of Saddam Hussein's sadistic sons; a gold-plated gun and toilet seat; a teenage prostitute; and a leper woman become involved.
In the right hands, this sort of convoluted meshugaas can work, but Joseph tells rather than shows. All the dramatic conflicts—the killing of the tiger, Kev's psychological unraveling, the surprisingly humorous negotiations between Tom, Musa, and the hooker—are over too fast, and then the slain characters rise to debate the implications of their actions endlessly. Like "Spider-Man" before Julie Taymor got the boot, "Bengal Tiger" could do with some trimming. It would work much better as a long one-act. As it is, the plot becomes repetitive and predictable: A character dies, haunts somebody else, and keeps reappearing to make the same points about the general awfulness of the universe and the absence of God. This is a shame, because Joseph has an imaginative voice and uses it to express some innovative ideas about the nature of war and violence and the redemptive power of art and beauty. Unfortunately, they get lost in the ever-thickening mists of the plot.
Moisés Kaufman, who directed the play in its world premiere at Los Angeles' Kirk Douglas Theatre, delivers a sturdy staging and elicits searing performances from the cast, many of them holdovers from that production. Williams brilliantly focuses his manic comic energy on an intense portrayal of the questing tiger. In a role made up mostly of monologues to the audience, he finds the active through-line—conquer animal instincts and solve the existential riddle—and plays it for all it's worth. Though Williams is the nominal star, the play really belongs to Arian Moayed, whose Musa has the most stage time and goes through the most changes. We read the play on Moayed's eloquent face and in his supple, subtle body language as Musa relives the terror of Saddam's regime, attempts to regain his humanity, and then loses it.
There is also much to admire in Hrach Titizian's satanic Uday, Brad Fleischer's boyishly gung-ho Kev, and Glenn Davis' narcissistic yet needy Tom. Necar Zadegan and Sheila Vand make the most of multiple smaller roles. Derek McLane's rundown, suggestive set combines with the otherworldly lighting by David Lander and the eerily realistic sound design by Acme Sound Partners and Cricket S. Myers to conjure up a Baghdad simultaneously hellish and earthly.
"Bengal Tiger" is on the Main Stem because of its Pulitzer pedigree—it was shortlisted for the distinguished award as a result of the L.A. production—and because of Williams' name on the marquee. I salute the star and the producers for trying something different and original on tired-businessman Broadway. Too bad it's so much of a muddle.
Presented by Robyn Goodman, Kevin McCollum, Jeffrey Seller, Sander Jacobs, Ruth Hendel/Burnt Umber, Scott & Brian Zeilinger, Center Theatre Group, and Stephen Kocis/Walt Grossman at the Richard Rodgers Theatre, 226 W. 46th St., NYC. Opened March 31 for an open run. Tue., 7 p.m.; Wed.–Sat., 8 p.m.; Wed. and Sat., 2 p.m.; Sun., 3 p.m. (877) 250-2929, (800) 745-3000, or www.ticketmaster.com. Casting by Bonnie Grisan and MelCap Casting.