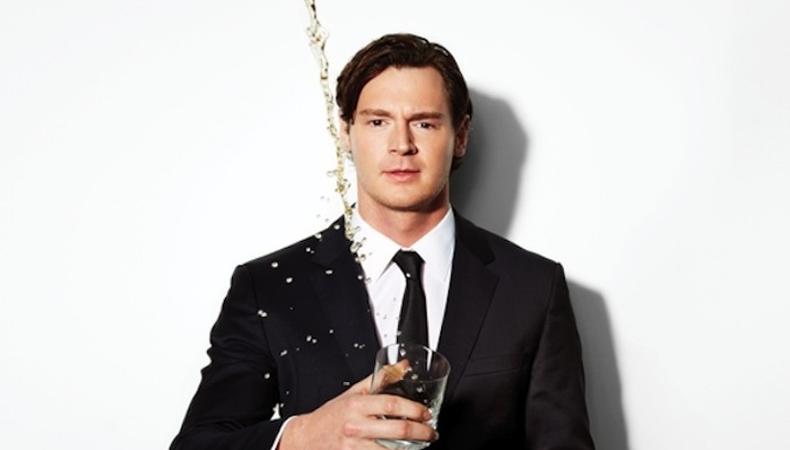 Benjamin Walker stands towering in his dressing room on the fourth floor of the Richard Rodgers Theatre—the "nosebleed section," as he calls it. "You want something to drink?" he asks, his 6-foot-3 frame dominating the small space. "I have a Yuengling." The minifridge housing the single beer and the stark white walls decorated solely with a pull-up bar complete the college dorm–like décor. Only a pink Roxy Quiksilver shower curtain ruins the masculine image. "I picked it out special for Brick," he jokes.
That would be Brick Pollitt, the hard-drinking center of Tennessee Williams' "Cat on a Hot Tin Roof." For the latest revival, opening Jan. 17, Walker stars alongside Ciarán Hinds, Debra Monk, and Scarlett Johansson as Maggie the Cat, Brick's sexually frustrated wife.
"Ben was the first person I thought of," director Rob Ashford says, adding that he wanted someone who fit the golden boy image of the 1950s South. Walker has been trying to work with Ashford since he was set to star in the canceled production of "Brigadoon" in 2008. "He just blew me away," Ashford remembers.
Walker was an inspired choice, as he is best known for sporting eyeliner and epically tight jeans as the title character in the emo-rock musical "Bloody Bloody Andrew Jackson." Although before Walker earned the nickname "Sexypants," he graduated from Juilliard and appeared on the Main Stem in "Inherit the Wind" and "Les Liaisons Dangereuses."
"I was expecting someone really, really fancy," says his "Bloody" co-star Jeff Hiller of meeting him. "And during the first rehearsal, he made dumb joke after dumb joke followed by a fart. I was like, 'Oh, this guy ain't so fancy!' "
Nor does he care to be. The 30-year-old looks boyish in a "dirty hoodie" and loose jeans, with orange-and-blue Nikes that he enthusiastically reveals have his name embroidered on the tongues. A pilling, navy beanie completes the outfit "because they want my hair straight," he says.
He looks at home in the theater, but he is equally at home hosting his monthly standup comedy show "Find the Funny" and wielding an ax as Honest Abe on the big screen last summer in "Abraham Lincoln: Vampire Hunter." But one thing is outside this Renaissance man's comfort zone: the interview.
"I'm really out of my element," he says of speaking to the press. He begins to open up, however, and even proves he's comfortable with—if abashed by—his burgeoning reputation as a Broadway sex symbol, one that will no doubt explode after audiences see him make his first entrance in "Cat."
"That's my costume," he says, pointing to a white towel hanging nearby. "That's all I get…I have to take it off. You get some full-on butt nekkid up there."
He has a tough act to follow, after Paul Newman's steamy performance in the 1958 film and the two recent Broadway revivals starring Jason Patric and Terrence Howard in the role. The silver dumbbell resting on the matted carpet and the workout ball tucked on the shelf suggest Walker's been preparing tirelessly. But he hasn't watched the film in a while and has never seen the play onstage. "It's more important that I look like a football player," he explains of his fitness regime. "There are so many references in the beginning of the play to the fact that what's shocking about Brick is that he drinks so much but he has no fat on him. But other than that, I can't be bothered."
While he may not be perfecting his biceps, he did rely on his Juilliard training to prepare and turn the physicality of a character suffering from a broken foot into muscle memory. "I'm doing drunk crutch acting on a raked stage," he says. "That kind of technical work is very vital because you don't want to be thinking about that when Maggie's trying to pull your pants down."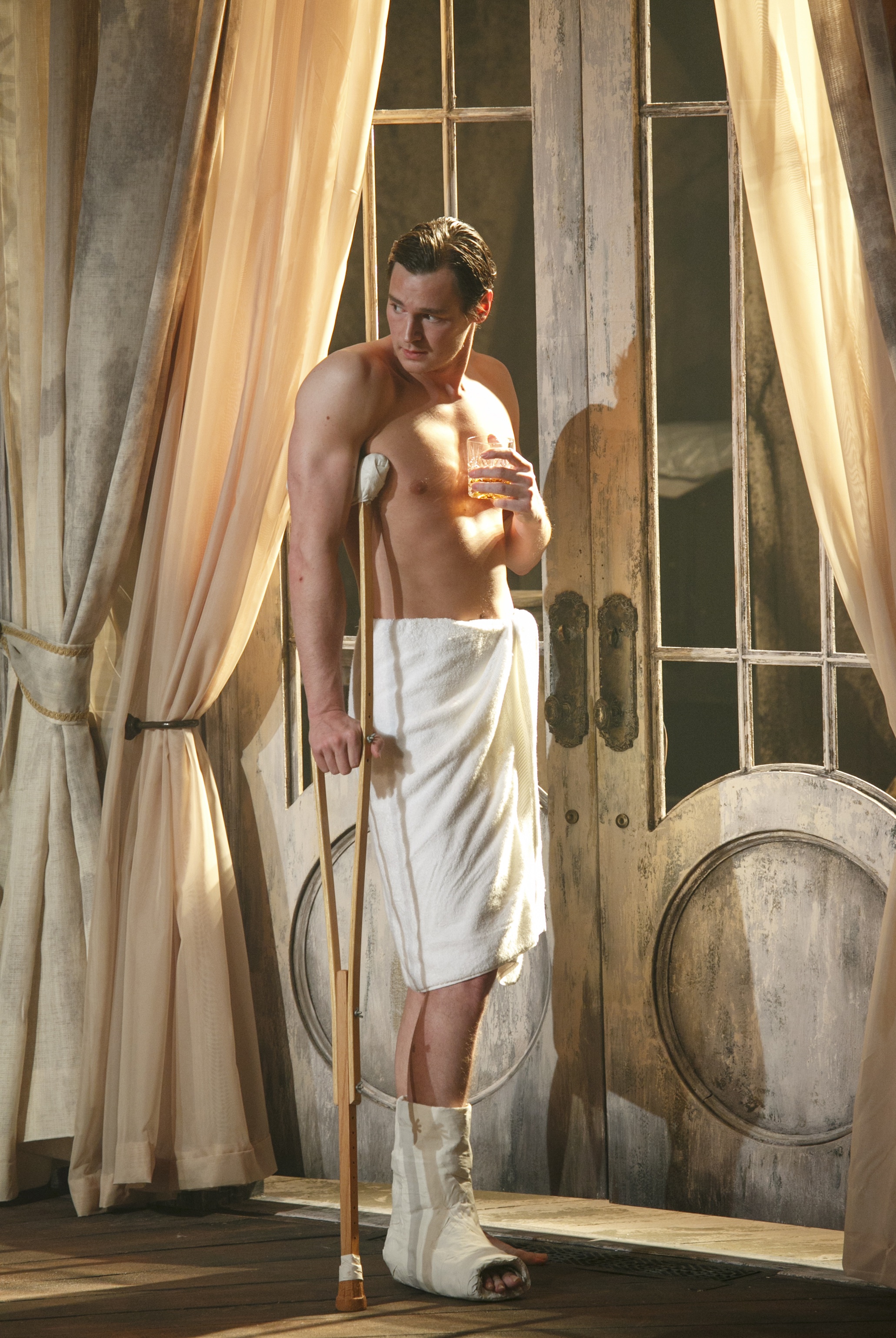 Walker makes sure to add that he admires his Maggie, as he continually argues that women have it harder in show business, something he knows a thing or two about because his wife, Mamie Gummer, is also an actor and his mother-in-law is Meryl Streep.
"She could very easily be a jerk, and I think the fact that she's not is very remarkable," he says of Johansson. "There's so much more pressure on them in terms of how they have to look, how they have to carry themselves. I mean, look at me!"
Walker hasn't always had it easy. He grew up in Cartersville, Ga., as Benjamin Davis. (He changed his professional name to Walker—his mother's maiden name—when he received his SAG card for the film "Kinsey" during his senior year at Juilliard, because Davis was taken.) He says that he knew people like Williams' characters growing up in the South; when asked, however, if he was similar to Brick back then, he finds the question laughable.
"Are you kidding me?" he says, almost jumping out of his chair. "Oh man, I was a loser in high school. I'm still a loser."
It didn't help that he grew up wanting to be a ballet dancer. His dad owned a video rental store and let Walker watch any movie he wanted as long as it was in black and white, which led to an admiration for the careers of Gene Kelly and Fred Astaire. He wanted to learn how to tap dance and wound up in ballet, as the ballerinas needed male partners. "You can imagine how well that went over in small-town Georgia," he says, laughing.
But Walker grew restless in his hometown, and for his senior year of high school he attended Interlochen Arts Academy, a prestigious training program in Michigan, where a teacher named David Montee changed his life.
Walker compares working with Montee to his process with Ashford, which he calls a "dream job," and confesses that he's a little bit in love with the director. For Ashford, the feeling's mutual.
"He's not the kind of guy who, if he misses a line or he misses a moment, is going to beat himself up," Ashford says. "He is truly gifted, and he is a truly hard worker. When you put those two things together, the sky's the maximum."
If he's on the verge of stardom, Walker can't tell. He doesn't read what's written about him ("Should I?" he asks with a smile), and he's free of vanity.
"I look how I look," he says while the groomer preps him at his photo shoot, though he adds that Ashford sent him to a tanning salon because "Brick is not translucent!" His laid-back attitude is refreshing, and he quips about wanting jobs to keep his health insurance. Even though fame is upon him, he can't quite sense it.
"Nobody bothers me," he says. "It doesn't help me pay my rent. What difference does it make? I don't get anything because of it."
After the shoot wraps, Walker gives hugs all around and walks out of the Chelsea studio, pausing on the sidewalk to check his phone. Before long, he won't be able to stop casually on a street corner without being pummeled by legions of fan girls.
Enjoy it while it lasts, Ben.