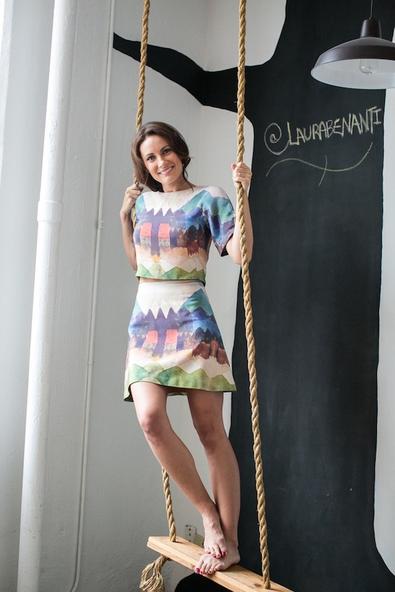 Give me your tired, your poor, your huddled masses waiting in the rush line for "Les Misérables!" If you're #living on the high of this amazing New York theater season and looking to further connect with your favorite personalities on and around the Great White Way, here are 10 #Broadway Tweeters to liven up your day. And if you don't have a Twitter account, you should get one just to follow these social media geniuses.
Laura Benanti
With the exception of Broadway fanatics and Internet-savvy musical theater lovers, Laura Benanti may be Twitter's best kept secret. The Tony-winning actor, now starring in Radio City Music Hall's "New York Spring Spectacular," pontificates on everything from eating cheese to kissing gay guys to why Spanx for thighs aren't called Thanx. She's also friends with all the most fun people on and around Broadway, and uses her platform to share information about causes we should all be supporting. Turns out celebrities—or at least certain wildly talented and hilarious divas—are just like us after all.
Therapist: So, how are you? Me: Well, 4 people gave my YouTube video a thumbs down, so... Therapist: *clears all other appointments*

— Laura Benanti (@LauraBenanti) December 24, 2014
Lin-Manuel Miranda
Tony-winning composer and actor Lin-Manuel Miranda is leading a revolution in the New York theater community with his newest musical "Hamilton," now playing at the Public Theater with a Broadway transfer scheduled for this summer. His Twitter account is a sort of online revolution: equal parts go-get-'em aphorisms, thoughts on the creative process, and post-"Hamilton" selfies with a seemingly endless array of celebs (as Jennifer Damiano pointed out, those selfies have become the new Sardi's portrait). If you're feeling down or in need of a laugh—perhaps because you can't get tickets to "Hamilton"?—follow @Lin_Manuel.
*Lady rolls down her car window at 181st street* "congrats on HAMLET!" Me: "I WISH I wrote Hamlet!" Lady: "Yay HAMLET!" *drives away* #myday

— Lin-Manuel Miranda (@Lin_Manuel) February 19, 2015
Seth Rudetsky
We're #obsessed with Seth Rudetsky. The host of Sirius/XM Satellite Radio's On Broadway show is a veritable well of musical theater know-how, and probably has the phone number of every living Broadway diva. His YouTube channel and books are worth checking out, too, and his Twitter page is full of equal parts insider gossip and impassioned pleas for social justice. You'll be obsessed in no time.
.@ChristinePedi Sings the Witches Rap from #IntoTheWoods (Diva edition) on #SethSpeaks Watch & Subscribe: http://t.co/xdq0kKPvRD

— Seth Rudetsky (@SethRudetsky) March 31, 2015
Audra McDonald
Not only is Audra McDonald one of the most decorated stage actors in history, she's a Twitter warrior for social justice. She understands that social media is an opportunity to champion causes and raise the collective consciousness, as evidenced by her recent support of Rudetsky's campaign for foster kids adoption. And as an actor with a comedic instinct as honed as her legendary vocals, her tweets are often witty and just plain fun.
Just dreamt I was auditioning 4 Andrew Lloyd Webber in my driveway. He stopped me mid song, told me my voice was a mess & said "go home".

— Audra McDonald (@AudraEqualityMc) March 19, 2015
The Ensemblist
Dubbed "the only podcast to turn Broadway inside out," The Ensemblist offers a zippy and fun look at the inner workings of the Great White Way. Co-hosts Mo Brady and Nikka Graff Lanzarone interview and advocate for some of the most hardworking theater actors in New York with refreshing enthusiasm. Most importantly, they've mastered the art of the selfie; their Instagram account is a theater geek's dream.
Broadway magic: a third curtain call at @LesMizBway for everyone whose first show was tonight. That's why we love this community so much.

— The Ensemblist (@TheEnsemblist) March 4, 2015
Billy Porter
If you're looking for bite-sized inspiration, Billy Porter's Twitter account will give you life. The Tony-winning star of "Kinky Boots" has made it his mission to encourage and enlighten his many followers, providing a stream of hashtag-strewn optimism. He also posts fabulous videos of his musical performances and those of his friends. Everybody say yeah!
"With the right music, you either forget everything or remember everything." #MusicHeals

— Billy Porter (@theebillyporter) March 27, 2015
Jennifer Damiano
This diva is straight-up hilarious. The "Next to Normal" star is known to tweet quips such as, "Wake me up when everyone's pizza," or "If you are not a microwave please get out of my way," and because she hangs with the cool Broadway crowd, we kind of feel cool by association. You're not the Invisible Girl, Jennifer!
Hey guys do you think 4 haircuts in 1 month was punk rock or psychotic my mom said not to tweet this but I was like no trust me it's funny

— Jennifer Damiano (@jenndamiano) October 9, 2014
Neil Patrick Harris
If you're not following NPH, who even are you? The legen-waitforit-dary actor and Oscars, Emmys, and Tonys host uses his massive following to broadcast causes he supports, stuff he loves, and the occasional pun. And yes...cute pictures of his kids. Follow @ActuallyNPH to soak up some of his awesomeness.
Happy Halloween from Gotham City!! pic.twitter.com/3gzmG44iEf

— Neil Patrick Harris (@ActuallyNPH) October 31, 2014
The Craptacular
The "irreverent, colorful commentary on Broadway" of thecraptacular.com often fits perfectly into less than 140 characters. Creators Lucky (Laura Motta) and The Mick (Aileen McKenna) worship stage divas with self-deprecating charm, and their site offers in-depth discussions of some of the most pressing issues facing the Great White Way today. Theater fans will find their tweets both informative and entertaining, as they focus on the important stuff—like Christian Borle's codpiece in "Something Rotten!"
I'm a 32-year-old single woman who just saw The Heidi Chronicles for the first time. Please point me toward the nearest bottle of wine. -M

— Lucky & the Mick (@thecraptacular) March 19, 2015
Patti Murin
"Once a cheerleader, always a cheerleader," reads Patti Murin's Twitter page. The zany "Lysistrata Jones" star is an online cheerleader for her Broadway colleagues and friends, but also for possibly un-ironic fans of "The Bachelor." Her retweets provide excellent suggestions for other Internet wormholes to fall into, and she now publishes an equally hysterical blog. Bonus: She's engaged to Broadway hunk Colin Donnell.
People in front of me, can you walk faster? You're really messing with my FitBit active minute count.

— Patti Murin (@PattiMurin) March 12, 2015