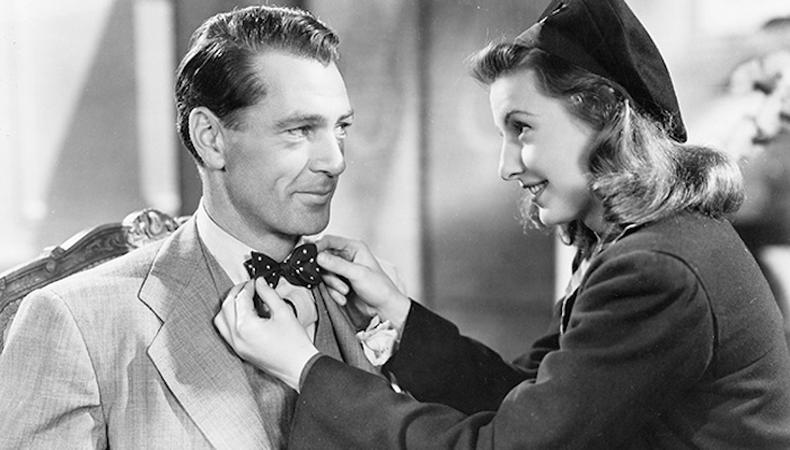 Every year around this time, we rely on a handful of tried and true Christmas movie staples. There's nothing like getting cozy with a perfect mug of hot cocoa (perhaps with an added shot of cheer) and immersing ourselves in "Love Actually," "It's a Wonderful Life," or "National Lampoon's Christmas Vacation" to set the tone of the season.
I happen to think that your favorite Christmas movie says a lot about you, your sense of humor, and how you relate to the world. Every year we hope and dream of a renewed dose of soul-stirring magic added to our collective cinematic psyche. With that, I present my brief-but-playful list of holiday movies you may not have had the pleasure to appreciate yet. Maybe you can add them to your annual rotation next year.
"29th Street" (1991)
Can luck be a curse? Perhaps. Or so this story goes. I must tell you this is my favorite below the radar Christmas movie bar none! Consider it my gift to you.
"Meet John Doe" (1941)
I dare you not to fall in love with Gary Cooper in this film. In a word: brilliant.
"Meet Me in St. Louis" (1944)
Great music, great story, great everything! Judy Garland met and married director Vincente Minnelli with this film. I'm betting you will fall in love, too!
"Kiss, Kiss, Bang, Bang" (2005)
Here's a "buddy picture" starring Robert Downey Jr., Val Kilmer, and Michelle Monaghan that's a hilarious, suspenseful, romantic treat. Not a family pic, but so fun for grown-ups with a need to scratch a bit more than a seasonal itch.
"MouseHunt" (1997)
Nathan Lane and Lee Evans deliver something few, if any, do well: Modern day slapstick. I cry with laughter at this movie. Great character roles, Christopher Walken among them. Perfection.
"White Christmas" (1954)
Directed by Michael Curtiz, starring Bing Crosby, Danny Kaye, Rosemary Clooney, and Vera-Ellen, this is the film that premiered VistaVision to combat that crazy television "fad" that was sweeping the nation! And even though I wasn't alive in the '50s, when I think of Christmas, these are the images that meld so completely with my own of family gatherings filled with happy aunts, uncles, and cousins singing carols and laughing around the piano as if we didn't have a care in the world.
"Brazil" (1985)
Directed by Terry Gilliam, co-written by Tom Stoppard, starring Jonathan Pryce, featuring key performances from the likes of Robert De Niro, Michael Palin, and Katherine Helmond. If you were looking for a cult-classic, dystopian, Sci-fi black comedy set at Christmas, look no further!
"The Muppet Christmas Carol" (1992)
Michael Caine as Ebenezer Scrooge is inspired. This is a fitting tribute to Jim Henson, directed by his son Brian, shortly after his untimely death. It's awesome.
"Trading Places" (1983)
Eddie Murphy, Dan Aykroyd, and Jamie Lee Curtis head this hilarious cast. Ralph Bellamy and Don Ameche define what Wall Street bad guys do for fun.
"The Snowman" (1982)
Pure, animated bliss that transcends age, language and time.
READ: Beyond the Camera: How 14 Famous Directors Worked With Actors
"Babes in Toyland" (1934)
Laurel and Hardy tickle the funny bone with this classic in a way that may make an old movie buff out of the most ardent video gamer.
"Holiday Inn" (1942)
Starring Fred Astaire and Bing Crosby. Irving Berlin wrote the Christmas songbook with this one and introduced the tune "White Christmas" as a bonus. (The 1954 film "White Christmas" is loosely based on "Holiday Inn.") Granted your social mores will be challenged by this picture, but sit tight, you can take it. It's well worth seeing!
"In Bruges" (2008)
Colin Farrell, Brendan Gleeson, and Ralph Fiennes star in this dark, brooding, moving, funny, frightening film that's the real deal.
"Reindeer Games" (2000)
Ben Affleck, Charlize Theron, and Gary Sinise. Action, deceit, corruption, foul play, and the old switcheroo: everything you're looking for in a holiday film.
"A Christmas Carol" (1938)
Yes, this picture is way frickin' old. Yes, this story is timeless. Yes, this is the one you should see. (Although the 1951 Alastair Sim version is pretty cool, too. I just like this one best.)
"The Black Stallion" (1979)
Full disclosure: This movie doesn't have a thing to do with Christmas but I love to watch it just after breakfast on Christmas morning, or at least the very next day if I can. Find it. See for yourself. It gives one hope against impossible odds. And that, my friend, is what Christmas is all about.
Get all of your acting questions answered by peers and experts on the Backstage Community forums!
The views expressed in this article are solely that of the individual(s) providing them,
and do not necessarily reflect the opinions of Backstage or its staff.