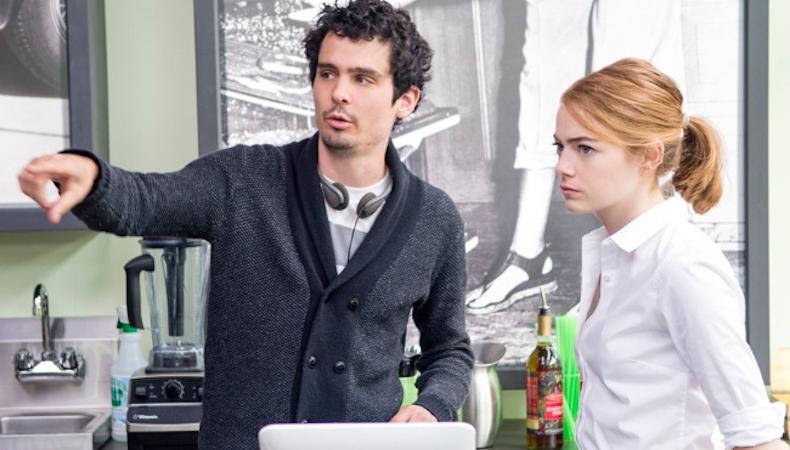 Directors entrust actors with no small responsibility: to bring their artistic visions to life. As the other half of an actor's closest working relationship on set, directors are valuable sources of insight on filmmaking and how the craft fits into that larger process; it's an intimate and symbiotic partnership.
This year's crop of best director Oscar nominees, many of whom directed their casts to their own nominations, are proof that when helmer and player are truly in sync, their unity of vision can create authentic movie magic. Here, all the nominees offer Backstage readers their best advice.
Damien Chazelle, "La La Land" writer-director
For Chazelle, an artist's life is all about resilience: "Certain things that might seem like setbacks at the time might be the things that push your career forward.... It's easy to be caught up in day-to-day ups and downs. Every up feels like you're winning the lottery; every down is your soul being crushed." Instead of focusing on rejection, the director encourages actors to change their perspective: "Try to take a step back and see those ups and downs and see a journey. It's a healthier way to be."
Mel Gibson, "Hacksaw Ridge" director
As an actor himself, Gibson sees an actor's abilities when they're not performing: "Generally speaking, I'll just sit and talk about the weather. You get an idea of who the person is and what they're capable of within 10 or 15 minutes of chitchat." Filmmaking is a collaborative process, Gibson explains. "All the guys I chose, I hired them for a reason. I was just glad to be in a conference of experts and to be able to bounce my ideas off of theirs and see what they gave me.... I know what it is to be in their shoes." Have confidence in your own ideas and don't be afraid to share them with your director.
Barry Jenkins, "Moonlight" writer-director
Don't underestimate how much of acting is nonverbal. To Jenkins, an actor's face tells just as big a story: "I was looking for someone who could emote without speaking, and mostly, that was in the eyes. I was really paying attention to what they were doing when they weren't speaking."
Trust in your director, be ready to work, and be willing to play. Jenkins praises his cast's openness: "If I asked them to do anything, they were like, 'Yes. How do you want me to do it? How many times do you need me to do it?' It was amazing."
READ: 8 Oscar Nominated Filmmakers on the Storytelling Process
Kenneth Lonergan, "Manchester by the Sea" writer-director
Don't skimp on your training. According to Lonergan, "There's a certain emotional immediacy and veracity to really good actors that is evident from the beginning. Somebody walks in and you can really tell if they're emotionally present or not, or if they're putting on an act.... The capacity to really act, it's Sandy Meisner: genuine emotion in imaginary circumstances. If someone can do that, they're going to be interesting." Lonergan also encourages actors to consider their suitability for a given role: "You wouldn't cast Ingrid Bergman and Bette Davis in the same parts," Lonergan explains, "but you couldn't say one was not an actress. The thing to do is to do your best and hope it fits the idea the director and writer and producers have for the part."
Denis Villeneuve, "Arrival" director
Fittingly, Villeneuve, the only best director nominee for a science fiction film, uses a scientific analogy to reiterate that the greatest asset an actor can bring to a role is themselves. "An actor for me is like a planet," he says. "It has its own culture, its own references, its own inner world.... I am looking for actors who bring their own universe on the screen, their own background." Therefore, a part that lacks dimension on the page can be fleshed out by a skilled performer. Villeneuve echoes the traditional wisdom that there are no small parts, only small actors.
Want to get started on your own path to Oscar gold? Check out Backstage's film audition listings!