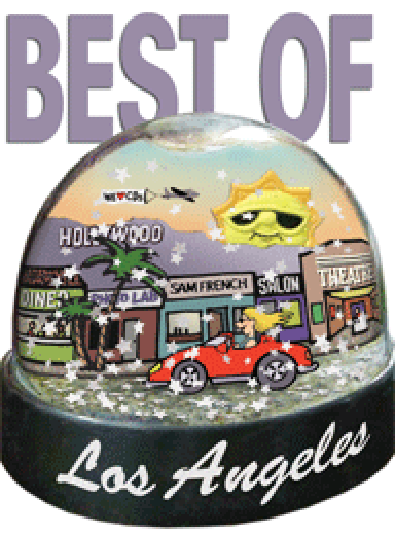 Welcome to Back Stage West's first attempt at a "best of" issue, featuring a compilation of our readers' favorites and staff picks. Readers' choices were decided from more than 300 surveys returned to us via mail, fax, and online. We would like to thank all of you who took the time to share your varied and often passionate opinions with us, and we hope to make this an annual tradition. For those industry experts and companies that were not chosen as "the best," we can only say, "Try again next year." For the actor who filled out the category Best Place To Meet Actors with "in hell...really," consider a yoga class, a good therapist, or an alternative career.
As for the staff picks, the Back Stage team tried to highlight a variety of organizations and companies that benefit actors and their community. We encourage you to get more familiar with these groups, as they serve to educate, inspire, and connect you to others of like mind in Los Angeles.
Back Stage would also like to thank Sara Corwin for donating a terrific incentive for those who participated in our survey: a chance to win a free headshot package from her. While there was only one contest winner, Tamlin Hall, many other actors showed their appreciation for Corwin's work, as they voted her Best Headshot Photographer in Los Angeles. Congratulations to both of them and to the rest of our 2006 Best of L.A. winners.
Sincerely,
Jamie Painter Young
National Editor-in-Chief
Readers' Picks
Best Improv Group
The Groundlings
Even people who don't live in L.A. know about The Groundings (www.groundlings.com), the training ground over the past 30-odd years for a who's who of comedy. Begun as a workshop in 1972 by Gary Austin, The Groundlings was officially formed in 1974 and led a nomadic existence until settling into its permanent home in the iconic brick building at 7307 Melrose Ave. in 1979. Since then, talents as diverse as Phil Hartman, Lisa Kudrow, and Michael McDonald have passed through its portals. The sheer number of Groundlings alumni peppered throughout the entertainment world, as performers and behind-the-scene folk, particularly writers, has given the school a reputation for being the way to get a career up and running, particularly if you have an eye on one of the popular sketch-comedy shows. Senior instructor David Jahn insists that "there is no fast track here," though. "I just ran an audition, for example," he explains. "And one of the first things I tell them is, 'This is not the fast track to Saturday Night Live.' We're very honest with them." Rather, a full immersion in The Groundlings curriculum is a process that can take anywhere from three to five years, according to Jahn. And everybody starts at square one. Jahn arrived at the school as a student after a successful 12-year career in professional theatre but still had to begin in the basic class, an experience he remembers as "the most fun I have ever had in my life."
Unlike many institutions that become well-known and coast on that reputation for decades, The Groundlings has maintained its standards through the years. "One of the reasons it has such a good reputation is it's very consistent," says Jahn. There is even a steering committee composed of alumni and former teachers, the primary purpose of which is to protect the integrity of the school. Those who have gone through the curriculum and wish to teach receive additional training and are expected to adhere to the syllabus, which is re-evaluated every few years. If it sounds like a lot of work, well, it is. Jahn refers to the training as "rigorous, but in a supportive way. I think because we do it that way you really get good things out of people."
It's not that The Groundlings have a lock on the improv market, of course. Others mentioned as favorites by readers of Back Stage West were April's Fools, Acme Comedy Theatre, Second City, I.O. West, and the Upright Citizens Brigade. Most improv groups can trace their inspiration to the work of Viola Spolin and teach many of the same core issues and philosophies. The Groundings, however, are known for the facility with character work the training provides. As Jahn explains it, "Our style of improv is: The humor comes out of the situation of the scene. We try to let the humor come out of a situation based on characters in the scene and what the information is from the audience." The comedy for which the group is known is the result, and not the goal, of the work, according to Jahn: "It's almost like we're doing improvised scene work, as opposed to going for jokes and going for funny." A case in point would be the androgynous character of Pat that Julia Sweeney developed while at The Groundlings, a not-inherently-funny character that lent itself to many funny situations. Pee-wee Herman, the alter ego of Groundling alumnus Paul Reubens, was also nurtured here.
In addition to a solid foundation in performance and writing, training with The Groundlings provides more-intangible benefits. Jahn sees it even in the corporate training sessions the group provides. "The biggest thing they walk away with is much better eye contact, much better listening skills," says Jahn. "You can literally see somebody grow more confident in owning themselves." A full-fledged Groundling, of course, leaves with the bonds that can be forged only over years of shared experiences. Jahn says if he ran into someone who casually mentioned he had been a Groundling well before Jahn had arrived, they would "immediately be able to connect and share stories and talk. There would be definite camaraderie."
—Wenzel Jones
Best Headshot Photographer
Sara Corwin
"What makes a great headshot is to see someone extremely relaxed and open and that their eyes are really communicating something to the camera," says Sara Corwin, an L.A.-based headshot photographer with 12 years of experience.
"Relaxed" is a word Corwin uses frequently during our interview, and it's an appropriate word to associate with her. That's how she hopes actors feel when they pose for her. "For me, the single most important thing is for the [client] to be prepared but to be relaxed. Actors who make the session the biggest thing in their life and weigh everything on it end up sabotaging their session, because they're so nervous that they're not getting the shots that they really need, which are where they're relaxed. My favorite clients are people who show up on time, show up without any drama, have their clothes pressed, and are just ready to work together and have a good time."
One way she hopes she can help actors relax is to offer a stress-free environment when they arrive at her West Hollywood studio. "We really try to make this as painless and as supportive as possible, because the industry is difficult, and we like this part of it to be fun. We do work very hard, but we keep it in perspective," says Corwin, who considers her hair-and-makeup artists, Tara Halsana (weekday artist) and Renee Lee (weekend artist), essential collaborators on her team. Corwin's most popular package ($525 including tax) allows the actor four hours worth of studio time, unlimited digital exposures, up to five clothing changes, and hair and makeup. "My hair-and-makeup person is here the entire session, so she can change the hair and makeup to go with each look if needed, and there are always four eyes on the client instead of two. I think that really makes a difference. If I miss something, she picks it up, and vice versa," she says. The package also includes an online proof sheet that's available for two months and a disk with high-resolution images.
Corwin also credits her move from film to digital photography with helping the actor to relax and get the shots they need. "I have to admit that I was really one of the last people to jump on the digital bandwagon, but what I like about it is, because you don't have a set number of pictures you have to take, I can allow the actors to take a lot more chances in the photos," she says. "We can try things, and if they don't work, it's not a problem, whereas in film you couldn't really be as loose because you needed to have proof sheets that looked really good. In the past, you wanted to give people really great-looking sheets so they walked into their agent and the agent felt like, 'You have every picture on this sheet I could use.' And so you didn't take chances as much. Believe it or not, I'm more relaxed, so I can allow them to be more relaxed."
Corwin observes that headshot photography has gravitated over the years toward what she considers a much more laid-back style. "Shots now are more 'lifestyle' shots," she says. "I remember looking at headshots from 15 years ago where everything looked very posed and very 'studio' and not really natural. I think one of the reasons that my style did well for me is I've always had a very natural style, and I feel it's gotten even more so. Headshots have become almost like candids, in a way. They're much less formal and much less glamorous than they used to be."
Even with the shift in style from overly posed to more natural, Corwin finds that too many actors today make the mistake of getting a glamour shot instead of a photo that represents who they really are when they show up at auditions. "I think possibly the biggest mistake is that people don't recognize that their headshot is supposed to market them as exactly who they are," says the photographer. "They get confused and think it should be more of a glamour shot, and the thing is that if they're not going to walk in and look like that picture, then the shot doesn't do them any good. It's not going to get them work."
Sara Corwin can be reached at (323) 655-5705. For more information or to view her work, visit www.saracorwinphotography.com.
Runners-up in this category are Alan Ascher, Paul Smith, Theo & Juliet, Blake Gardner, and Alan Weissman.
—Jamie Painter Young
Best Audio/Video Demo Reel Producer
Planet Video
In a world where any actor can—and often does—have the technological ability to cut his or her own reel on a home computer, anyone who specializes in editing actors' reels needs to bring a lot to the table. Enter Planet Video, a company that specializes in editing reels for actors at any point in their acting careers and outputting to any conceivable format an actor would need.
Run by office manager Amy Conner, Emmy-nominated chief editor Joe Gressis, and night editor Wayne Rawley, Planet Video combines state-of-the-art Avid technology with down-in-the-trenches know-how of what agents and casting directors are looking to find in a well-cut reel. "You have different reels for different purposes," explains Conner. "You have reels to get you a commercial, you have reels you send to producers to finance your $10 million movie—there's always a need for a reel."
Staying on the edge, techwise, is a priority at Planet Video. From importing footage directly from an actor's TiVo box to authoring a custom-designed DVD with full menu functionality to creating a short one- to two-minute version of a reel for the Internet, Planet Video has the actor covered.
As time is money, Conner recommends actors do as much work as they can on their own before coming in. "A lot of times actors will want to put everything they've ever done on their reel, which is usually not a good thing," she says. "You need to be very specific about what you have that is good, how you want to sell yourself, how your video is going to help you get more work. The whole point of the demo reel is to sell yourself."
Gressis reminds actors that the reel may be a chronicle of past work, but it also is an indicator of their future. He says, "Think about where you want to go. If you've got all guest stars, putting together a reel that just focuses on the fact that you're a guest star will just get you more of that, and if your goal is to be a lead, you want to highlight the things that focus on you more as a lead."
Planet Video is located at 838 N. Fairfax Ave., L.A. (323) 651-3600. www.planet-video.com.
Runner-ups in this category are Speedreels, My You Me Productions, Dennis Hemphil, Shotgun Digital, Bill Bryan, Oklahoma Casting, and Quicknickel.
—Ben Rock
Best Place To Meet Other Actors
The Actors' Network
Many actors float from acting classes to workshops to networking events making superficial connections that don't last. The actors who hang out at the Actors' Network have a different purpose. "They're looking to create change and development in their careers, not to bitch and moan and complain," says Vice President Paulo Andrés. For this reason, the Actors' Network has become known as a place for proactive actors to meet one another.
When founder and President Kevin West created the organization in 1991, he had a simple goal: to educate actors and debunk common myths and misperceptions about the industry. "I just felt like there was an awful lot of information out there in our very subjective profession that we weren't sharing with one another in a very effective way," he says.
For the past 15 years, West has done his best to remedy the situation by bringing actors together through his organization's various resources, which include events with industry guest speakers, topical discussions, a library brimming with 3,000 titles, a demo-reel editing bay, power groups, and auditions held at the organization's studio space.
The Actors' Network, which currently has 650 members, doesn't discriminate or segregate based on actors' experience levels. Actors just off the bus from Idaho have the opportunity to learn from veteran performers; vets can refresh their enthusiasm for the craft by interacting with amateurs. With business curriculums available that require actors to set goals and reach them month after month, the Network helps actors build not only lasting relationships with one another but also viable careers.
Andrés proudly says the Network's members possess a certain seriousness and dedication toward their craft, and that's why 265 of the Network's members have been with the organization for three years or more. "I love the fact that actors are finding our organization as a place to meet other people, because we don't hang that on our front door," he says, admitting that the acknowledgment that actors named this the best place to meet others gave him a warm, fuzzy feeling. "So the fact that this is an element that we've kind of created without knowing we were creating—that speaks to me a sense of community, and I love and am proud of that element of the organization."
The Actors' Network costs $50 per month with a required four-month commitment. For more information, visit www.actors-network.com.
—Nicole Kristal
Best Private Coach
We had no clear winner in this category. Those listed were Judy Kerr, Stuart K. Robinson, Larry Moss, Howard Fine, Ivana Chubbuck, Christinna Chauncey, J.D. Lewis, Bill Haller, Kimberly Jentzen, Doug Warhit, Joel Asher, Sal Romeo, Lindsay Crouse, Caryn West, and Michelle Danner.
How To Pick a Coach
When Kimberly Jentzen was an actor preparing for an audition, she had private coaching. But the coach was cool and detached, and not emotionally invested in Jentzen's success. "That hurt my audition," she says. "It made me feel insecure, unconfident." From that, she learned the importance of finding a coach who cares. Now Jentzen is a Los Angeles teacher and occasional private coach herself, and she says a coach should criticize you, tough-love you at times, but always encourage you and look for ways to make you shine. "You always take that coach into the audition with you in your mind," she explains. It's like having your own personal cheerleader inside your head, warm and supportive.
Whom do you go to for advice on choosing a Los Angeles–area coach? Says Jentzen, "Whoever knows you and cares about you the most." Like Jentzen, coach Judy Kerr recommends finding someone nurturing and supportive. For listings, she trusts the Hollywood Creative Directory. "Coaches who are mean or try to scare you—I myself as an actress would never work with someone like that," she says. In her book Acting Is Everything: An Actor's Guidebook for a Successful Career in Los Angeles (September Publishing, 2004), she lists private coaches. Because many of them teach classes, you can test the waters by auditing a class (many permit one free class). Also, says Kerr, have a phone and/or email conversation with them in advance.
Agents, managers, friends, and colleagues can also make recommendations. Doug Warhit says, "Managers take a more personal interest in the actor. Always go through people you know. If I didn't know anybody, I'd look in Back Stage West [which publishes a list of local coaches three times per year] and make some calls from ads, but I'd interview them over the phone, ask what technique they use. A lot of people ask me who I've coached; they feel it'll rub off on them—which may or may not be relevant." He suggests looking at his book, Book the Job: 143 Things Actors Need To Know To Make It Happen (Dau, 2003), to decide if you like his approach. Ivana Chubbuck, who coaches privately and on the set, advises, "Do your homework. See what name keeps coming up."
Getting coached privately can be expensive—anywhere from $50 to $100 per hour or more—so many actors, in preparing for an audition, get help from a friend or colleague. Bad idea, says Chubbuck. "There are other elements afoot: hidden agendas, jealousies, a point of view that is subjective, etc.," she notes. Jentzen agrees: "It's not professional." It would be like your mother cutting your hair. "This is your art!" she adds.
But Warhit wonders, "How much will a friend tell you the truth?" A true friend, he says, is honest. If you don't have the time or money to hire a coach before an audition, go to a pal for help. But "have your reader-friend read as well as they can some of the time, at other times badly—no eye contact, jumping on your lines, skipping ahead, like they couldn't care less. Tell them, 'Don't tell me how you're going to read. Change the variables.'" That way, you'll be prepared for anything in an audition. Also, he adds, make sure your friend knows that you just want someone to practice reading with—not someone who will compete with you or undermine your self-confidence.
Is your scene study teacher your best bet as a coach? Who better? says Chubbuck, noting, "They know you the best and will use the technique you're most familiar with. It will make the session less confusing and more effective." But if your regular acting class is not on-camera, you might want to find an on-camera coach; Kerr says she gets lots of clients who specifically come to her for on-camera audition prep, sometimes working on as many as three scenes in an hour.
Finally, how do you know if you've ended up with the wrong coach? Many coaches tailor their methods to the needs of the individual actor. And of course actors have different needs depending on their level of experience in different genres, the type of role they're preparing for, and the way they like to work. Also, coaches have different specialties. For example, notes coach Craig Wallace, "You don't want to go to a coach who teaches exclusively Meisner [to prepare for] an audition. You're going to get confused.... What you'll bring into the [audition] is an awful lot of process."
But two things remain constant. A coach should give you tools, not line readings. As one actor put it, "A good coach finds a way to activate the character, not manipulate a performance." And there are no guarantees that you'll book the job or even get a callback just because you were coached. But after being coached, you should go into, and leave, the audition feeling good.
One relatively inexperienced actor went to a coach for help with auditions for independent films but found her questions weren't being addressed; the coach kept saying, "Oh, let's put that question aside for now." She switched to J. Michael Bloom, who was clear in responding to her queries and helped her prepare for commercial auditions. Another actor comments, "A lot of coaches will tell you what to do. Don't go to someone who says, 'This is how I would do it.' Acting is not about being told."
Warhit says you know you've been poorly coached if the coach doesn't help you break down the scene, add anything new, or take you to a higher level. "A good coach will say, 'What do we do to serve the material best and most creatively, and bring as much of you to the material as possible?'" Keep in mind, he adds, that you're paying the money, so you're the boss. Whomever you hire, make sure your needs get met.
—Jean Schiffman
Best Acting Teacher
Howard Fine
The reader votes for best acting teacher read like a who's who of L.A. teachers; Ivana Chubbuck, Larry Moss, Milton Katselas, and Richard Seyd were singled out time and again by voters. But it was Howard Fine, of Howard Fine Acting Studio in Hollywood, who earned the most votes, and the acclaimed teacher-coach wants to make sure everyone knows the following: "I will not let myself get a big head," he says with a laugh. "To be voted by actors is an incredible honor, and I take it seriously."
With his easygoing demeanor and generous laugh, Fine all but explodes the myth of the screaming, bitter acting teacher that potential students fear. Asked about his appeal, Fine demurs, "You'd have to ask my students. But I can say this about myself: I chose to teach. I'm not angry; I'm not jealous of my students. I'm tough as nails, but I'm not mean. I don't yell and scream. I think teachers that scream have mood disorders. It's also usually a smoke screen for what the teacher doesn't know. My critiques can be quite devastating, but not because I'm trying to be but because I'm specific."
This philosophy reflects that of Fine's mentor, Uta Hagen, whose classes at New York's HB Studio he would sit in on while still a high school student in Rhode Island. "She was never cruel but extremely specific in the work," he notes. "How can you not be inspired by someone who approached acting like a scientist, constantly trying to figure out how to make it better?"
Fine, who directed his first play at age 16, knew early on he had a calling for teaching and coaching. At age 23, he received his first teaching job at the American Musical and Dramatic Academy in New York. "I was right out of grad school. They gave me the worst class the studio had ever had," he recalls. "I turned that class around, and they asked me to head the acting department when I was 24." He moved to L.A. in 1985 and was teaching a group when an agent came to watch an actor in the class. "She didn't like the actor, but she liked me," Fine says. "She was representing Paul Stanley, the lead singer of Kiss, who was looking for an acting coach. She had given him the top three names in Los Angeles and me, a nobody. He brought the same material to each coach and wanted to see what the different coaches would do. He worked with me and said, 'Well, you're my guy.' He was my first celebrity student." The following week, Fine attended Stanley's birthday party, where he suddenly found himself among "all the members of the Brat Pack" and such actors as Robert Downey Jr. and Sarah Jessica Parker. "It suddenly moved me into this area of celebrity acting coach, which I didn't even know existed," he admits. "From one to the next to the next, I suddenly had that type of clientele." In 1988, Fine opened his own studio.
Over the years, Fine's students have included Oscar nominees Brad Pitt and Salma Hayek, and Emmy winners Kim Delaney and Sela Ward. He speaks with a genuine passion about his students, confessing a particular fondness for the actors who move seamlessly from film and TV to the theatre. He cites Michael Chiklis, whom he directed in the Broadway solo show Defending the Caveman, as an example. "He was doing a TV show called Daddio and ready to quit the business," Fine notes. "The Shield audition came up, and they didn't want to see him for it because they didn't think he had the tough guy in him. We worked on the audition, and he scared the hell out of them. He continues to come to coach, even on Fantastic Four." Other recent examples include Alias star Bradley Cooper, who recently wrapped the Broadway revival of Three Days of Rain with Julia Roberts; and Showgirls star Elizabeth Berkley, who won raves opposite Ethan Hawke in Hurlyburly and Richard Dreyfuss in Sly Fox. "Her work has absolutely shifted in the last few years," he says proudly. "The New York Times wrote an almost apologetic review about her." Most of his students, he notes, have been with him for years. "They become more friends than just students," he adds.
A large part of Fine's appeal likely has to do with his love of teaching, and that he isn't using it to bide his time while he pursues another career. "I still direct, but I'm not using it as a steppingstone," he notes. "You either teach acting because you can direct or because you can act yourself, but in the end what you have to be able to do is look at the individual actor and take them where they can go—not to impose what you think they ought to be, but to see who they are. I try to work with each person individually and not to cookie-cutter anybody."
Fine believes that actors pick up on his enthusiasm. "I think actors respond to knowing that I'm happy to be there," he says. "Sometimes I run into ex-students who were not particularly good students, and they say, 'Hey, I'm teaching now!' I'm like, 'Oh, God.' They're teaching because they failed at acting and now they want to teach, as if it's a fallback. You know the old saying, 'Those who can't do, teach'? Uta used to say, 'Only those that can do should teach.'"
Other runners-up are Brian Reise, Leslie Kahn, Harry Mastrogeorge, Adrienne Omansky, and J.D. Lewis.
—Jenelle Riley
Best Theatre To Watch; Best Theatre In Which To Perform; Best Theatre Director To Work With
Geffen Playhouse
Maybe it's that Steppenwolf aura that Artistic Director Randall Arney imported from Chicago, or that newly renovated theatre that reopened in October. Maybe it's the Tinseltown connection: that an actor might be sharing a stage—and possibly a dressing room—with the likes of Annette Bening or John Goodman, or receiving notes from frequent Oscars producer Gil Cates. Perhaps it's the plays: the savvy blend of classics and exciting and award-winning new works, nearly all of them American in origin or theme. Pulitzer Prize and Tony Award winners sit side by side in seasons along with lesser-known plays by well-known or about-to-be-discovered playwrights.
Whatever the reasons, the folks at the 10-year-old Geffen Playhouse clearly are doing something right. Not content with designating the playhouse Los Angeles' favorite stage on which to perform, our readers also dubbed the Westwood Village theatre the favorite playhouse to "sit and watch." That's top marks from the wings and from the seats. Nice work if you can see it and get it, indeed.
"The Geffen shows its stripes on the first day of rehearsal," says Jason Alexander, who knows whereof he speaks, as performer in Defiled (2000) and director of the current The God of Hell. "Everybody working in the theatre, from the ushers to the back office accountants to the concessionaires, everybody comes out to say hello and welcome, and make you feel at home."
All of which probably wouldn't count for much if Arney and producing director Cates weren't sagacious in their choice of programming. A loyal group of subscribers figures to come eagerly for a visit from legendary mime Marcel Marceau or dancer Debbie Allen, and then they'll come back to sample Rebecca Gilman's edgy play about stalking, Boy Gets Girl. "They do The Odd Couple, and then they do some very challenging, different kinds of plays," agrees Alexander. "Some of it is to the subscribers' tastes and some of it isn't, but they stay interested and support the theatre. For L.A., which is not a theatre town, [the Geffen] is one of the most supportive and interested places doing theatre out here."
Entering his seventh season at the Geffen's artistic helm in September, Arney recalls a similar audience-product synergy during his eight years as the artistic director at Chicago's Steppenwolf Theater Company. Tickets were typically scarce for the runs at Steppenwolf's 200-seat venue, but callers would phone in looking for a stray weekend ticket, or even for a Tuesday night if a weekend wasn't available.
"We'd finally sell them a ticket and they'd say, 'By the way, what's playing?'" says Arney, whom our L.A. readers also selected as their favorite stage director to work with. "By that time, we knew where they wanted to look for their theatre, and hopefully we can do that in L.A.
"By the same token, I had come from a place in Chicago that really respected the artist," he adds. "We wanted to do everything we could to make this an artist-friendly place. If we were doing theatre with quality and integrity, some really great people could work onstage and sleep in their own beds at night."
Great people indeed: The roster of Geffen actors includes Jane Alexander, Len Cariou, the late Uta Hagen, David Hyde Pierce, Christopher Lloyd, John Larroquette, Sandra Tsing Loh, Dana Delany, and Rita Wilson.
You might get a better sense of the Geffen programming mixture by looking at the productions—one per season—that Arney has chosen to direct since joining the Geffen's administration. They include Conor McPherson's Irish ghost-tale yarn, The Weir; the aforementioned Boy Gets Girl; David Rambo's God's Man in Texas; Stephen Jeffreys' I Just Stopped By To See the Man; Take Me Out; and a revival of Arthur Miller's All My Sons. Miller aside, that's a slate of mostly contemporary plays at the peak of their acclaim or popularity. And the director has managed to bring along several Steppenwolf alums, such as Laurie Metcalf, John Mahoney, and Francis Guinan.
"I look for really compelling stories to tell or journeys to take an audience on," says Arney, who will direct David Mamet's Speed-the-Plow in the 2006–07 season. "It's harder and harder, especially in this town, with all the distances and the traffic. If you're going to compel an audience to gather, I really want to have something to say to them and a journey to take them on. Also, because I came up as an actor through an actor's company, I'm attracted to material that gives great opportunity to the actor and great opportunity to an ensemble of actors."
Such as All My Sons, which extended its run this season. That production was a favorite of Jessica Kubzansky's, co–artistic director at the [email protected] Court and a runner-up to Arney (along with Cates and the Blank's Daniel Henning) in our Best Theatre Director To Work With category.
"They're committed to doing good work, they're interested, and I love some of the plays they've been doing," says Kubzansky, who remounted her production of Bryan Davidson's War Music at the Geffen in 2004. "They did have some limitations in the old space. I've seen the new space, and it's a very lovely place to sit down and see a play."
Upcoming productions at the Geffen in 2006–07 include David Lindsay-Abaire's Rabbit Hole, Jeffrey Hatcher's A Picasso, Hershey Felder performing George Gershwin Alone, and the Gerald Sibleyras–Tom Stoppard comedy Heroes. The Geffen's Audrey Skirball Kenis Theater will host a new solo work by Carrie Fisher titled Wishful Drinking and Neil LaBute directing the West Coast premiere of his play Fat Pig. The Playhouse is located at 10866 Le Conte Ave. in Westwood. www.geffenplayhouse.com.
Runners-up for Best Theatre in Which To Perform are Pasadena Playhouse, the Blank Theatre, Knightsbridge, and Actor's Co-Op. Runners-up for Best Theatre To Watch are the Actors' Gang, the Groundlings, the Blank, Circus Theatricals, and Center Theatre Group.
--Ryan Thomas
Best Rehearsal
Varieties International
Late-blooming actor Tony Munoz (a "Joe Pesci" type, as he describes himself) is a longtime showbiz vet in costuming, hairdressing, ballroom-dance instructing, and makeup. Since joining the Screen Actors Guild three years ago, he has been accepting role after role in high-profile films (Nacho Libre, Kiss Kiss Bang Bang) and television shows. A gentleman who is very grateful for his good fortune, Munoz is concerned with giving back, so he provides reasonable rates—sometimes free—for young filmmakers and other creative artists needing rehearsal space.
The site was formed 30 years ago as a dance-supply center and later added on a dance studio. Five years ago the costuming business closed, but Munoz continued to run the dance studio in a renovated venue, and it has since become strictly a rehearsal space. "We have a 1200-square-foot, brand-new wooden floor," says Munoz. "There's free parking, two bathrooms, a bar, and a stage. It's very easy to get to, in the Sunset Park area, away from the congestion of the city." He notes that primarily filmmakers rent the facility, but it is open to all rehearsal needs, with the disclaimer that he doesn't want tap rehearsals, so as to protect the resurfaced floor. Munoz adds, "I even jump in there to help the kids get on camera, sign them in, or do anything I can to make it better because I just fell in love with the film business recently. Nine in my family are SAG members. I even catered a couple of wrap parties and have sponsored some very good open-mic nights and acting workshops." He notes that the facility is constantly busy, so those interested in booking the space should call ahead.
Varieties International is located at 2523 17th St. in Santa Monica, (310) 450-4445.
Runners-up are The Complex, the Lounge Theatre, the Whitmore-Lindley Theatre Center, and Debbie Reynolds Professional Rehearsal Studios.
—Les Spindle
Best Commercial Casting Director
Sheila Manning
Casting director Sheila Manning might have an unfair advantage in the business of commercial casting—and she couldn't be happier. With more than 40 years of experience, she may well have had every actor in Hollywood in her office. "I bet there are two or three people I've never seen," she says, laughing. "I still love getting up in the morning to come to work. I love what I do."
This CD prides herself on being "actor-friendly" and tries to make the audition process as comfortable as possible for everyone, from the quirky to the beautiful to senior citizens to what she calls "the Xbox kids." For her, actors aren't just faces in the crowd; they're people. "I'm known to love actors. I don't countenance people mistreating actors," she says. "I think that's an essential in life, because they're the most vulnerable among us. Actors are at everybody's mercy, and that's got to be a hard way of life." It's no wonder she's been voted the best of what L.A. has to offer. Runners-up include Carolyne Barry, Danny Goldman, Maryclaire Sweeters, Terry Berland, and Stuart Stone.
Manning has had more than enough practice picking out new talent and says she has often cast as many as 15 commercials in one day. Over her career, she says, "I've probably done...between 60,000 and 100,000 [commercials]. I love that," she says. "I love commercials. It's fast. It's been fun for me because changes are always there. You know what it is? You get to get to the performers before they make it."
According to Manning, the trip to stardom for many actors might start in her office. "It's pretty amazing," she says. "I gave Farrah Fawcett her first job. [I discovered] practically every kid. I booked River [Phoenix] when he was still a little boy and of course [his brother] Joaquin. Elijah Wood—he's such a good boy. He was a brilliant actor from [the start]. Shannen Doherty was this little tiny girl and the sweetest child I had ever met at that time. I've been known to say to people often, 'We're only going to have you in the commercial world for a little while because you're going to be such a major star.' And it always happens."
Even with a dizzyingly busy schedule, Manning still feels obligated to give each actor a few moments of her time. "I have a hard and fast unbreakable rule," she says. "I look at every picture that's submitted to me, even the ones that come in blindly. I despise the post cards that [actors] send, but I look at them as I throw them into the wastebasket because it feels morally right if they spent the money.
"There are two things that casting directors never admit to," she continues. "One is that we go on instinct a lot. [Two is,] what speaks to us from photos are the eyes and the reality. It's important to look good in your photo. It's really important to look the best you look, but it's so much more important to look like you. Like the real you. That's the hard part. I'm seeing it more and more in photos. I'm seeing less makeup—on both men and women—and more-realistic hair. I think it works for them."
This commercial CD is most interested headshots that reflect "truth in advertising," not a stellar retouch job. "The people that work most for me are those that have laugh lines and don't mind having laugh lines," she says. "Reality is a good thing. And acting and having talent is a very good thing." Manning always has a specific picture in mind for each role that she casts. "I'm looking for somebody who can make me forget that he is acting or she is acting—somebody who is so good and so natural and so real in copy it's like talking to a friend or a neighbor. I'm looking for people who aren't acting when they're acting."
She has seen some changes in the world of casting, the most important of which has been the industry's conversion from hard copies to the Internet. Today, Manning's casting process is almost entirely online. "We're like the tech queens," she says. "We do all of our casting online. We haven't used a videotape in almost a year. We record everything to the computer, and then we post it online. Every one of our casting sessions are online for the producers and directors to see immediately."
Manning says that because the technology has changed, so must the actor. "You are currently acting for a picture that they are going to be looking at that is 2 inches by 3 inches—act accordingly," she warns. "Keep it minimal. Keep it in your face. Keep it in your expression. Don't mug. And don't do a lot of movement, because it won't work as well. So you should really practice looking straight into the camera and being cognizant of the space."
To actors she offers a bit of advice and a little humor: "Be as considerate of us as we want to be of you. Be a decent human being. Be prepared, and don't wear an evening gown if it's for a gardener—especially if you're a guy," she says, laughing.
—Nicole Porter
Best Film/TV Casting Director
Mali Finn
Mali Finn was named best casting director by our readers (runner-ups were Deborah Aquila, Billy DaMota, Richard DeLancy, Bonnie Gillespie, and April Webster). There's a clear reason: Finn speaks with reverence when she talks about actors. She appreciates the process, the craft, and the challenges inherent in giving an honest performance. It is this quality, coupled with her spot-on instincts, that makes her a favorite of Angelenos looking for their big break.
Finn's list of credits is long and varied, encompassing big-budget blockbusters Titanic and The Matrix, as well as character pieces such as North Country and All the Real Girls. She cares deeply about the casting process, and she speaks with warmth and passion about "the intimacy of strangers" that occurs during an audition. "It's like when you're on an airplane and you talk about things to a perfect stranger next to you that maybe you don't talk about with your husband or your son or anyone else in your family," she explains. "That happens in the room with actors, if the actors are open and if the actors are giving and if the actors are willing to take risks. Those are the best actors. It's like a sanctuary, and when actors come into that room, if there is a true give-and-take there before the scene, during the scene, after the scene, there is a connection that you get that is extremely fulfilling. It's being in the moment with someone, and we so seldom do that in our communication on a daily basis that it makes it a very special event."
Finn is often credited with discovering actors—Edward Furlong, for example, whom she cast in Terminator 2: Judgment Day—but she shies away from saying so. "I've championed actors; I don't think I've found them," she says. "I don't think you discover people."
Eager to sing the praises of others, Finn focuses on how she collaborates with each director on the casting process. "I've never walked in and said, 'This is somebody that's got to do this,'" she says. "I don't work that way with directors. I want to get inside the director's head, and it's a creative process. I want to enter his or her world. It's so much a collaboration, and when I'm fortunate enough to work with a director who opens the doors to that collaboration, that's a wonderful creative experience."
Finn is also known for her thorough approach to casting and her meticulous attention to detail. She relishes a good challenge, speaking with obvious enthusiasm about, say, combing every street corner in Minnesota to find actors to believably inhabit the mines of North Country. A more recent challenge came in the form of the upcoming film The Assassination of Jesse James By the Coward Robert Ford; Finn says the role of Ford, which ultimately went to Casey Affleck, is one of the most complex she's ever cast. "[Director] Andrew [Dominik] is an extremely thorough director, and we started in April looking for Bob Ford and cast Bob Ford at the end of August," she remembers. "The wonderful thing about Andrew is that he is Australian, but he picked up on the Southern sounds and the Southern rhythms.... For a while we were trying to see every Southern actor we could pull out of the woodwork. Sometimes a director becomes very specific, and that's a challenge. It's not really a problem; it becomes exciting.... I think the world is my casting stage, anyway, so it means that I have to call every single theatre in the South and make sure that I've made every contact I can, and that's exhilarating. It's the challenges like that I think are the most fun."
Perhaps Finn's empathy for actors comes from her long association with the craft: She started acting in third grade and was a drama teacher for 15 years. Around 1980 she and her theatre-professor husband decided to relocate from Michigan to California. "I said flippantly, 'I think I'll get into show business,'" she recalls with a chuckle.
Finn knew of Women In Film and had heard much about one of its board members, CD Dodie McLean. Finn tried calling her for three months straight, but McLean had "a really good assistant" who would never put her through. "Finally, one day I called at noon, and Dodie said, 'What the hell do you want?'" remembers Finn. "I said, 'I just want to find out what you do. I'm living down here at Newport Beach; you're at Warner Bros. I'll drive up every day, and I'll just intern for you or do something in your office.' She said, 'Well, get up here.' For two weeks, she was casting [a television project]. I was around, and I would make lists of actors, and she would say, 'He wouldn't work in television, we don't have the budget for that.' She was very funny and direct and great. She would drink her scotch on Friday night and let me sit around and ask as many questions as I wanted."
Finn eventually landed a job with CD Michael McLean, then with CD Lynn Stalmaster. Finn opened her own company around 1989. She remembers how she got to where she is today; relating the story reminds her of a piece of valuable advice she likes to relay to actors. "I always tell actors, 'You're thinking about making it. It's the part where you struggle that is the best part, because you learn so much about yourself,'" she says. "You have to keep forging ahead and you have to find that resilience and you know it's going to be tough, but you've just got to keep moving and keep working at it.... If you're dedicated to it and you work hard, something's going to happen."
—Sarah Kuhn
Best Bookstore
Samuel French
Samuel French Inc. was launched as a publisher of plays and musicals in New York in 1830. Its first L.A. store opened downtown in 1927, moving to its Hollywood site in 1947; a Studio City branch was added in 1987. There are also stores in London and Toronto. A licensing agent for play-producing rights, the company is also an invaluable resource for purchasing myriad showbiz-related books in its stores or via mail order. According to a member of the Hollywood store staff, "Ours is probably the largest bookstore of its kind in the world."
The company stocks scripts from its own licensing catalogue, as well as those from other licensers and general publishers. The staff note that if a play is published in English, they either have it in their store or their warehouse, or can conduct a search to find it. The local stores' thousands of plays are alphabetized by author. The entertainment-industry books include how-to books on writing screenplays, makeup design, vocal selections from Broadway shows, biographies, and much more. The staff members note that the customers range from fresh-off-the-bus wannabe actors to top-flight film directors and producers. Samuel French is located at 7623 Sunset Blvd. in Hollywood, (323) 876-0570; and at 11963 Ventura Blvd. in Studio City, (818) 762-0535.
Runners-up include Barnes & Noble, Borders, Skylight Books, Book Soup, Dutton's Brentwood Bookstore, and Iliad Bookshop.
—Les Spindle
Best Beauty Supply
Sally Beauty Supply
Actors know there is no such thing as natural beauty. Sally Beauty Supply has all the flat irons, bronzers, nail polish, and hair extensions actors need to morph into the next Marilyn or Angelina. Sally began modestly in 1964 with just one store in New Orleans; it now has 2,100 stores nationwide and 3,200 worldwide. At Sally, actors can find the same products professional salons carry, and if they get the Beauty Club Card, they can get discounts on every item in the store, as well as monthly email newsletters with beauty tips, new product info, and exclusive coupons. www.sallybeauty.com.
Runners-up in this category include Sephora, MAC, Larchmont Beauty, Naimie's Beauty Center, and Cinema Secrets.
—Cassie Carpenter
Best Cheap Getaway
Las Vegas
While readers' ideas of what constitutes "cheap" may vary —one person suggested Hawaii while several others recommended McDonald's—Las Vegas was the clear front-runner for Best Cheap Getaway. As the town is nicknamed "Lost Wages," we guess it all depends on perspective. If you're not a big gambler, you can save a lot of cash on the 99-cent shrimp cocktails, cheap buffets, and free sightseeing from casino to casino. If you're able to get away during the week, nice hotel rooms can be found for under $50 a night on the Strip.
Giving Vegas a run for its money was our neighbor to the north, Santa Barbara. Also popular: Mexico, Palm Springs, and Catalina Island. But these lounge-and-tan locations couldn't compete with the glitz of Sin City. Apparently, when it comes to getting away, showgirls and theme hotels beat sun and fun. As reader Megan Flynn put it: "The name of the game is mindless fun and ridiculous excess. You don't have to think about work, mailing out headshots, or stressing over how you did in that last audition, and instead, for a couple days, you can think about staying up way too late, eating too much, and gambling. The best part is, after three or four days in Vegas, I can't wait to get back to L.A. Sometimes ridiculous excess makes you appreciate what you have."
—Jenelle Riley
Best Cheap Meal
Junior's Deli Early Bird Special
Actors are always told, "Do your research." Apparently they listened, finding the best deli at early-bird prices. And isn't that a great actorly choice? Junior's, located at 2379 Westwood Blvd. just north of Pico Boulevard in the heart of West Los Angeles, gives early birds of all ages a full, satisfying, traditional meal at relatively old-fashioned prices. But readers also liked In 'n' Out, Denny's, Baja Fresh, Soupplantation, and Bossa Nova. Good taste!
Our readers go for the early-bird dinners at Junior's, served Mon.–Fri., 3–6 p.m. The menu includes among others the sampler platter, brisket dinner, and roast chicken dinner, each offering a choice of soup or salad, as well as a house dessert. The total cost is $10.95 and a mere $12.95 if shared by two. But, weekdays 4–7 p.m., those ordering a regular entrée get free meals for accompanying kids—so borrow a few for the afternoon and get a genuine bargain. And there's Internet access 3–7 p.m.
Breakfast specials, for earlier birds (served 6:30–11 a.m.), cost $6.95. Menu items include lox spread on a bagel, Belgian waffle, or two hot cakes with eggs; each comes with a choice of a soft drink, milk, orange juice, coffee, or tea.
Open Sun.–Thu., 6 a.m.–11 p.m., Fri.-Sat., 6:30 a.m.–midnight. (310) 475-5771.
—D.M.
Best Hair Salon
Rudy's Barbershop
Whoever wrote "all good things come to those who wait" may have had Rudy's Barbershop in mind. The edgy salon, originally founded in Seattle 14 years ago at the height of the grunge scene, opened its doors at the Standard Hotel on Sunset Boulevard six years ago and became so popular that salons in Silverlake and on Melrose followed.
"There was nothing like us in L.A. at the time," explains David Petersen, owner of Rudy's. "It was either the really high-end salons or it was the places in little strip malls. In Seattle we were focused on the musicians, and in L.A. our main clientele is between 20 and 30 and they're trying to break into the business. We provided a place for them to feel good about themselves where they didn't have to spend a lot of money." Clients pay $21–26 for a cut, $20 for a blowout, and $60–125 for color.
Calling first is recommended, as Rudy's does not allow appointments. The inevitably long wait becomes a fantastic opportunity to read your latest script or issue of Back Stage West. "While [actors] wait, they're talking to people that are in the exact same boat that they're in. Out of 15 people on a bench, at least four have their headshots with them. So it's kind of like their own community," says Petersen. "I'll see a lot of people coming in and a year or two passes where you don't see them. Then all of a sudden you're seeing them on Desperate Housewives or movies or commercials, because they've made it."
If time is money for you, there's always the upscale Rudolph's, (323) 939-4247, which takes appointments. Rudy's, which recently opened branches in Santa Monica and the Standard Downtown, also offers manicures, pedicures, beauty products, and magazines for purchase. Runners-up in this category are Supercuts, Umberto Beverly Hills, Jose Neira Salon, and Floyd's Barbershop. www.rudysbarbershop.com.
—Cassie Carpenter
Best Gym
24 Hour Fitness
In Hollywood, titles are like art: They don't always paint a clear picture. (Who knew Good Will Hunting was about a guy?) But there are those that tell the audience exactly what to expect: Alien, Snakes on a Plane, Santa Claus Conquers the Martians. And maybe that's why 24 Hour Fitness is so popular with actors. In a mercurial town, at least you can count on your gym.
Convenient to anywhere a SoCal actor might live or work—there are more than 85 clubs throughout the Southland, from Santa Monica to Redlands, from Lancaster to Laguna Niguel—24 Hour rose above Bally Total Fitness, Crunch, Gold's Gym, LA Fitness, and the YMCA to take the title of Best Gym, according to our readers. And its name says it all, as many locations are open literally 24 hours per day. Four types of clubs are available in the area: Active, Sport, Super Sport, and Ultra Sport. Most are Active or Sport clubs, featuring cardio machines, free weights, group classes, personal training, and saunas. Sport locations usually have swimming and basketball facilities. Glendale Super Sport has a racquetball court and spa; Irvine's Lakeshore Towers Ultra Sport has rock climbing, volleyball, and massage. Many locations also offer childcare. Other benefits include the online eClub, featuring fitness newsletters and recipes, and Fitperks, a discount retail program.
Monthly dues start at $31.99 after initiation and processing fees. Month-to-month memberships are available for one or multiple clubs, and members can use other 24 Hour clubs short-term while traveling. Details are available at www.24hourfitness.com.
Building from one gym in Northern California, 24 Hour Fitness is now "the world's largest privately owned and operated fitness center chain," with clubs in 16 states. And if you land a gig at Hong Kong Disneyland, worry not: There are clubs there, too.
—Janelle Tipton
Best Coffee House
Starbucks
Someday someone should write, produce, cast, and direct a film out of a single Starbucks. At any time of day, at any one of the myriad neighborhood coffeehouses—and who hasn't noticed the green lettering and long-haired siren logo around every corner?—you can see someone in the business. Sometimes it's a young gofer, ordering trays full of specialty drinks for the muckamucks at the production office. Sometimes it's the muckamucks, perched on high stools at the counter, sipping blended iced drinks and scanning the other patrons from behind their shades.
But much of the time the patrons are actors. They arrive early in the day, managing to find the cost of a beverage from among the laundry money, and garner an ultra-comfy armchair where they can pretend not to be people-watching while they go through their mailing lists or Back Stages or—if they're lucky—memorize scripts. Another crop is there at lunchtime. And at night still others crash there after a day of wrangling with their careers. Wireless Internet access hasn't shortened the average length of stay. According to the barristas, the actors hang for at least an hour.
The actors' willingness to pay the relatively steep price of a cuppa could be attributed in part to the friendly atmosphere created by the mega-corp. Starbucks is known for its "corporate social responsibility." It says it is dedicated to paying farmers fair wages, promoting organic growing, investing in farming communities; running a supplier-diversity program; and terming its employees "partners," translating into respect for each customer. And at the end of the day—or the start, for that matter—isn't that what matters as much as the wildly eclectic specialty drinks?
Runners-up in this category are Coffee Bean & Tea Leaf, Aroma Café, Bourgeois Pig, and Priscilla's of Toluca Lake.
—D.M.
Best Litho/Reproductions
Argentum Photo Lab
Argentum's founder and owner, Ajay Jhaveri, believes that one reason so many actors in L.A. prefer his company's services is because his lab specializes in only one area of photography: headshots. When Argentum launched 20 years ago, he wanted to cater only to headshot photography, something he says no other lab was doing at the time.
The other reason Jhaveri believes that actors recommend Argentum is because of his staff's attention to customer service and the quality of work. "The No. 1 thing that sets us apart is the staff I have here," he says, adding that many on his crew have been with the company for years. "We really love doing this, and we like working with actors."
Jhaveri claims that his company introduced the color headshot, which has since become the industry standard. He credits advances in digital printing with making color affordable, as it was once cost-prohibitive. "Digital [technology] allowed us to print color at the same price as black-and-white," he explains, adding that the benefit of color printing is that it "quickly shows you better representation of the person's skin color, eye color, and hair color."
Digital technology also made retouching easier. However, Jhaveri sees too many actors overdoing it when it comes to retouching their headshots. Instead, he recommends, "Get a shot that represents you, looks like you, and that you're going to look like for your audition. We have too many [headshots] that are over-retouched."
Another error actors make, according to Jhaveri, is skimping on hiring a makeup artist—a good one. "It's imperative for the headshot that they have a good makeup artist."
But the worst mistake actors make, he says, is when they ruin a great headshot by printing on the lowest-quality paper. "They've already spent a lot of money between the photographer, the makeup artist, and the retoucher, but then they go get the cheapest quality pictures printed, not realizing that this is their calling card.
This is what they're sending out. It defeats the purpose.... The quality of that 8x10 they're sending out is the most important thing. It makes the first impression on whoever is looking at that picture."
Argentum Photo Lab is at 6550 Sunset Blvd. in Hollywood. (323) 461-2775. www.argentum.com.
Runners-up in this category are Reproductions, Isgo Lepejian Custom Photo Lab, Ray's Photo Lab (Ray the Retoucher), and Prints Charmin'.
—Jamie Painter Young
STAFF PICKS
Best Theatre Company Guaranteed To Mess With Your Head
City Garage
Style is one of those things we can't define but we know it when we see it. Frederíque Michel, artistic director of City Garage, has it in spades. Is it because she's French? Perhaps. Listening to her speak is like having your eardrums rubbed with smoke and velvet, but the allure of the exotic will only take a person so far. Most likely it's because the woman combines vision and a fierce determination never to compromise it. The result is a theatre company that consistently generates productions that bear many of the same traits as a Chanel jacket: The workmanship is impeccable, the materials first-rate, and it's not for the prêt-à-porter crowd.
For the past 15 years, Michael has directed every show City Garage has produced, a feat unmatched by any other company in town. Her husband, the writer Charles A. Duncombe, has designed all the sets. General and literary manager Paul Rubenstein completes the staff list. The three are responsible for every aspect of the theatre save for the acting, which is handled by Michel's core group of performers.
Michel frequently draws from the classics, and by "classics" we mean "classics elsewhere." Europeans we would have heard of had we received better educations are heavily featured. At present, though, Michel is presenting Agamemnon, to be followed by The Bacchae and Iphigenia, three reworkings of the Greek tragedies by American playwright Charles L. Mee. The troubled House of Atreus particularly resonates with the director, who finds many parallels between the Agamemnon story and the current atmosphere of self-justified bellicosity. "I think it's important that people understand that what is happening now is completely wrong," she says. "And they should think about it and try to do something if they can."
"I can't stand realistic theatre," declares Michel. "And I never follow any directions because I think it's my job as director to do that." Hence the devotion of a season to the works of Mee, whose particular style of writing, in which little is concrete, meshes well with Michel's style of direction. "First I fell in love with the text," she says. "Then, when I read a text, if I get inspired with ideas, then I know this is something that I want to do. I love to be challenged."
She's fond of challenging audiences, as well. If there can be said to be a typical City Garage production, chances are that at least one actor will be naked, the imagery will be startling, and the set, which Michel tries to have by the first rehearsal, will be incredibly handsome but enigmatic. In the current production, for instance, the playing area is dominated by a rowboat center stage. Down right is a gauzy canopy draped over a bathtub. Up left is a counter on which sits the head of three of the chorus. There is a freestanding woman's period costume scaled for a giantess. Tucked away stage left, a cage. It's beautiful. And not a stick of it is mentioned, or called for, in the script. "When that [idea of the boat] came to me, I was really excited and I wanted to do it this way," explains the director. The disembodied heads, she elaborates, are the result of the inevitably monstrous actions of warriors. See? It makes sense, but you have to put a bit of work into it.
Michel is no less demanding of her actors. "I don't do showcases," Michel says firmly, and though she certainly understands actors who want to be stars, she makes it perfectly clear that if they want to be in one of her productions, they have to be ready to do serious theatre. This led, for a period, to the occasional show in which the cast was not quite up to the rigors of what Michel, who describes herself as a "demanding but fair" director, required. "Discipline is very important." About five years ago, Michel decided to whittle the company down to a small, dedicated ensemble so she could hold a tighter rein on the consistency of the productions. She reduced her stable to 18, dropped the dues-paying, and now says, "I don't have any problem with anybody. Everybody understands what we are doing." The ideal City Garage actor is one Michel describes as bright enough to understand the text, committed to the often-political work, and "able to take complete direction with 100% understanding that you have to trust me. And it's vice versa: I have to trust them 100%."
Where does such niche theatre find its audience? Despite the theatre's rather cunning location in an alley behind the Third Street Promenade, the crowds are not drawn primarily from the local Santa Monica population. "It's very bizarre," remarks Michel. "A lot of people in Santa Monica discover us and don't even know we are here." The company has its faithful attendees on opening nights, as well as its Sunday regulars. The current show is proving so popular that on the Sunday before July 4, Michel had to turn 20 patrons away from the 48-seat theatre; there simply wasn't any room. "I was overwhelmed," she says. "I didn't know what to do. I thought everybody was gone for the weekend." Recently the house consisted largely of people in their 70s and 80s, and when the show, which is heavy on blood and nudity, ended, they wouldn't leave the theatre. "They were sitting, and they looked like they were in shock," recalls Michel. "I'm thinking, 'Oh, my God, what did we do to these poor people?'" Eventually, they all made it to the lobby, where they wanted to discuss the play. They said it was outstanding. They said they had never seen anything like it. And they said they came because their friends told them to come. "That was actually an incredible compliment for us," admits Michel. "We were so excited." But they were there for the same reason we find ourselves returning again and again. As summed up by Michel, "People come to our theatre because some people told them to come see something different, I suppose." Seeing something different at City Garage, in the best sense of the term, is one of the few things in this city we can count on.
—Wenzel Jones
Best Actor's Resource
The Actors' Fund
There are many reasons to love L.A., but it can be a lonely, intimidating place, especially for anyone trying to navigate the entertainment-industry labyrinth. Although there are plenty of places to go for headshots and classes, where can one go for help with money problems, meeting people, and alleviating those sometimes-inevitable nervous breakdowns?
Fortunately there is such a haven: the Actors' Fund of America, the only nationwide human-services organization for those in performing arts and entertainment. At the Actor's Fund, union members will find a wealth of programs, seminars, workshops, and support groups to help with everything from finding affordable health insurance to setting up a profitable side job that'll keep you afloat. And none of it will cost you a penny.
Tina Abas, the coordinator of the Entertainment Industry Assistance Program for the Western regions, says the Fund seeks to help not only actors but also all industry pros in all aspects of their lives. "The mission of the Fund is to help industry professionals navigate their life as they're navigating their career," she reports.
It's not surprising that most people discover the Fund when they're already in a jam. "Most people probably come to the Fund because they're experiencing some kind of crisis and they need financial assistance. That's probably the primary reason," says Abas. Those in need first meet with an intake social worker who assesses the problem and how the Fund and/or other available social services can be helpful. Abas says people seek help with "anything from housing, legal, mental health, homelessness, and domestic violence."
However, she encourages actors to also come to the Fund before disaster strikes. There's information and programs to help manage money, save for retirement, and even buy a first home. The remainder of this year's schedule, announced last month, includes a résumé-writing workshop Aug. 1, a "Getting and Keeping Health Insurance" workshop Aug. 9, and a workshop on developing a career as a personal trainer or motivational speaker Aug. 30.
The Fund is also dedicated to helping boost emotional health. Support groups such as "Are You on the Fence With Life in the Industry?" address the many emotional, spiritual, and practical issues actors and others face. To curb loneliness, groups such as the HIV/AIDS Activity Group—part of the Fund's HIV/AIDS Initiative program—organize casual get-togethers and outings; a trip to the Getty Center is planned for Aug. 23.
Abas says the Fund, which assists approximately 8,000 people nationwide per year, is particularly necessary in an industry that doesn't encourage people to think about long-term goals. "I think the [entertainment] industry really promotes here and now, be in the moment, go for your dreams at any cost as fast as you can," she says. "It isn't one that promotes planning, which isn't helpful when you're in it." All workshops and programs are held at the Fund's L.A. offices, 5757 Wilshire Blvd., Suite 400. For more information, call (323) 933-9244 or visit www.actorsfund.org.
—Lauren Horwitch
Best way to Meet Casting Directors
SAG Foundation's Casting Access Project
Where can you meet notable casting directors, read for them, ask questions, and learn valuable lessons that will surely help you in your craft and career? Oh, and where can you do all of this free of charge (after all, your ship—aka that prized regular role on a network sitcom or that wacky sidekick part in a big studio flick—hasn't come in just yet)?
Surely many of you are rolling your eyes by now, making up such smart-ass replies as "in hell, where everyone is now enjoying the lovely ice-skating," or "in some distant, futuristic utopia, where struggling actors are prized beyond all others and high-ranking studio execs have to hold down part-time jobs as waiters."
Our answer is much more realistic: Try the Screen Actors Guild Foundation's 2-year-old Casting Access Project, which offers SAG members cold reading workshops with experienced casting directors. The sessions, made possible by the SAG Foundation in partnership with SAG Producers Industry Advancement and Cooperative Fund, are intimate—about 20 actors to a workshop—and free. The CDs get an honorarium for their time, and the actors don't have to fork over any of their hard-earned cash. Previous participants have included such notables as Gary Zuckerbrod, Michael Donovan, and Casting Society of America President Chemin Sylvia Bernard.
"We try to bring in people that we know love to work with actors," says Jesse Bush, a program director for CAP, as well as the Foundation's LifeRaft and Conversations programs. "We understand that they're not acting coaches, but we like to bring in people that are comfortable giving actors direction, so the actors go away feeling like they learned something about their performance and learned something by watching the other actors."
Events usually start with a Q&A session, and then the CD hands out material for the evening. After a short rehearsal period, the actors perform and the CD offers feedback. Many of the CDs, says Bush, give redirection and allow the actors to do the scene again. The workshop is generally wrapped up with another brief Q&A.
"We stress the educational aspect of the workshops, rather than just being seen by a casting director. It's very important for people to be learning," says CAP program director Rufino Cabang. Events are held at the SAG Foundation, 5757 Wilshire Blvd., L.A. For more information, go to www.sagfoundation.org.
—Sarah Kuhn
Best Networking Event
The Hollywood Networking Breakfast
For the past 13 years, the Hollywood Networking Breakfast has been a labor of love for Sandra Lord, who created the event in 1993 on the Paramount lot. With the events at the studio and the Wydham Bel Age hotel in West Hollywood, Lord and her team bend over backward to make all attendees feel welcome during the two-and-a-half-hour breakfast. "We take that extra step," says Judith Smith, one of the event's producers. "When people come in, we know a lot of them personally. We greet them by name." It's not uncommon to see producers ask for hugs.
By combining genuine warmth and an extremely well-organized event—attendees receive a seven-page email outlining the rules—Lord has created the structure for solid connections to materialize among creative people. Actors seeking representation have met their future agents and managers and snagged roles from folks they met at the breakfast. Producers have left with producing partners and funding. Writers have landed gigs.
Here's why it works so well: You arrive at 7:20 a.m. to check in, dressed in the required business casual attire to maximize professionalism. By 8 a.m., you're hanging out inside, breakfasting on a wide assortment of digs, and making connections for the next hour. You are allotted 15 seconds to introduce yourself to the room and swap business cards with people who pique your interest. Prizes are distributed, and at 9 a.m. the guest speaker shares his or her wisdom. Each attendee is given the opportunity to ask the speaker questions and meet him or her in person.
"We care so much about making sure that people get something out of it," says Lord. "We want people to pursue their dreams." For added encouragement, attendees have the chance to win prizes provided by the breakfast's sponsors. Some winners have left with Final Draft screenwriting software or Back Stage West subscriptions. Others have left with something perhaps even more valuable: the opportunity to be mentored by the event's guest speaker, either by meeting him or her later for lunch or shadowing that person over the course of a workday. Speakers have included Penny Marshall, April Webster, Paula Wagner, David E. Kelley, and CSI: Crime Scene Investigation creator Anthony Zuiker.
Some speakers, such as producer Chris Moore, stayed for hours chatting with attendees after the event concluded. Others have conducted business meetings on the couches of the Bel Age. Lord attributes the speakers' enthusiasm and comfort to the fact that she allows no press to attend.
And the event is for a good cause: Proceeds go to Lord's nonprofit, Changing Images in America, which develops, produces, and supports programs that promote diversity in American culture.
The Hollywood Networking Breakfast takes place on the last Thursday of each month and costs $40 in advance, $45 for late registration, and $50 at the door. For more information, visit www.changingimagesinamerica.org.
—Nicole Kristal
Best 'Free' Outdoor Shakespeare
Independent Shakespeare Company
No disrespect to the many genius designers who work in L.A. theatre, but our staff pick for the best free outdoor theatre company is one that uses no set, working with minimal lighting and costumes the actors could have found in their own closets. Independent Shakespeare Company works within the strictures that would have bound a small Elizabethan company. "The onus is on the actor in speaking to tell the story," says David Melville, who, along with his wife, Melissa Chalsma, founded ISC. Their mission has been satisfied, with delightful work by stage actors culled from all over the city.
It began in 1999, when the couple essayed Henry V in New York. "I didn't think it was going beyond that one production," says Melville. "We were doing it to sort of satisfy our own desire to be in control of things. Once you get started, it's quite addictive."
Henry V toured the East Coast. As You Like It followed. Macbeth opened in N.Y., toured France, and was invited to London at the Kings Head Theatre in 2000 for four weeks, "a tale in itself, Americans doing Shakespeare," says Melville.
The couple ran out of steam in New York and moved to L.A., remounting Henry V at the Odyssey Theatre in 2002. Then followed a revival of Macbeth in 2003 and Two Gentlemen of Verona in 2004. The outdoors productions came with Hamlet and Richard III in 2005 (following French tours in 2004). Chalsma and Melville had worked in an outdoor Shakespeare in Rhode Island, liked the setup, and based ISC on it, particularly the donation-basis of ticket sales.
Macbeth couldn't find a suitable L.A. theatre for a healthy run. "Always lots of rehearsal and not very much performance," is how Melville describes those days. Then a friend recommended Franklin Canyon Park with its outdoor amphitheatre, "and we accidentally stumbled into a whole new world," says Melville. Timothy Smith of Equity helped the company negotiate a contract, "going out of his way to make it work," Melville notes. The following year Barnsdall Park took ISC in.
ISC's audiences are unusually young; parents feel free to bring their children. "We never played Hamlet to so many 3- and 4-year-olds," says Melville, who stars as the Danish prince. "They run around, but the parents have the opportunity to go out and see Hamlet. It's not really bothering anyone. We had kids playing soccer during my first moment onstage. I had a word with them, and they agreed to stop." Other audience members occasionally come as those out for a walk, who stop by to see what's going on and stay until the end. Some can't afford theatre and pay nothing; one child turned over the contents of his pocket: 50 cents. Others make up for them. About 60%–70% of the budget comprises donations. "People are on the whole quite generous," Melville reports. He and Chalsma also "invest" in the company. This season they hope to come out in the black with help from the city and a few corporate sponsors.
In 2004, ISC's first year outdoors, it opened to an audience of 15 plus one dog; on closing night 200 people attended. Last summer it opened to an audience of 50 and closed with 500 in attendance. "This year we opened with 150. We have no idea where we'll be on closing," says Melville. ISC is currently playing Hamlet and As You Like It in rep at Barnsdall. The smart audience will be there, we're sure. Visit independentshakespeare.com.
—D.M.
Best Publicist
Craig Bankey
Forget about a private dressing room bearing your name; the true rite of passage for any actor is when it comes time to hire a publicist. As anyone who witnessed Tom Cruise's meltdown this year after hiring his sister to control his image can attest, publicity is a tricky game. And while they may be working opposite sides of the field, actors are probably looking for the same thing from a publicist that journalists look for in one: honesty, integrity, and someone who returns their phone calls.
Craig Bankey, publicist with of PMK/HBH, is a dream for Back Stage West. His client list isn't too shabby, either. It includes acclaimed actor's actors such as Ken Watanabe, Cillian Murphy, Molly Parker, and Michael C. Hall. "People understand I'm more interested in promoting the career and the work as opposed to using the personal life to attract the media in order to build a career," says Bankey, who has been working in the PR business in various capacities for about 10 years. "They're interested in craft and not in fame. There are some actors I wouldn't represent well because I'm not really interested in the type of goals that they have. I think I've been able to identify the people with whom I work really well."
Self-described as "low-key" and never prone to hyperbole, Bankey originally considered a career as an agent, interning at William Morris Agency in New York in college and working at International Creative Management upon graduation. Realizing it wasn't something he wanted to pursue—"I didn't think I had the personality for it, quite frankly"—Bankey found his job as a floater in the film department of Columbia TriStar leading him to a career in public relations. "I loved the counseling element of it," he notes, adding that a large part of his job is educating actors. "The media is so important to the business today, you can't pretend it doesn't exist. One aspect that's a lot of fun is when an actor comes to understand how the media works. The issue of art versus commerce will always be pervasive in the world of acting. I think most actors would prefer not to have to sell the work that they've done. But publicity should be enjoyable in some way, not painful."
Asked what the secret is to working with a client, Bankey says, "I just think I listen. You can only represent people well if you communicate well with them. I think that's the most important element, because ultimately the client makes the decisions. You're just there to guide and counsel them and lead them in the right direction."
—Jenelle Riley
Best Place To Meet Film Directors
Film Independent
Just how does one score face time with the next Spielberg in this crazy town? Obviously there's no single answer to that, but we can tell you it's definitely not going to happen while you're sitting by the phone, waiting for that call that's going to make you the next big thing.
We love Film Independent, the bustling nonprofit dedicated to independent film and filmmaking, because the organization encourages actors to take a proactive tack, emphasizing community, education, and interaction—key ingredients in an actor's success.
The organization offers many avenues for eager actors looking to meet established and up-and-coming directors. There's the annual Director Series, which features experienced directors discussing their creative process and craft. This year's lineup spotlighted such notables as Paul Haggis (Crash), Neil LaBute (The Shape of Things), and Miranda July (Me and You and Everyone We Know). "They [talk] about how they work and their approach to filmmaking, and not only do you get to hear from them and understand how directors are approaching their films, you're there, in the room with them," says Film Independent Executive Director Dawn Hudson. "It's a pretty small group, and you can always introduce yourself. It also just helps to find out what they're looking for." In addition to this series, Film Independent hosts screenings every month, and the directors behind the projects often make an appearance and take questions afterward. And of course there's the organization's annual Los Angeles Film Festival, which offers plenty of opportunities for networking.
Members can also put their headshots and résumés in Film Independent's résumé bank. Director members and participants in the organization's Filmmaker Labs often comb through the bank, looking for talent. "That's another way of putting your face and résumé in front of directors," says Hudson.
Finally, it's worth noting that many folks who inhabit the independent film world are hyphenates. And that's another wonderful element of Film Independent: It encourages you, the actor, to become one yourself. The organization has 100 educational programs year-round, encompassing topics ranging from screenwriting to new technology. "I think it's necessary to take charge of your own career and develop your own projects," says Hudson. "It will put you in a different position within the industry, and people will look at you differently, and you will have more self-confidence as you move through the industry. The whole process will not seem so daunting, because you'll understand the process better."
Annual membership in Film Independent starts at $95 per year. Some screenings and events are open to nonmembers. For more information, go to www.filmindependent.org.
—Sarah Kuhn