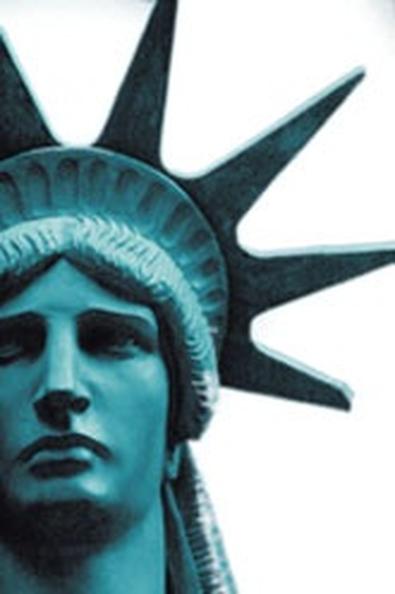 As Jeffrey James Keyes can tell you, anything can happen in New York. One day you're a struggling actor, the next you're on the cover of Back Stage East. That's what happened to Keyes when he took part in our first-ever "Best of N.Y." readers' poll. He was selected at random to win a free headshot package from Babaldi Studio and got his picture on our cover, which was taken at Dojo, the winner for best cheap meal.
Many publications run "best-of" features, but we wanted to find out your favorites for essential career items such as photographers, acting teachers, and rental spaces, as well as living necessities like cheap meals, hair salons, and clothing stores. We also threw in a few fun ones, such as best cheap getaway and best improv group. The responses ranged from serious to comic. One reader voted for the cheapest possible choices, including "my cameraphone" for best headshot photographer and "my bathroom sink" for best hair salon. Another cleverly suggested "Leftover food from corporate meetings where I temp" as best cheap meal.
We included comments from respondents and, when the race was especially close, runners-up. Thanks to Jeffrey, Babaldi Studios, and everyone who participated. Enjoy your choices for "The Best of N.Y."
READER'S PICKS
HEADSHOT PHOTOGRAPHER
Barry Morgenstein
"Nice, clean studio. Good lighting and background choices.... He is very relaxed...a nice calm atmosphere to work in." So one voter described headshot photographer Barry Morgenstein.
Morgenstein has been in the photo business for 22 years. He started his career shooting musicians for record companies, having previously been a blues and rock 'n' roll performer himself, but about nine years ago he branched out into theatrical headshots. He's been in his present studio on West 25th Street for about four and a half years, and he's shot everyone from Michael Jackson to Arnold Schwarzenegger to Sarah Ferguson, Duchess of York. His photos have graced book and CD covers and appeared in such magazines as Rolling Stone, People, Entertainment Weekly, and Soap Opera Digest.
Morgenstein attributes his reputation for creating a relaxed atmosphere in part to the "laid-back" makeup people he works with. And perhaps because of his own background, he finds music to be an important part of a good photo session and encourages performers to bring CDs they enjoy listening to and that they find to be centering.
Although he was "a holdout for a long time," Morgenstein recently made the switch from traditional film to digital photography. He's now a believer: "It's just great for the client: You do the shoot. You show them the photos as you're shooting, and if they do want to change something, you'll change it right there." Another trend he sees? Black-and-white is losing its popularity: "Agents and casting directors are pretty much saying that they want to see color now."
Barry Morgenstein Photography, 130 W. 25th St., 4th floor, NYC 10001; (212) 647-1288. Email: photo@barrymorgenstein.com. Website: www.barrymorgenstein.com.
Runners-up:
Peter Hurley Photography, 601 W. 26th St., Ste. 1425E, NYC 10001; (212) 627-2210. Email: sessions@peterhurley.com. Website: www.peterhurley.com.
Studio Babaldi, 333 W. 39th St., Ste. 603, NYC 10018; (212) 253-8795. Email: mm@babaldi.com. Website: www.babaldi.com.
Marco Baldi Photography, 24-32 Union Square East, Ste. 200N, NYC 10003; (212) 253-0121. Email: marcobaldi@marcobaldi.com. Website: www.marcobaldi.com.
Robert Kim Photography, 101 W. 18th St., Ste. 5D, NYC 10011; (212) 645-5788 or 1-888-KIM-FOTO (toll-free). Email: kimfoto@earthlink.net. Website: www.robertkim.com.
-- Mark Dundas Wood
HAIR SALON
Bumble and Bumble
If the name doesn't exactly inspire confidence, Bumble and Bumble's long-standing reputation among celebrities and fashionistas definitely should. Founded in 1977, it has become a New York institution while keeping its pulse on the latest in trendy hairdos and up-to-the-minute styling and cutting techniques.
Although cuts start at $85, artists on a budget can get one for free by signing up to be a hair model. Bumble and Bumble conducts advanced training classes for experienced stylists and needs individuals willing to put their heads -- and hair -- on the line.
"Once a week they have calls, and if your hair is the correct length and texture that they're looking for, someone taking the course will cut your hair for free," says Jennifer Weedon, who's been taking advantage of that perk for a couple of years.
While the salon is known for certain signature styles -- and razors as well as scissors are often used to give hair a sharp look -- Weedon says the stylists consult with their models before cutting away: "They don't just give you a cookie-cutter cut." But don't be in a hurry: The entire training-and-evaluation process can take up to two hours. And you have to be prepared to undergo a style change, not just have your present 'do tidied up.
Bumble and Bumble, 146 E. 56th St., NYC 10022 and 415 W. 13th St., NYC 10014; (212) 521-6500 (both locations). Website: www.bumbleandbumble.com.
Runner-up:
Astor Place Hair Designers, 2 Astor Place, NYC 10003; (212) 475-9854.
-- Diane Snyder
GYM/HEALTH CLUB
New York Sports Club
With 97 locations in the tristate area (and three more to open this fall), it's no wonder New York Sports Club topped our readers survey. In Manhattan, there seems to be one on every block.
NYSC offers a variety of services to the health-conscious actor, from the usual array of exercise machines and free weights to racquetball, swimming, and sports massage.
"I like the yoga classes," said Francine Berman. She was new to yoga when she took a class at a location on the Upper West Side. "They made me comfortable," she said, adding that "the teacher illustrated the different positions very well."
NYSC teaches more than 100 different styles of class throughout its network, including Pilates, kickboxing, spinning, and strength and flexibility training. A full schedule of classes is offered daily at each club. Many locations also offer XpressLine, in which you can complete a full-body strength workout on eight machines in less than 22 minutes.
Frank Swingler said the location he frequented in Midtown had "lots of machines," wasn't too crowded, and "people there are nice."
NYSC offers six membership options, including "Night Owl," for folks who want to work out between midnight and 5 a.m. at one of the company's three 24-hour Manhattan locations.
New York Sports Club, throughout the city. Website: www.nysc.com.
Runners-up:
Crunch Fitness, 15 locations in the New York area, www.crunch.com.
Equinox Fitness Clubs, 21 locations in the tristate area, www.equinoxfitness.com.
-- Tom Penketh
ACTING TEACHER
William Esper
When he was a young actor in Ohio, William Esper saw Eli Wallach and Maureen Stapleton in a touring production of The Rose Tattoo. The play changed his life.
"I was so struck by the acting," he says. "After the play was over, I decided to go around the corner to get a cup of coffee so I could think about it some more. I walked into a little drugstore, and Eli was sitting there having a bite to eat."
Once he'd "screwed up the courage," he talked to the actor, because Esper had to know how he did what he did. Wallach told him he had studied at Sanford Meisner's Neighborhood Playhouse. That was all Esper needed to hear.
After college he moved to New York and began studying with the teacher who was famous for his exercises in repeated dialogue. Though he worked for a time as an actor, Esper was soon following Meisner's lead. "I started directing. I started coaching people," he says. "I lost my love of performing."
His loss was a boon for actors, as his roster of alumni can attest. Among those Esper has taught are Kathy Bates, Aaron Eckhart, and Richard Schiff.
Esper says he became frustrated with performing because he "had no control over anything." As a teacher, he tells actors to let go of their need to control everything: "Any actor without vulnerability is useless." He adds, however, that actors need to be certain of where they are and what they're doing, at least in one sense.
"They have to be clear about what business they're in," he says. "Are they in the serious actor business or are they in show business?... In a world with no standards, unless they have a real standard within them, it's very easy to get lost."
William Esper Studio, 261 W. 35th St., 7th floor, NYC 10001; (212) 904-1350. Website: www.esperstudio.com.
Runners-up:
Maggie Flanagan Studio, 153 W. 27th St., Ste. 803, NYC 10001; (917) 606-0982. Website: www.maggieflaniganstudio.com.
Wynn Handman/The American Place Theatre, 266 W. 37th St., 22nd floor, NYC 10018; (212) 594-4482. Website: www.americanplacetheatre.org.
Susan Batson, Black Nexxus, 10 Crosby St., NYC 10012; (212) 226-4630. Website: www.blacknexxusinc.com.
-- Andrew Salomon
PRIVATE COACH
Charles Tuthill
As an actor, Charles Tuthill had a fondness for rehearsal and "putting it all together." But as for actually being on stage? Not so much.
"I stopped enjoying being out there," says Tuthill, who is now working as an acting coach. He has been coaching for about four years after making his living as an actor for the previous 15. He began teaching at the Atlantic Theater Company's school before joining the faculty of the Actors Center. Now he does one-on-one work with everyone from students auditioning for MFA programs to actors working in major films.
Though he demurs when asked for some famous names he has coached, Tuthill offers that he has worked with three actors "who are in the top 10 movies of the moment. I have five students in the Shakespeare Lab at the Public, and I have students going to Yale and NYU." He also has testimonials on his website from Academy Award nominee Laura Linney and Broadway actress Lauren Ward.
A teacher in an acting program will often have to strip away years of bad acting habits like varnish off an old bureau. Tuthill, however, simply works with what he has.
"I wouldn't even know how," he says. "I'm just dealing with what's in front of me. I inspire someone to be bolder. That's what I'd like my job description to be. People get in their own way. I want to boost their confidence and get them to the level where they stop questioning themselves, where they feel like they're not doing enough. I just want them to feel free."
Charles Tuthill, The Actors Center, 12 W. 27th St., Ste. 1700, NYC 10001. Email: CharlesTuthill@yahoo.com. Website: www.charlestuthill.com.
Runners-up:
Glenn Alterman, (212) 769-7928. Website: www.glennalterman.com.
JoAnna Beckson, J. Beckson Studios, 325 W. 38th St., Ste. 204, NYC 10018; (917) 749-6922. Email: JTBeck417@aol.com. Website: www.joannabeckson.com.
Alan Gordon Studio, 847 Carroll St. #4, Brooklyn, NY 11215 (classes are held at Ripley-Grier Studios or the Players Theatre in Manhattan); (718) 622-4150 or (917) 566-2223. Email: ajg0103@yahoo.com.
Scott Hudson, c/o Maggie Flanagan Studio, 153 W. 27th St., Ste. 803, NYC 10001; (917) 606-0982. Website: www.maggieflaniganstudio.com.
-- Andrew Salomon
OFF-OFF-BROADWAY COMPANY TO ACT WITH
13th Street Repertory Company
When new Off-Off-Broadway theatres with short life expectancies are born almost daily, the endurance of the 13th Street Repertory Company, founded by Artistic Director Edith O'Hara in 1972, is remarkable. One of its shows, Line, a modest one-act by Israel Horovitz about five people waiting -- you guessed it -- in a line, has been playing for an unprecedented 32 years and is the longest-running Off-Off-Broadway show in history.
But the fact that 13th Street Rep has produced or served as a home for countless shows is not the only reason the voters chose it. More than two generations of New York actors, playwrights, directors, and designers have cut their teeth at this homey venue, located in a Greenwich Village brownstone dating to 1840. There's a sense of tradition -- with actors handing down their skills from year to year, show to show.
An intimate black box with a raised stage, cushioned seats, and a museum-worthy gallery of production shots lining the walls, the space creates a feeling of communion between actor and audience. And because nearly all the plays that run at 13th Street Rep are new, actors have the chance to create a character from scratch, perhaps putting their stamp on something that won't -- like most of the city's companies -- be gone in a New York minute.
13th Street Repertory Company, 50 W. 13th St., NYC 10011; (212) 675-6677. Website: www.13thstreetrep.org.
-- Leonard Jacobs
OFF-OFF-BROADWAY COMPANY TO SEE
The Flea Theater
Certain downtown theatres have an air of pretentiousness, but the two-venue Flea Theater -- its spiffy Tribeca digs notwithstanding -- isn't one of them. Since its founding in 1996 -- by director Jim Simpson, designer Kyle Chepulis, and playwright Mac Wellman -- it has stood at the vanguard of work that's sometimes experimental, sometimes traditional, and always progressive and intriguing. The Flea's pair of Obie Awards and its 2004 Drama Desk Award were wholly earned.
For hunters of experimentation, the work of the Flea's resident company, the Bats, is typically the way to go. Over the years, its output has ranged from the stylish, Kabuki-inspired Benten Kozo, to pieces by Wellman, Len Jenkin, and composer Elizabeth Swados. For hunters of the traditional -- or something seemingly traditional that's been cast in a new light -- the Flea's full productions fully engage: Anne Nelson's two-hander The Guys, one of the first emotionally rich theatrical responses to Sept. 11; A.R. Gurney's timely political play Mrs. Farnsworth; Roger Rosenblatt's Ashley Montana Goes Ashore in the Caicos... or What Am I Doing Here? Within its walls, the Flea symbolizes community, from the smaller companies that have enjoyed residencies to multidisciplinary festivals (Dance@The Flea, for example) that expose audiences to new horizons.
Perhaps the real reason voters chose the Flea is because it can't be pegged or predicted. Theatre is at its best when it surprises, questions, and investigates. The Flea has done that for 10 years, with Off-Off-Broadway the beneficiary.
The Flea Theater, 41 White St., NYC 10013; (212) 226-2407. Website: www.theflea.org.
-- Leonard Jacobs
RENTAL SPACE
Ripley-Grier Studios
Husband-and-wife team Butch Grier and Patricia Ripley have been in the space rental business since 1984. They operate three Manhattan locations under the name New York Spaces -- one on 72nd Street and two on Eighth Avenue. Until late June, only the 520 Eighth Ave. location was officially known as Ripley-Grier Studios. Now all three locations go by the family brand.
It's the 520 Eighth Ave. location that most Back Stage readers likely had in mind when they chose it their favorite rental space for rehearsals, classes, and auditions. The large complex encompasses nearly the entire 16th floor, plus 5,000 square feet on each of the 10th and 17th floors.
What accounts for Ripley-Grier's popularity? "I think cleanliness and brightness is a key issue," says Grier, noting that Ripley is a feng shui consultant who cares deeply about ambiance. Wicker furniture and potted plants enhance the studios' comfort quotient. Other selling points include routers for Internet connection and acoustical curtains that can also serve to mask the rooms' windows and mirrors.
Grier notes that employees complete a customer-service program known as "Ripley-Grier College." The friendliness of the staff at all the facilities was lauded by one Back Stage reader: "You know, at some of these [other] places, the guys or gals that sit behind the desk say, 'Yeah, yeah. Whatever.' You say, 'Where's the studio?,' and they can barely give you the time of day. But [at Ripley-Grier they] say, 'Oh, geez, we put you in a room without a piano? Let me switch that around for you.'"
The next expansion? Grier says negotiations are underway to take over the rest of the 16th floor at 520 Eighth Ave. in order to add a food court and a store that will sell "everything from T-shirts to Band-Aids."
Ripley-Grier Studios, 520 Eighth Ave., 16th floor, NYC 10018; 939 Eighth Ave., Ste. 307, NYC 10019; and 131 W. 72nd St., NYC 10023; (212) 799-5433 (all locations). Email: sales@newyorkspaces.com. Website: www.ripleygrier.com.
Runners-up:
Shetler Studios, 244 W. 54th St., NYC 10019 and 939 Eighth Ave., NYC 10019; (212) 246-6655 (both locations). Email: sales@shetlerstudios.com. Website: www.shetlerstudios.com.
Chelsea Studios, Theatreworks/USA, 151 W. 26th St., NYC 10001; (212) 924-5877. Email: sroath@twusa.org. Website: www.chelseastudios.org.
-- Mark Dundas Wood
IMPROV GROUP
Upright Citizens Brigade
In 1996, four improv/sketch comedians from Chicago -- Matt Besser, Amy Poehler, Ian Roberts, and Matt Walsh -- arrived in town to found the Upright Citizens Brigade. Within a decade, the troupe had grown to become a downright venerable institution (they've also added a theatre in Los Angeles). UCB's 26th Street theatre in Manhattan typically stages four or five shows a night, seven days a week.
It's comedy styled for the locals, according to Artistic Director Anthony King. "We've never really spent a lot of focus on tourists," he says. "We feel we have the same sensibility as New Yorkers: It's smart, alternative comedy." And at $5-$8 for most shows, it's also an entertainment bargain.
The founders of UCB were grounded in Del Close's ImprovOlympic comedy tradition. According to King, this school emphasizes "the game of the scene." Performers look for the most unusual aspect of a situation and then play with and heighten it during the course of the improvisation.
In New York, UCB offers a wealth of classes in improv and sketch comedy, with between 400 and 600 students enrolled at any given time. A couple of months ago, a new training facility opened at 145 W. 30th St. It includes seven classrooms, a writers' room, and business offices.
The "flagship" performances at UCB, says King, are the Sunday evening ASSSSCAT shows, featuring UCB's most famous and accomplished players, including Poehler (now a Saturday Night Live star) and Rob Corddry and Ed Helms of The Daily Show. ASSSSCAT (the name is purportedly an absurd acronym involving automatic sprinkler systems) especially impressed one Back Stage reader: "It's such a down-to-earth but high-energy environment.... It's not really about glitz or glamour. Even the beer that they sell there is cheap. They're not there to make money. It's more for the love of it."
Upright Citizens Brigade, 307 W. 26th St., NYC 10011; (212) 366-9176. Email: info@ucbt.net. Website: www.ucbtheatre.com.
Runner-up:
The People's Improv Theater (The PIT), 154 W. 29th St., NYC 10001; (212) 563-7488. Email: info@thepit-nyc.com. Website: www.thepit-nyc.com.
-- Mark Dundas Wood
CHEAP GETAWAY
Jones Beach and Fire Island
Do you want to break away from the Big Apple on the cheap? Try Jones Beach or Fire Island, which tied for the title of best cheap getaway.
Six and a half miles of beach stretches out before you at Jones Beach State Park, which also boasts the Theodore Roosevelt Nature Center and the Nikon at Jones Beach Theater, an outdoor concert venue. To get there, the Long Island Rail Road is selling a one-day roundtrip rail package, through Sept. 4, to Freeport, N.Y., with MTA Long Island Bus transportation to the East or West Bathhouses or the Central Mall. The fare is $15 from Manhattan or Brooklyn and $11 from Jamaica, Queens.
The National Park Service maintains the Fire Island National Seashore, located on a barrier island with several different communities and historical and scenic attractions galore. It's relatively inexpensive if you're visiting for the day, but staying overnight is not, especially in the summer, and there are limited camping facilities. To get there by train, one way is to take the Long Island Rail Road's Babylon line, a one-hour ride for $11 from Penn Station to Bay Shore, Long Island. From there it's a 15-minute walk to the ferry. There are also water taxis that stop at various communities on the island.
Jones Beach, Long Island, N.Y. Website: www.mta.info/lirr/getaways/BeachPackages/JonesBeach.htm.
Fire Island, Long Island, N.Y. Websites: www.fireisland.com and www.fireislandwatertaxi.com.
Runners-up:
The Jersey Shore, including Atlantic City. Website: www.virtualnjshore.com.
Chinatown buses to Boston and Washington. Websites: www.chinatown-bus.com and www.blacktable.com/gillin031105.htm.
-- B.L. Rice
COMMERCIAL CASTING DIRECTOR
Liz Lewis Casting Partners
At Liz Lewis Casting Partners, the mission is to treat every person who walks through the door with respect. While striving to match the needs and wants of its clients -- an impressive roster from the film, television, theatre, and on-camera and voiceover commercial industries -- the office has certainly not overlooked the actors who come in to audition.
"The casting directors at Liz Lewis are nice, polite, funny, and treat you like a human being," said one respondent. "[You] can't say that for some of the other casting directors out there."
The staff of more than 14 casting directors and assistants -- with over 75 years of combined experience -- has developed a personal approach to finding and nurturing talent. The office doesn't turn away young or green performers and will take a headshot and résumé from anyone who walks into the office.
"We feel really strongly about treating everyone with professionalism," says Lynn Taylor, the office's controller. "Everyone is treated with respect and courtesy. And the people who work here have that in their personality. It's our mission statement. We're really about getting the best result for everybody."
Another reason for Liz Lewis' popularity is obvious: The office keeps a file of more than two million headshots. But all of its actors are taken seriously as individuals, whether their talent runs toward slice-of-life on-camera spots or cartoon voiceovers.
"We really appreciate the outcome of the vote," says Taylor. "We want to thank those people. I think it's wonderful. I think the best asset we have is we certainly enjoy our work!"
Liz Lewis Casting Partners, 129 W. 20th St., NYC 10011.
-- Anna Bengel
FILM/TV CASTING DIRECTOR
Marci Phillips, ABC/Touchstone Primetime Casting
Avy Kaufman Casting
Grant Wilfley Casting
The vote for best film/TV casting director ended in a three-way tie, and after reviewing the caliber of the competition, it isn't hard to see why. Marci Phillips, Avy Kaufman, and Grant Wilfley are three of the busiest casters working today.
Phillips, an executive casting director at ABC, and her colleagues are in charge of casting pilots, miniseries, television movies, and some programs for ABC Family, Touchstone Television, and ESPN on the East Coast. But that doesn't mean she handles only big shots.
According to ABC casting coordinator Geoffrey Soffer in an interview with ActorsLife.com, Phillips and the casting team are "very active in finding new talent by going to showcases and New York theatre. Everyone in my office is the best possible person an actor can have in the room during an audition. I love that my office loves actors. We want actors to succeed, and we want them to get the job."
Phillips' genuine interest in helping actors find success was reinforced by her voters. "She is truly actor-friendly," one respondent wrote. "As an actor you always feel like she is on your side when you are in the room auditioning for a big project."
Avy Kaufman also has an impressive roster of credits. As casting director for more than 80 major motion pictures over nearly two decades, Kaufman's resume includes Syriana, Brokeback Mountain, Capote, Garden State, Heist, Blow, State and Main, The Sixth Sense, Dancer in the Dark, and the list goes on and on.
Finally, there's Grant Wilfley Casting, celebrating its 15th anniversary this year. Specializing in background performers, the office has placed actors in jobs for directors such as Cameron Crowe, Penny Marshall, and Joel Schumacher and handles talent for both movies (Catch Me If You Can, Almost Famous) and television (Law and Order: Special Victims Unit, The Sopranos). The bottom line for Wilfley is to give both seasoned talent and newcomers a chance to gain professional experience.
"We've always appreciated actors as professionals," Wilfley said. "With the continued growth of the film and television industry in New York, we hope to continue to grow ourselves and in doing so help the New York acting community."
Marci Phillips, c/o ABC/Touchstone Primetime Casting, 157 Columbus Ave., 2nd floor, NYC 10023.
Avy Kaufman Casting, 180 Varick St., 16th floor, NYC 10014.
Grant Wilfley Casting, 123 W. 18th St., 8th floor, NYC 10011.
-- Anna Bengel
THEATRE CASTING DIRECTOR
Telsey + Company
Though Bernard Telsey's office also casts for film, TV, and commercials, Telsey + Company is mainly known for the stage, principally musicals. Telsey is currently represented by nine shows on Broadway, including The Color Purple, The Drowsy Chaperone, Hairspray, Rent, and Wicked. And there are another six on the way, such as High Fidelity, How the Grinch Stole Christmas, and Legally Blonde.
Perhaps Telsey's greatest triumph was casting the three revolving companies of Baz Luhrmann's adaptation of La Bohème. Not only did he need to find performers with trained voices, but they had to break the stereotype of middle-aged, overweight opera stars in order to fulfill Luhrmann's vision of gorgeous, youthful Parisians. Another challenge is the current staging of Sweeney Todd and the upcoming revival of Company, both of which require performers to double as the orchestra. Hairspray is equally daunting: The leading lady must be a plus-size powerhouse who can sing 1960s rock and boogaloo with the best of them.
Telsey's staff handles its difficult assignments with aplomb. "He really wants everyone to succeed when they walk in the door," says Jeffrey James Keyes about David Vaccari, one of Telsey's casting directors. "He calls in actors he respects, and you feel like he's rooting for you."
Telsey + Company, 311 W. 43rd St., 10th floor, NYC 10036.
- David Sheward
DINER/COFFEE SHOP
Westway
The Westway is one of a dying breed: the affordable Manhattan diner. Equally convenient to the stages of Broadway and the smaller venues of Theatre Row, the Westway is a popular refueling station for actors before and after performances or rehearsals. The menu selection is enormous, the portions generous, and it's open all night. You can grab a stack of pancakes after nightclubbing, sip a cup of coffee before an audition, or wolf down tasty pasta in time to make an 8 o'clock curtain.
Actor Irene Woods likes "the energy of the place. When I have gone for a while without being in a play or having a part on TV and I go in there, it reminds me that I'm an actress. It helps me not forget that. The energy is just so fantastic with people discussing plays that are coming up and people sitting and reading Back Stage. That's really what I love about it."
Westway Diner, 914 Ninth Ave., NYC 10036; (212) 582-7661; fax: (212) 315-9104.
Runner-up:
Dunkin' Donuts, locations throughout the city.
-- David Sheward
ACTORS' HANGOUT
Actors' Equity Lounge
Starbucks
Despite their obvious differences, Starbucks and the Actors' Equity lounge tied in the vote for best place for actors to hang out and network. The Actors' Equity lounge, a big clean room on the second floor of the Equity building, "is a good place to sit in Midtown and get a load off your feet," said one voter, who points out that it's open only to Equity members. "So the only people you're going to be talking to are in the business. It's a great place to meet and talk with other actors, find out what's happening, gossip."
In addition to listing Equity auditions, the callboard in the lounge also advertises housing and survival jobs. But perhaps most valuable are the unexpected tips about who's doing what, who got hired (or fired), and what's coming down the pike that comes from simply shooting the breeze.
Starbucks, of course, is a whole other story. With ubiquitous locations offering dozens of coffees, teas, lattes, and more -- plus high-speed wireless Internet access -- it has become the in place for anyone who wants to spend hours sipping, reading, working, or chatting without intrusion by store employees. Even industry luminaries have been sighted tapping away at their computers or holding small meetings, and more than one respondent mentioned exchanging a few friendly words with them.
Actors' Equity lounge, 165 W. 46th St., 2nd floor, NYC 10036; (212) 869-8530. Website: www.actorsequity.org.
Starbucks, throughout the city.
Runner-up:
The Drama Book Shop, 250 W. 40th St., NYC 10036; (212) 944-0595; fax: (212) 730-8739. Email: info@dramabookshop.com. Website: www.dramabookshop.com.
-- Simi Horwitz
CHEAP MEAL
Dojo
Jeffrey James Keyes, randomly selected from all respondents to win a free headshot package from Babaldi Studio, relaxes at Dojo.
None of the places that topped our voters' list of the best spots for a cheap meal will be confused with Le Cirque. Atmosphere may not be a priority, but they're good alternatives for someone with a tight budget and an empty stomach.
The original Dojo restaurant, located at 24 St. Marks Place near Second Avenue, is one of the cheapest places in town for decent vegetarian dishes under $10. It also has a sister restaurant, Dojo West, at 14 West Fourth St., near Broadway.
Street vendors, the first runner-up, have been serving working stiffs on a budget for quite a while, notably in midtown Manhattan. The fare ranges from hot dogs to knishes, with prices generally starting at $1. Another old standby is Gray's Papaya, located at Sixth Avenue and Eighth Street and on Broadway at West 71st Street. While it may not be the choice of kings (not to be confused with longtime rival Papaya King), it never fails to provide a tasty hot dog with a choice of fruity concoctions (including papaya). For a quick bite under $5, it can't be beat.
Last but not least: Wendy's. With 10 locations in Manhattan and more in the outer boroughs, Wendy's offers a 99-cent menu featuring several genuinely healthy items in addition to the de rigueur burgers and fries. Bon appétit!
Dojo, 24 St. Marks Place, NYC 10003; (212) 674-9821; fax: (212) 598-3038.
Dojo West, 14 W. Fourth St., NYC 10012; (212) 505-8934.
Runners-up:
Street vendors, throughout the city.
Gray's Papaya, 402 Sixth Ave., NYC 10011, (212) 260-3532; and 2090 Broadway, NYC 10023, (212) 799-0243.
Wendy's, throughout the city.
-- B.L. Rice
CABARET SPACE
Don't Tell Mama
Conveniently nestled along Manhattan's Restaurant Row (46th Street between Eighth and Ninth avenues), Don't Tell Mama has been one of the city's most popular cabarets since its founding in 1982. The facility includes two 65-seat cabaret theatres, along with a piano bar lounge that is also used at times for shows. One of Back Stage's voters especially enjoyed the piano bar, finding it friendly in a Cheers sort of way: Everyone seemed to know one another, she said, and those wanting to strut their vocal stuff found open arms as well as an open mike.
Sidney Myer, Don't Tell Mama's booking manager for the last 17 years, says that over time the club has expanded its entertainment horizons: "Some people believe -- and it's their right, I always hasten to add -- that cabaret is a lovely lady in sequins singing Cole Porter. We have some of those, but our definition of cabaret at Don't Tell Mama is really very broad.... It's really almost everything under the sun."
There was a time, he notes, when country-and-western would not have been considered cabaret fare. Yet the revue Always...Patsy Cline was one of the club's biggest successes. Elaborate two-act productions such as Honky Tonk Highway (reviewed in the theatre section of The New York Times and later a staple of regional theatres) have also gotten their start at Don't Tell Mama. Producers find working there to be cost-effective.
Small cabarets, Myer says, provide "a public service for the arts" by allowing new performers to polish their skills in front of small audiences. At Don't Tell Mama, he has personally witnessed the emergence of writers and performers like Jason Robert Brown, Marin Mazzie, Carolee Carmello, and the late Jonathan Larson.
Don't Tell Mama, 343 W. 46th St., NYC 10036; (212) 757-0788. Email: webmaster@donttellmama.com. Website: www.donttellmama.com.
-- Mark Dundas Wood
NEIGHBORHOOD
Chelsea
A trendy neighborhood that stretches from West 14th to West 25th streets and from Fifth Avenue to the Hudson River, Chelsea was the favorite community to live in among our voters. The neighborhood features a mix of residential and commercial properties, and the housing is eclectic: prewar buildings, brownstones, walkups, and newer high-rise structures, with condos, co-ops, luxury rentals, and even a few low-end rentals (thanks to rent stabilization). Chelsea is a relatively safe area with easy access to bus and subway lines. Its plentiful galleries, bookstores, boutiques, nightspots, and an impressive array of French and Italian restaurants attract young professionals as well as creative types.
"Whenever I have a free moment, I come to Chelsea," said one respondent who lives on Long Island. "It feels like a little town with people sitting outside their buildings, and everyone is friendly. But what I like best is the diversity and the tolerance on all sides. Low-income kids are playing with upper-class kids, and there is genuine camaraderie. Also, I have no sense of fear, even if I'm there late at night."
Another actor noted succinctly, "Chelsea has great nightlife, the food in the restaurants is incredible, and there are so many wonderful art galleries -- more than 200!"
Runners-up:
The Upper West Side and Hell's Kitchen.
-- Simi Horwitz
CLOTHING STORE
H&M
With several centrally located stores, H&M won hands-down in the clothing category. Though relatively new to the United States, H&M -- short for Hennes & Mauritz -- has been around since 1947 in Sweden, where it was founded, and has a reputation for trendy clothes at bargain prices. The brightly lit stores are filled with mannequins and shoppers eager to grab the next hot new outfit. Its New York City flagship store is on Fifth Avenue, with branches stretching from Soho to Harlem and into the outer boroughs.
"H&M is stylish and inexpensive," said one respondent. "You can buy lots of different pieces and mix and match. In addition, you can get lots of accessories there. I like the fact that it's busy, with a ton of people going through the place, especially people in their 20s. It's youthful."
Another voter said, "It's the ideal place for the New York actor. H&M has great audition clothes as well as clothes for everyday life. It's not a sloppy look, and not everyone else is wearing it. It's a great place to find unique pieces for those shopping on a budget."
Added another actor, "The clothing is affordable, there is a good selection, the best quality, and the most recent fashions.... I feel great when I wear their clothes. The store is just perfect for the have-not-yet-arrived-at-successful working actor."
H&M, main store: 640 Fifth Ave., NYC 10019; (212) 643-6955.
Runners-up:
Macy's, main store: 151 W. 34th St., NYC 10001; (212) 695-4400.
Loehmann's, main store: 101 Seventh Ave., NYC 10011; (212) 352-0856.
-- Simi Horwitz