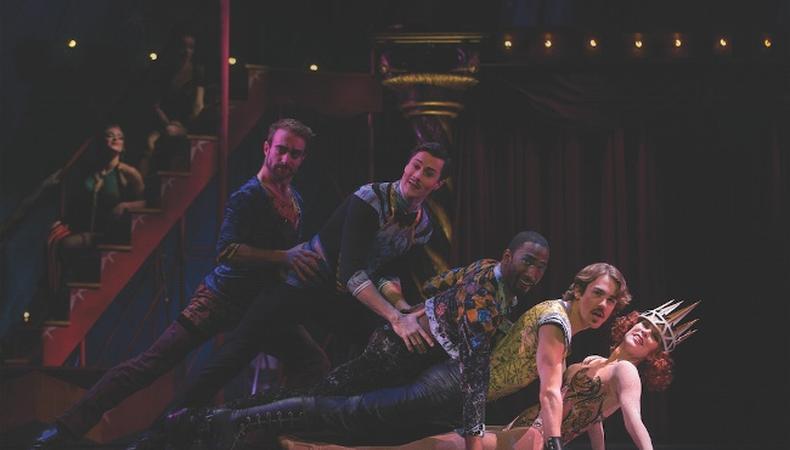 A Broadway revival set in the circus. A re-imagined Tennessee Williams classic. A Shakespeare musical. A post-apocalyptic play about "The Simpsons." A comedy about being Jewish. Whatever the source material or the subject matter, what do all of these shows have in common? They feature some of the best ensemble acting seen on New York stages this year.
This year is impossible to discuss without mentioning "Pippin." Even those who dislike the Stephen Schwartz musical can't dismiss this spellbinding version, transformed by director Diane Paulus into a circus of delights. Featuring an impeccable leading cast—including Tony winners Patina Miller and Andrea Martin—alongside professional acrobats, the production highlights diverse talents that complement each other, making the entire show literally soar.
Like "Pippin," the John Tiffany–helmed "The Glass Menagerie" transferred from American Repertory Theater this season, with arguably the Williams play's most original concept. On a set floating in black goo, Cherry Jones and Zachary Quinto detonate dramatic bombs as domineering matriarch Amanda Wingfield and her closeted, secretive son Tom. Jones is unusual casting for Amanda, as the part is generally played by the more conventionally beautiful, but her reinvention of the role adds another layer to Amanda's persistent nagging of her shy daughter Laura. As Laura, Celia Keenan-Bolger finds vulnerability in her quiet moments onstage, often conveying all she needs to with just a look. Her scene with Brian J. Smith (an excellent Gentleman Caller) gorgeously encapsulates the hope and the despair of this masterwork.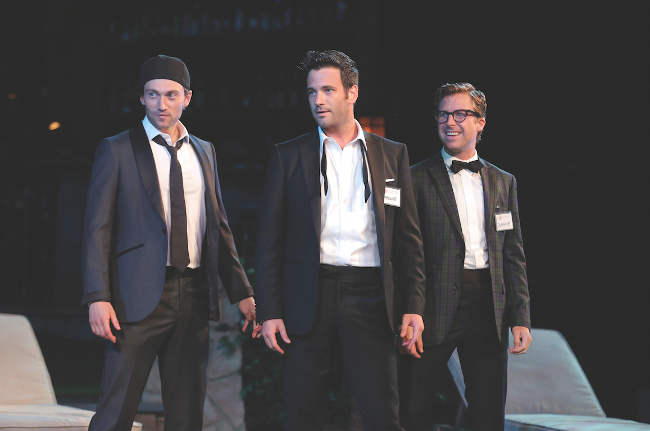 Off-Broadway has been a much brighter breeding ground for tight-knit ensembles this year, particularly in this summer's "Love's Labour's Lost," part of the Public Theater's Shakespeare in the Park. Director-book writer Alex Timbers and songwriter Michael Friedman, known for the equally great ensemble-driven "Bloody Bloody Andrew Jackson," hit another home run with their off-kilter musicalization of the Shakespeare comedy. The entire cast was spectacular, but when Colin Donnell, Bryce Pinkham, Daniel Breaker, and Lucas Near-Verbrugghe impersonate a boy band, you kind of wish they were actually starting one.
Friedman had a busy year; in addition to "Love's Labour's Lost," he also wrote music for Anne Washburn's post-apocalyptic "Mr. Burns, A Post-Electric Play," which premiered at Playwrights Horizons and posits that "The Simpsons," not Cher, is what is left after the apocalypse. Much of the first act comes from real conversations the cast had about recalling the Fox cartoon's "Cape Feare" episode, which adds to the authenticity of their interactions. The cast features downtown powerhouse Quincy Tyler Bernstine and the inimitable Matthew Maher, along with members of the Civilians. Also, any cast that can rock out to Britney Spears' "Toxic" while expounding on life after the apocalypse knows what's up.
Finally, in Roundabout Theatre Company's "Bad Jews," Tracee Chimo, Philip Ettinger, Molly Ranson, and Michael Zegen beautifully dance through the land mines of Joshua Harmon's tension-packed (and hilarious) play about religion, tradition, family, and everything in between. While the entire cast is top notch, Chimo deserves a special mention and all of the awards. (Seriously, give them to her now.) She completely transforms into vehemently religious college student Daphna, who sheds her hair as often as she dispenses her polarizing opinions. Somehow, Chimo makes us identify with this at-first detestable character and creates a sympathetic portrait of a flawed human. It is a performance—and a play—for the ages.