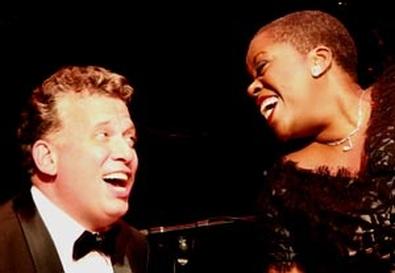 This world premiere revue, saluting Tony-winning Broadway composer Cy Coleman (1929–2004), is a bona fide class act. Coleman's wonderfully sophisticated oeuvre (including
Sweet Charity, Seesaw
, and many more) is duly honored via the tasteful and vibrant staging of conceiver-director David Zippel—lyricist for Coleman's
City of Angels
—and the extraordinary talents of six performers: David Burnham, Jason Graae, Sally Mayes, Julia Murney, Billy Stritch, and Lillias White.
During Coleman's years as a pop songwriter and his subsequent tenure as a Broadway tunesmith, he worked with many fine lyricists (Carolyn Leigh, Betty Comden and Adolph Green, Dorothy Fields, to name a few). This show proves that Coleman had impeccable instincts in choosing collaborators, as the marvelous lyrics—packed with artistry and astute observations on human nature—mesh perfectly with the jazzy melodies and traditional show tunes. Lorin Latarro's exquisite choreography, Don Sebesky's lush orchestrations, and a chic design effort further enhance this consummately crafted enterprise.
Among the most thrilling moments on opening night was the rapturous response White deservedly elicited when performing "The Oldest Profession" from her Tony-winning Broadway portrayal in
The Life
. This sassy, dynamic performer was in peak form here and in her scintillating duet with Stritch (who also serves as piano accompanist, music supervisor, and arranger) of the comic titular song from
Little Me
. Stritch is a top-flight crooner as well, especially evident in the solos "It Amazes Me" and "Some Kind of Music." The resplendent voices of Mayes and Murney, coupled with their expert ability to bring out the drama in their songs, provide showstopping turns. Mayes' "With Every Breath I Take" (from
City of Angels
) is indeed breathtaking, and her spirited duet with Graae to "The Measure of Love" is hilarious. Murney sizzles in the torch ballad "Come Summer" and exuberantly leads her co-stars in a smashingly fresh rendition of "Hey, Look Me Over" (originated by Lucille Ball in
Wildcat
).
In a lovely rendition of the haunting "Witchcraft," Graae makes us forget this is a signature Sinatra song. The charismatic Burnham creates magic in his heart-wrenching delivery of "I'd Give the World." As the conclusion of this spectacular evening draws near, those fretting that Coleman's best-known numbers—such as "If My Friends Could See Me Now"—might be overlooked, should remind themselves of this show's very apt title. A New York production seems inevitable.
Presented by and at the Rubicon Theatre, 1006 E. Main St
.,
Ventura. July 19
–
Aug. 2. Wed
.,
2 and 7 p.m
.;
Thu
.–
Fri
.,
8 p.m
.;
Sat
.,
2 and 8 p.m
.;
Sun
.,
2 and 7 p.m
. (
805
)
667-2900. www.rubicontheatre.org
.