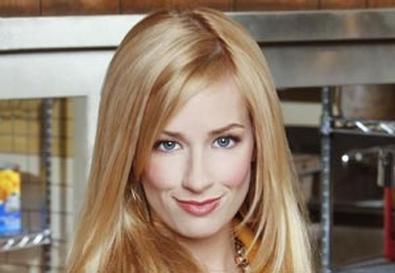 Where you've seen her:
A 2008 graduate of UCLA's School of Theater, Film and Television, Behrs has appeared in "American Pie Presents: The Book of Love" and guest-starred on "Castle" and "NCIS: Los Angeles." However, she says it was the Funny or Die videos she and a friend from UCLA made that helped her land the role in CBS's "2 Broke Girls." "I know the casting director saw those before I went in," she says, referring to Julie Ashton. "Nowadays you have to create your own content. Know who you are as an actor, what your type is, and what you're good at, and then get friends together and create. Those videos gave me a lot of opportunities."
Now playing:
Behrs stars with Kat Dennings ("Nick and Norah's Infinite Playlist," "Thor") in "2 Broke Girls," a sitcom created by Michael Patrick King ("Sex and the City") and comedian Whitney Cummings about two women from very different backgrounds who become unlikely friends while working together in a diner. Behrs says working on the pilot with King, Cummings, Dennings, and director James Burrows was like taking a master class in comedic acting. "Jimmy Burrows literally can tell you how to hold a plate and get a laugh," she says. "MPK writes authentic characters, and he knows them so well that you can ask him any question about their development or motivation. He helps you learn your character inside and out. Whitney is a brilliant comedian and writer. And from the moment I met Kat, it was like instant friendship. I was a huge fan of her work. Acting with her, she is so genuine and truthful and open. She's one of the best actresses I've ever had the pleasure of working with."
A theater girl at heart:
When Behrs was 4 years old, she pointed to "The Sound of Music" playing on the television and told her mother she wanted to "do that." "That" never changed. Even now, she dreams of playing Galinda in "Wicked," which she auditioned for when she was 18, right after Kristin Chenoweth left the production. "My manager at the time was Stephen Schwartz's manager," she says of the show's composer, "so he sent him a demo of me doing 'Popular.' They flew me to New York, and I had a big audition. But when I was 18, I looked like I was 12, so there was no way I could play Galinda then. I hear they might be making a 'Wicked' movie though! That would be my ultimate dream role. But even to play her onstage would be awesome."