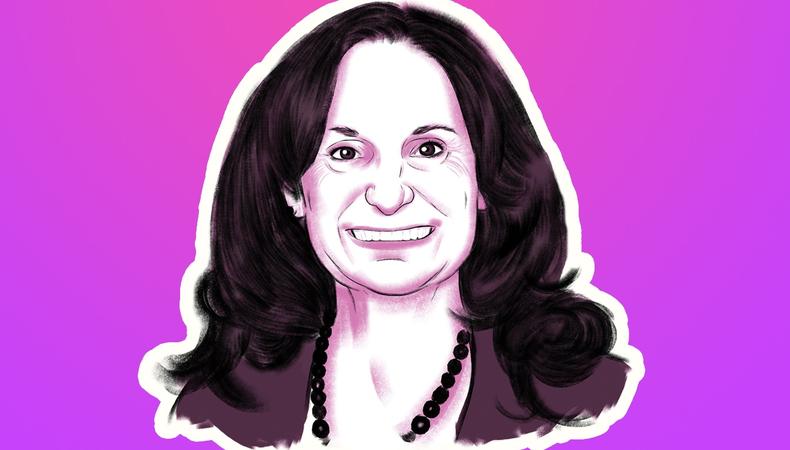 You've definitely seen Beth Grant on your big or small screen. She's the woman who threw herself off the bus in "Speed," the hilariously strange nurse on "The Mindy Project," and the actor who gave the world "I doubt your commitment to sparkle motion" in "Donnie Darko." Now, the busy character actor can be seen fulfilling a lifelong dream by playing Lady Bird Johnson in the buzzy awards season contender "Jackie" (out Dec. 2) opposite Natalie Portman's Jacqueline Kennedy.
Tell us about "Jackie."
It was one of my life dreams to play Lady Bird, and I'm a huge fan of [director] Pablo Larraín. And I'm a huge fan of Natalie Portman. When I got the call from my agent and he said, "Lady Bird!" I screamed. He said, "Pablo!" I screamed. He said, "Natalie Portman!" I screamed. He said, "Filming in Paris!" I screamed. He said it was the best reaction he'd ever gotten from an actress. And the work was everything I'd hoped it would be. Pablo, the way he shoots is so organic and spontaneous. And Natalie, I have to say, was so down-to-earth and friendly and loving. The whole group was like that. I've just been so lucky in my career. I don't know why, but just keep it coming!
How did you get your Equity and SAG-AFTRA cards?
My Equity card was such a thrill! It was "Picnic" in L.A., and it was directed by Marshall Mason, who directed all of Lanford Wilson's plays. I wrote this impassioned letter asking if I could audition for him. And I had the flu but I got it together and I got the part. It was such a cast: Jennifer Jason Leigh, Gregory Harrison, Michael Learned, and Rue McClanahan. That was 1986 and that was where my career began. SAG was "B.J. and the Bear," a TV movie for NBC; I played Mary the waitress. It did so well, it became a series.
What advice would you give your younger self?
Oh my God. I would tell her to breathe, everything is going to be OK. You don't have to chew your arms off. Just relax, take it easy, you're OK, you're enough. Don't worry about being overweight or your nose or your square jaw. Be who you are. Be a character actress and there's a place for you in this world, too. I wish I could go back and tell her that.
What was your most memorable survival job?
The one that comes to mind—I only lasted two nights at two different bars. One was definitely a daytime drinking bar and they had us dress in leotards and black tights. All anybody ordered were screwdrivers, and I'm in this leotard and I just knew that this was not a good place for me to be in. And honestly, that next day I got a call from a friend at Center Stage in Baltimore, asking me to come down and do a non-Equity role for $50 a week. I think my guardian angel got me that job to get me out!
What movie should every actor see?
"Last Exit to Brooklyn," because I think Jennifer Jason Leigh gives the most brave, amazing, beautiful performance that has stayed with me forever. Annette Bening in "Being Julia," for sure. But any of her performances! And I have to say "All About Eve," and it's not just for Bette Davis, who is perfect—they all are.
READ: "Jennifer Jason Leigh Is at the Top of Her Game"
How do you typically prepare for an audition?
I have a lot of different techniques. One thing I do is, a visual image will come to me, and as I start reading and working on the lines I'll start to think of a hairdo. A lot of my characters start with the hair. I draw it from all the people I've met in my lifetime. It stimulates my imagination. It sounds corny, but I do that thing—"Hey, I get to act today!" And I love to act, I'm much more comfortable with acting than I am with living. When people say, "Just be yourself," I go, "Uh oh, I'm in trouble." I try to be of service to the people I'm auditioning for. They're just humans. They're hoping I get it, that I solve their problem. And I look back at my career at my age, and there's not a single job that's got away from me. I lost plenty of jobs, but I see the movie and I think, Oh, that's why they got it! Every single time, without exception.
What is your worst audition story?
One of my first was in New York at Showcase Studios. I got a postcard saying, your audition is on Saturday at 11 a.m. And they didn't say what it was for, so I thought, My goodness, what do I prepare? So I worked on my monologues and on my songs and I got my dance tights and leotard. I had this size 18 polka dot granny dress and my hair all teased up, so I go in and I'm introduced to Maestro so and so and a woman. I'm standing, waiting for them to tell me what to do. And I say, "Would you like me to sing?" And they say, "Yes!" And I go over and give the sheet music for "There's No Business Like Show Business," and mind you, I sang that whole damn song. Then I stand there and I'm so sweaty and my makeup's dripping and I say, "Shall I dance?" I'd never had a New York audition! So I whip off my granny gown and I've got the leotard and tights on underneath. I'd done a modern dance in college to "Yellow Submarine," so he started playing and I started doing this leaping, jumping, vaguely sexual dance and he kept going and I kept trying to quit because I only knew about four steps.
What special skills do you have listed on your résumé?
Snake handling.
Want to star in a biopic? Check out our film audition listings!