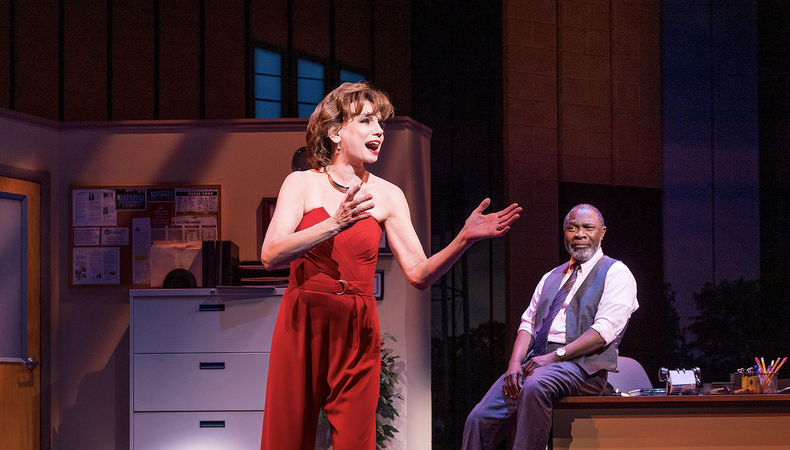 "When else am I going to wear leopard sequin pants?"
That isn't the only reason Beth Leavel loves her new musical "The Prom," but it certainly numbers among them. Others include: it is an entirely original musical—in which she sings three honest-to-God showstoppers every night—and the fact that it may well be the funniest show on Broadway. Leavel, a Tony winner who wears her "veteran" badge with honor, chats with Backstage about vocal endurance, how she's kept learning into her 60s, and the piece of audition advice she wishes all young actors knew.
Tell us about this completely original new musical "The Prom."
It's based on some true events, where a lesbian teenage girl wanted to take her girlfriend to the prom, and the PTA or whatever group went crazy and tried to cancel the prom. At the same time, there are four aging Broadway divas who are desperate to figure out how to get their careers started again so they come up with the idea of looking for a celebrity cause. Low and behold, they find the story about this girl in Indiana and think it's the perfect opportunity to get some good press. So they go to Indiana and everyone is ultimately changed, all of us find love in some way that is so unexpected. It's a musical full of heart and one of the most entertaining new original musicals ever—and you will laugh your face off.
We need to talk about this woman you play…
Oh God, Dee Dee Allen; she's my evil twin. I so love having the opportunity to play someone who doesn't lead with kindness, who doesn't lead with thinking of others first, who doesn't lead with "what can I do for you?" She's kind of the antithesis of Beth, which is so much fun because she has all these great songs to express all this narcissistic divaness. But what I really love about her is that she—dare I say—has an arc in this show. She actually evolves and discovers part of her humanity and comes to a whole different place by the end of the show, and that really puts the icing on the "I have show-stopping songs" cake.
You have, like, minimum three show-stoppers. How are you maintaining vocal health?
Well, I'm still kind of exploring that. But on my days off, I don't talk, I don't go out. I just shut up, and I know how to take care of my voice so barring getting sick, I just do the best I can. And you know, if you think, "I'm so tired, I'm so tired," and then you get in front of an audience—it's just a miracle. They just give you the energy you need to hold that note as long as you can because it gives us all such joy celebrating Dee Dee. And you know, look at what [costume designer] Ann Roth has given me to wear. I mean come on, when else am I going to wear leopard sequin pants?
Switching gears, do you remember what your first headshot looked like?
Oh my gosh, yes. My very first headshot was done by someone in Greensboro, North Carolina and it was not the photographer's fault, but it's me sitting with my hand on my face, my elbow on my knee, just looking cheesy and bad. But I also remember my first professional shot in New York, I look like a porn star. It was when there was lots of lip gloss, lots of dark eyeshadow with my chin down, looking up, and the fan blowing my hair. I thought it was so hot but I look at it now and think, "Oh dear god who is that person?" But it was the 80s—we all wanted to look like Farrah Fawcett.
Did you ever have a survival job?
I was really really lucky. I waited tables for three weeks before I got married—we're not married anymore—but later we needed money and I had no skills whatsoever. But I was very funny at the table when I was a waitress, which didn't serve me well at the time. The owner would get so angry because I would make the customers laugh. But I did that for three weeks and then I did a couple of temp jobs during the day, but then I got the national tour of "42nd Street" pretty quickly, so I didn't have to do many survival jobs which is lucky because I don't have many skills.
Were you using Backstage at the time?
One of my rituals from the day I moved was, every Thursday morning, I would get up and go to the local kiosk and get my Backstage newspapers and I would circle which auditions I wanted go to. That was like my Bible, my Backstage bible.
What is your most useful piece of audition advice?
I wish I could just have one. For young people, I would say, once you move [to New York], keep discovering who you are as an artist so you can keep bringing your singularity into the room. There is no one that has what you do, you just have to figure out what that is and how you can best show it to the room so we can see your gift and we can give you a job and you can get paid. I'm still trying to figure that out. Each role, each show, it's "how am I bringing my artistry to this so that it serves the author's intention?" But before you have a job it's like, "What can I bring into this room to show my gift, to help me get employed so I can work and get paid?"
Do you still feel like you learn something new with every new job?
Oh, absolutely. Each show is a different class, each show is an education, each show is an opportunity to grow as an artist. If I didn't feel that way then I'd need to stop.