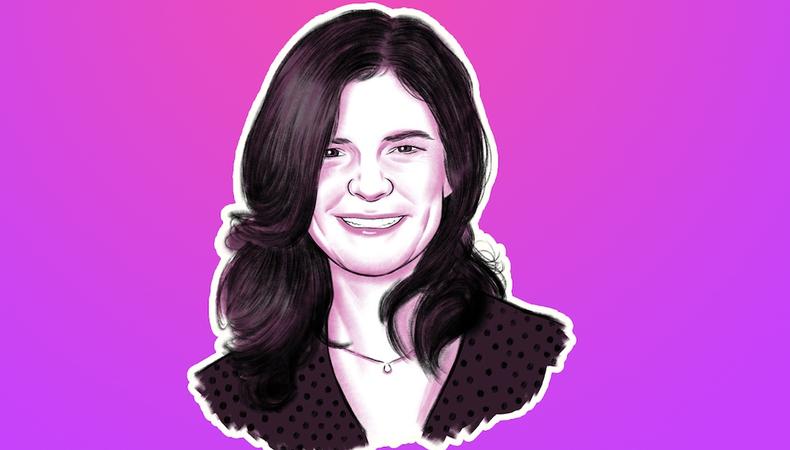 From a kleptomaniac on "Breaking Bad" to a troubled, searching wife in her latest project, Betsy Brandt has inhabited so many complex characters, it's hard to believe how stable she is in regular life. Luckily, Brandt was nothing but laughs as she chatted about putting her musical skills to use, taking a psychological turn in her latest film, and hand-to-hand combat.
Tell us about your latest project.
Right now I'm working on two things: I'm at "Life in Pieces," which is a comedy on CBS on Thursdays. And then there's an indie film I did called "Claire in Motion." It's so hard to describe because it's so good and there are so many different flavors in it. It's a psychological thriller/drama about a woman whose husband goes missing, and how she learns to navigate that.
Have you ever used Backstage in the past?
Oh my god, yes! Especially when I was new to L.A. That's where you get your information, so I would scour those auditions. That's what you do: No stone unturned when you're a new-in-town actor.
How did you get your Equity and SAG-AFTRA cards?
I got my Equity card playing Helena in "A Midsummer Night's Dream," and I think that's the first job I got that was an offer. It was a role I always wanted to play, and the director had seen me—I was living in Seattle—and he had seen me do a general audition, and he [Pat Patton] called and offered it to me.
And my SAG card, I was just so relieved when I got Taft–Hartley on a Sears commercial, and I was eligible. And I said, "Ok, now I can go in for SAG stuff."
What advice would you give your younger self?
You know, I think just keep your eye on what's important to you, and I still tell myself that. I still give myself this advice. Yes, you want to move your career forward but really you just want to be a better actor. Every role I do, every year I'm still working in the business, ideally you're further ahead than you were the year before. Maybe not always in your career, but with who you are in your work.
WATCH: Betsy Brandt Auditions for 'Breaking Bad'
What was your most memorable survival job?
I did some temping when I lived in Chicago, and I remember my assignment was in a basement of a bank, and they were doing so much construction, I would always get a headache. And then I was a hostess at Sushiya on Sunset Boulevard in LA, and I was really happy when I was making enough that I didn't have to do that anymore.
How do you typically prepare for an audition?
It totally depends on the role and the project. Sometimes I like to be off-book, sometimes I like to be really comfortable with the words but hold the page in my hands so I'm not thinking about, "God, can I remember this?" But I like to do whatever it is I need to do, so that if I'm lucky enough to be a room with the director—a lot of times now it's tapes and you don't get that opportunity—but if you're luck enough to have a working session with a director, you just want to be able to be available to whatever direction they give you, to whatever they want you to do.
What's your go-to audition song?
I'm not really asked to sing much in auditions. But I like to use, what I've used in the past and would still use again, is a Cowboy Junkies song about coal mining. She sings it a capella so I can just go and be on my own.
What is your worst audition story?
I was auditioning for a pilot in the Pacific Design Center, and there were windows, so I'd see people who had nothing to do with the project just going about their business. And I saw this man walk by, and he gave me an angry look and shook his head. And he walked by a couple times. And then I was doing this monologue, and I was yelling, 'We want our booze back!' and he stood outside the window looking at me, and he just started yelling, 'SHUT UP! SHUT UP! SHUT UP! WE ARE TRYING TO DO BIZ-A-NESS.' (He said it just like that, 'biz-a-ness.') And everybody in the room froze, I stopped. His face was red he was so angry, it changed color in front of me. And no one said anything, and that kind of bumped me even more than the guy changing color and screaming. I looked at the producers and casting and said, 'You guys heard that too, right?' And still no one really said anything, and I said, 'Am I being punked? Because I will totally play along but he scares me so just let me know we're ok.' And everyone apologized profusely and then they went and talked to building management to make sure we could continue with the audition. But it really was a good thing to laugh about.
READ: 6 Ways Fighting Will Make You a Better Actor
What special skills do you have listed on your résumé?
Can I tell you I'm lucky enough that I don't really have to look at my resume? But what's on there...dialects, I play the piano and the saxophone. And don't like about that stuff! I just played saxophone on "Life in Pieces." Dance training is on there. Juggling is not on there because I cannot juggle to save my life. I'm not anymore because I haven't kept up with my certification, but I was a certified actor combatant in rapier, dagger, hand-to-hand, and quarterstaff.
What movie should every actor see?
Oh wow, that is a good question! There are so many. I have to say on my mind right now is "Postcards From the Edge." I fell in love with that movie in college. Also in college, I fell in love with "Hannah and Her Sisters," and when I saw that I was just in awe of Dianne Wiest, and now I get to work with her almost every week. So that makes me pretty lucky.
What was your first headshot like?
When I was applying to colleges, I took one of my senior pictures and did a copy of it in black and white, and used that. I don't even know if that's close to appropriate, but whatever I got into schools. And then my first headshot was when I was in college, this photographer who used to do photos for some of the actors in the program, you'd go to his house and he'd do black and white 8x10 headshots. And I do remember the lighting wasn't great and I didn't even know enough to know that it wasn't. And I was working with a guest director at the Goodman Theater, Sandra Grant, and she said, "You can't have that cross lighting! You can't cross light a woman like that."
A friend of mine who's a casting director found a photo from when I first came to LA, my headshot. It's OLD. And the lighting is so LA. It's so funny, every city has their own lighting. LA, they want to make you look so young, like you just graduated from high school, if that! Like you just got your driver's license. So it's a lot of light so there's no shadow anywhere on your face. And then my headshots in Seattle were totally different: you wear a sweat, you look cozy, happy that it's raining.
Want to star in an indie? Check out our film audition listings!