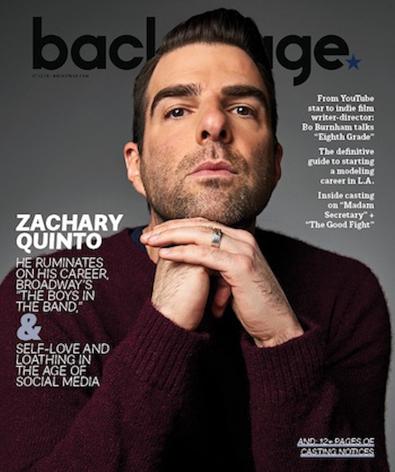 Zachary Quinto's characters don't always make it easy for him, but in order to play them right, the longtime actor knows he has to fall in love.
"I feel like the most important thing with any character that I play is [learning] what I love about them," Quinto says over a kale salad at NoMo Kitchen in Lower Manhattan. "Where is the love? I remember as a student, that was always a cornerstone of my education, from when I first started taking acting in middle school. And I didn't really understand it as a kid—that's not really a concept that you can wrap your mind around until you have life experience. But even the most deplorable characters I've ever played, I have to be able to love them."
We're meeting after a late-April photo shoot off Grand Street with one-half of Quinto's pair of dogs, a terrier mix named Skunk, to discuss a slew of recent and upcoming projects—including films "Aardvark" and "Hotel Artemis" and his hosting gig on the History Channel's "In Search Of…" reboot, but chiefly the 41-year-old actor's return to Broadway with producer Ryan Murphy, playwright Mart Crowley, and director Joe Mantello's revival of "The Boys in the Band." It's been 50 years since the historic first-of-its-kind LGBTQ-themed and -led play first raised its curtain in New York City. Now at the Booth Theatre until Aug. 11, Quinto stars as Harold, the birthday boy for whom an evening fête is thrown by Michael (Jim Parsons) and Donald (Matt Bomer, an ex–Carnegie Mellon classmate of Quinto's who tells us his co-star was and is "a real creative inspiration for me to this day").
They're joined by a bevy of their closest gay male friends: Larry (Andrew Rannells), Hank (Tuc Watkins), Emory (Robin De Jesús), Bernard (Michael Benjamin Washington), the—presumably—closeted Alan (Brian Hutchison), and Cowboy (Charlie Carver), a male prostitute hired for the occasion. It was an absolutely unheard-of ensemble for a 1968 production—and considering all the actors onstage here are out and proud, still rather unheard of even today. ("It feels momentous," Quinto says of the queer casting.)
Harold's birthday celebration sours, however, as liquor flows, personal grudges are stirred, and razor-sharp reads commence. Given some of the script's most gutting quips, Harold himself is hardly innocent in the night's crumbling. "Harold is a lot of people who I've known or know," Quinto says. "He is observant and insightful and incisive and cutting and funny. He's a particular brand of gay man." Internalized homophobia is just an ingredient in that brand, as it was for so many gay men in pre-Stonewall America, when bar raids and harassment were bedmates on a Friday night. But it is in Harold's fine balance of self-loathing and self-awareness—plus the fact that he's "completely stoned the whole time," possesses "an incredible economy of language," and is simply "really fun"—that Quinto found his entry point. It was within that space that he learned to love him.
"He's incredibly self-loathing, but he knows that about himself, and it's almost in the knowing that he's disempowered the loathing. It's actually one of his greatest character strengths," Quinto observes. "He knows that he probably hates himself more than anybody, and he loves himself anyway. That's something that I really admire about him. He doesn't let his own conditioning and his own programming inform his own, unimpeachable relationship to himself."
Quinto describes his search for Harold's heart as a process of textual analysis, discussions with Mantello, getting the script on its feet in the rehearsal room across from his co-stars, and, ultimately, chipping him down to "that trait or that characteristic which is elemental, which is essential to who he is." He explains that identifying with the emotional crux of a role—such as Harold's complicated but consistent relationship with himself—"is certainly one of the most important building blocks as a foundation" and that love "is the mortar that holds it all together."
"When you watch this play, these guys can be loathsome to one another, they really can. They can be vicious and hateful, but they love each other, and they rely on each other, and they would be there for each other in a heartbeat. It's a beautiful thing," Quinto concludes. "They're products of their generation, they're products of their culture, and they've been [met] with such hatred against them—such judgment and intolerance and bigotry—and they internalize it. They project it onto one another like daggers. But you have to find the love through all of that."
In fact, it was the play's exploration of the 1960s "gay psyche" that first warmed Quinto to doing Murphy's 2017 Los Angeles–area reading and workshop in the first place. Over the decades, the text has earned a reputation of being somewhat antiquated; propelled forward by its main players' internal battle within a society that ostracizes them, "The Boys in the Band" entered the fray of gay drama through the AIDS crisis of the '80s—and lost. In the era of protests and ACT UP, it read as a "reductive, stereotypical, backward-looking light romp," and that's how Quinto knew it up until rehearsals with Mantello and his cast—a time of "just excavating and digging and digging and digging, and understanding how relevant this play is today, and how universal these themes of self-loathing versus self-acceptance still are," he says.
"We've come so far in 50 years, no question about it—socially, politically, legislatively, but how far have we come personally? I wonder sometimes," Quinto continues. "Whether you're a member of the LGBTQ community or not, it's not any easier to love yourself now than it was 50 years ago. If anything, it's harder. Social media and technology and the insidiousness of how we connect in the world in this very vacant way, I think, make it even harder to find a compass within yourself, and this play really examines that. It's been endlessly inspiring and really moving to work on."
It's a reminder to seize those opportunities to approach a script you think you know with an inquisitive and discerning eye, allowing yourself to read it in a whole new light. Such practice has guided Quinto's acting career since graduating and moving to Los Angeles in 1999. He knew from the very beginning that opportunities were never going to be handed to him; he had to put in the work.
"I built a career kind of systematically for myself, starting in television," he recalls, citing the years before his "Heroes" breakout in 2006 as a stretch of auditioning, pushing through dry spells, and quitting his survival job as a server just to reapply when his stint on "Six Feet Under" went from a recur to a one-off, or when a pilot didn't get picked up. He didn't work for seven months after his Tori Spelling–led VH1 series "So Notorious" wrapped after Season 1. "That was probably, at least to that point in my life, the most challenging time," he remembers. "I was really depressed. I was really in a bad way, and I was [thinking], I don't know that I can do this anymore. And then I got this audition for 'Heroes.' "
If Quinto were to change anything about the challenges of those years, it wouldn't be to take the easy bait and book more work, but instead to remember that with the highs and lows of an acting career—highs and lows that still happen to this day, mind you—not to put all of his self-worth on that "yes" or "no."
"In my 20s, there are certainly things that I would've done differently, like [not] inextricably tying up my sense of self-worth with my career successes or failures. I don't think I really cultivated a diversified life for myself outside of my career. It's all I cared about, and in some ways, I think it was valuable because it motivated me, but I don't feel like you have to do it to the exclusion of your own self-worth or your well-being. And that's what I did," Quinto says. "So the advice that I would give is: Cultivate a life for yourself outside of your career."
Much like the weight that Harold and his peers carry with them in "The Boys in the Band," Quinto relates that he was chasing something in his career while running from something else: "true self-acceptance. I didn't come out until I was 24, so I was already out of school for a few years when I did. I feel like once I dropped into myself and cultivated this sense of what it means to love myself, things just changed. And that's been a pursuit that's lasted all the years since."

Want to work on the New York stage? Check out Backstage's Broadway audition listings!
Photographed on April 24 in NYC by Matt Doyle; Groomed by Joanna Pensinger Ford