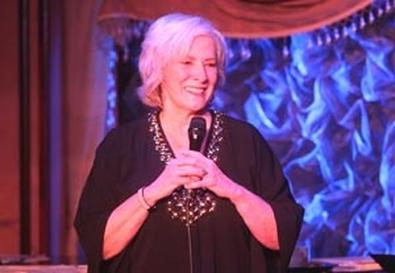 "You want it loud and high," sings Betty Buckley as she satirizes audience expectations of her repertory in an enchanting new cabaret show at Feinstein's at Loews Regency. Entitled "For the Love of Broadway," this 90-minute set focuses strictly on show tunes. In the hilarious original comedy song "When I Belt" (John McDaniel–Eric Kornfeld), Buckley explains that she likes to warble soft jazz and esoteric pieces, but because of her reputation as a Broadway powerhouse, cabaretgoers want endless renditions of "Memory," her signature song from her Tony Award–winning performance in "Cats."
Buckley endeavors to give the crowd what it wants—she even jokes that the word "Broadway" was contractually required to be in the show's title—but she does so on her own terms. Under the masterful hand of music director and arranger Kenny Werner, the silver-throated singer creates a kaleidoscope of emotions and vocal impressions. She is especially effective when combining songs. She opens with a trio of Rodgers and Hart standards: "My Romance" is transformed into a lilting waltz, followed by snappy "up" renditions of "I Could Write a Book" and "This Can't Be Love." Then we get dizzying romantic longing from Rodgers' later work with Hammerstein ("We Kiss in a Shadow" and "I Have Dreamed" from "The King and I"). In another clever pairing—this time of traditionally male numbers—she matches "Come to Me, Bend to Me" from "Brigadoon" with "This Nearly Was Mine" from "South Pacific."
Buckley shows her mischievous side with an unexpectedly sarcastic take on "It's a Fine, Fine Line" from "Avenue Q" (Robert Lopez–Jeff Marx) and a sex-kittenish "You've Got Possibilities" (Charles Strouse–Lee Adams) sung directly to a member of the audience. She displays her mettle as an actress with a heartbreaking "If You Go Away" (Jacques Brel–Rod McKuen). It's a tribute to her skill that the most moving moments of the number—of the entire show, in fact—are silent. As her voice trails off with the last repeated "If you go away…," her hand holding the microphone drops and she looks off in the distance. Her face registers the emptiness of loss, and we can particularly see the departing loved one in her stricken eyes. She manages to evoke completely different emotions with similar content when she follows this devastating performance with two numbers from "Nine" about a couple splitting up. (Both were cut from the film version.)
Werner's jazz-infused piano playing, along with Billy Drewes' versatile reeds and percussion and Tony Marino's grounded bass, provides the perfect accompaniment for this Broadway dream of a cabaret engagement.

Presented by and at Feinstein's at Loews Regency, 540 Park Ave., NYC. Feb. 2–27. Tue.–Thu., 8:30 p.m.; Fri. and Sat., 8 and 10:30 p.m. (212) 339-4095 or www.feinsteinsatloewsregency.com.