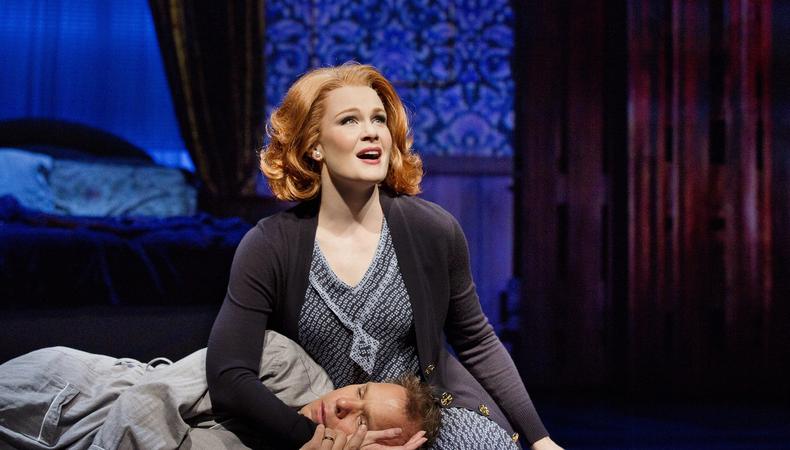 Working on a new musical can be an exhausting task for an actor. Changes come in at the last minute, and you are rehearsing right up until the opening night curtain rises. Though Kate Baldwin, who stars as Sandra Bloom in "Big Fish" on Broadway, admits to having the memory of a goldfish, she has a good head on her shoulders about the intense development process.
"No one will die because of bad acting. No one will die because you missed a cue," she says. "We're all human beings. If mistakes are made, you figure out that you're going to live."
And the show, which opened at the Neil Simon Theatre on Sunday night, drives home the message of living life to the fullest. Based on the 2003 Tim Burton film, the musical, directed by Susan Stroman with music and lyrics by Andrew Lippa and book by the film's screenwriter John August, centers on Southern big dreamer Edward Bloom (Norbert Leo Butz), who quests for tall tales and imagination in the face of his more practical and level-headed son, Will (Bobby Steggert).
"I remember being charmed by it," Baldwin says of the film. "I just thought it was captivating and it moved me. I love the family drama. And I love the fantasy sequences."
Baldwin chats about working on the project, her thoughts on auditioning, and the key to developing a character.
Find an inspiration.
Since Baldwin is not from the South, she really wanted to study how a true Southern woman would speak in her preparation to play Sandra. Luckily, one of her best friends from college grew up in Georgia—which she acknowledges is not the same as Alabama—and she used her friends' upbringing to her advantage in her process. "I had her read all my lines to me," says Baldwin. "Not to copy her accent or anything but just to get the flavor of how she would go about with the nuance of a Southern woman."
Trust your collaborators.
Baldwin recognizes that when she's developing a new role in a new musical, her sole focus is on her part. That's why she's so happy to have such strong collaborators in Stroman, August, and Lippa. "It doesn't help anybody to be negative about changes," says Baldwin. "I really trust Susan Stroman. I really think she knows what she's doing. I really trust Andrew Lippa and John August. I think they have proven themselves over and over again and know what to do, and they have the big picture in mind."
Always pretend it's the first time.
While Baldwin has become somewhat of the go-to girl for new musical theater, she says her approach to all roles is as if it's the first time anyone has played the part. "Even with revivals, I don't really pay attention to previous incarnations," she explains. "I always just go with the script and with the director and am willing to treat it as brand new. In a way, working on a new musical isn't very different because it is in fact brand new. The main difference is the changes keep coming and with revivals it's pretty fixed."
It's OK to not like auditioning.
Baldwin joined "Big Fish" when it was still being workshopped, and she was a part of two subsequent readings and an out-of-town tryout in Chicago. Ever since she landed a Tony nomination for her work in "Finian's Rainbow," she says she's been getting more offers. Though she's not above auditioning, it's not her favorite thing to do. "Auditioning is tough on both sides of the table. I think it's hard on the actor going in, and I think it's hard on the people who have to cast it too," she says. "It's just an imperfect process because really you're just giving your point of view, and it could be what they're looking for. It could be miles away from what they're looking for…I've definitely had the experience where I've felt immediate kinship with a person in the room, and I've definitely also had the opposite experience where they say something, and I shut down and go, 'Oh, this isn't my job.' It becomes so clear to me."
Develop a backbone. Literally.
Actors must have a strong backbone to deal with all the rejection in this business, but Baldwin says she looks quite literally to the shape of a person's spine when she's first developing a character. This technique has been particularly helpful for her with "Big Fish" because she plays Sandra from age 18 to 58. "Spine, eyes, and hands—those are the three things that can define a person in a sketch," says Baldwin. "Pay attention to how a person sits, how they walk, and how they stand—especially at different ages."
Never stop training.
Baldwin's advice to aspiring actors is to focus on your craft and education. "Find a class. If you can't afford a class, get a group of friends together and test out your audition material with each other," she says, adding that all actors should read "The Artist's Way." "But never stop training. I think that's the most valuable thing you can do…Make up your own play. Make up your own musical. If no one's doing the creative work that you want to do, do it yourself."