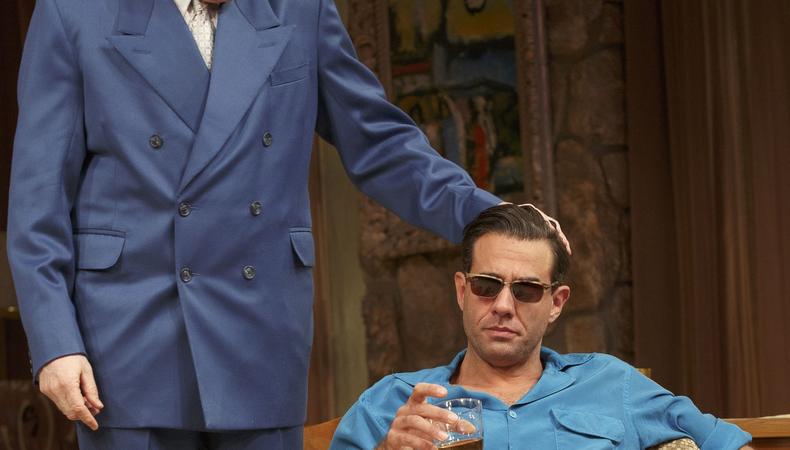 Roundabout Theatre Company adds to Broadway's Clifford Odets renaissance with the first Main Stem revival of his 1949 drama about Hollywood, "The Big Knife." If the show doesn't quite rise to the level of Lincoln Center Theater's terrific productions of "Awake and Sing" and "Golden Boy," that's probably because "The Big Knife," though a sturdy piece of writing, isn't top-drawer Odets. Still, in director Doug Hughes' tough-minded, well-acted production, this gimlet-eyed look at the cost of selling out builds to a climax of harrowing emotional devastation.
Tough-guy movie star Charlie Castle started out as manly but sensitive theater actor Charlie Cass, with big ideals and even bigger ambitions. After 10 years in Hollywood, a succession of simple-minded action movies has made him his studio's number one box-office draw while increasingly filling him with self-disgust. He is separated from his wife, Marion, a liberal New Yorker who hates what her husband has become but still loves him. Charlie's contract is up for renewal, and he has been stalling. Marion wants to quit L.A. and take her husband and young son back to New York City, where Charlie can work in the theater. There's a glitch, however: The studio covered up a hit-and-run automobile accident in which Charlie killed a child; a studio publicist took the rap and went to jail for nearly a year. Marion knows about this—she concurred in the cover up—but wants to risk studio kingpin Marcus Hoff's revenge anyway. What Marion doesn't know is that starlet Dixie Evans was in the car with Charlie, for whom fidelity has been a challenge. Dixie got a studio contract to shut her up, but she hasn't had any meaningful roles, and she's starting to make cracks about what she knows, especially after downing a few too many. Can Charlie escape—and does he deserve to?
It's a highly personal tale for Odets, who went to Hollywood at the peak of his career as a playwright and was widely considered to have betrayed his talent. This was compounded in the original production by the casting of John Garfield—a Group Theatre actor who became a big cheese in Hollywood and also was thought to have sold out—as Charlie. Odets' stark, uncompromising writing doesn't spare Garfield or himself; it's the melodramatic plot contrivances that keep this mea culpa from greatness.
Hughes has no such real-life frissons available to him, but he has cast the show well. Bobby Cannavale is a memorable Charlie, excelling at how the star shifts his presentation of himself depending on who is interacting with him. Likable, slick, pugnacious, impassioned, charming, cynical, self-dramatizing, Cannavale's Charlie is the picture of a man who once had a core and now can't find it. Marin Ireland's Marion is a mixture of quiet anguish and willed resolve, especially good with Marion's unshakable love for her husband. Rachel Brosnahan's Dixie is pert, petty, and in over her head.
Reg Rogers is glitteringly soulless as Smiley Coy, the man who does Hoff's dirty work; Ana Reeder creates an indelible impression as the boozy, promiscuous wife of the publicist who took the rap; C.J. Wilson makes the interesting choice of emphasizing the piety of screenwriter Hank Teagle, Charlie's best friend, who nevertheless has proposed to Marion; and Chip Zien shines as Charlie's avuncular Jewish agent. But standing out above all is Richard Kind's chilling Hoff. Sentimental, narcissistic, grandly benevolent, and grindingly ruthless, Kind hits every note perfectly in the kind of turn that is often remembered at Tony nomination time.
Despite its flaws, Odets' drama is filled with honesty and feeling, and Roundabout serves it to a fare thee well.
Presented by Roundabout Theatre Company at the American Airlines Theatre, 227 W. 42nd St., NYC. April 16–June 2. (212) 719-1300 or www.roundabouttheatre.org. Casting by Jim Carnahan.
Critic's Score: B+