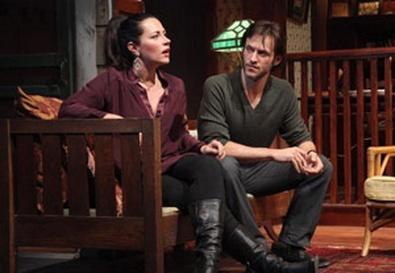 The husband-and-wife team of Heidi Schreck (playwright) and Kip Fagan (director) is behind "There Are No More Big Secrets," the latest offering from Rattlestick Playwrights Theater. Schreck, also an Obie-winning actor, has a gift for writing layered characters, and Fagan knows how to make the most of their interactions. Ultimately, though, this tale of an endangered Russian journalist and her American husband seeking refuge in rural New York with two of his former close friends, now married, never coheres.
From the play's first moments, when Maxine and Charles nervously greet Nina and Gabe at the door of a house in the woods overlooking the Delaware River, it's apparent something's amiss. During an alcohol-fueled evening, we learn that Gabe went to Russia 15 years earlier and has been largely out of touch since. Initially intent on being a journalist, he switched to businessman to support Nina's journalistic career. Now they're both on the run, she from political enemies and he from Russian gangsters to whom he owes money. We also find out that Nina and Gabe have a teenage daughter, Svetlana, at boarding school in Connecticut. Maxine and Charles both teach high school and care for Maxine's stroke-afflicted mother. Maxine and Gabe once had a thing with each other, even though she was engaged to Charles. Gabe's solution for the sticky situation was Russia. Nina's solution to Gabe's debt is to borrow from his two old friends. Maxine's solution to her unexciting marriage is to flirt with Gabe. Charles' solution has been to troll the Internet for anonymous sex.
Act 1 is all exposition, an extended act of foreplay. Life-altering events occur during intermission, and the situation on the ground is significantly changed three months later, when Act 2 begins with Svetlana's unannounced visit to the house. When her purpose becomes clear, we seem poised for the payoff to the hints of the supernatural with which Schreck has peppered the proceedings. But Schreck's solution isn't big enough, and as the lights fade on the final scene, it takes us a moment to realize that the play is over.
Fagan elicits five sharp performances. Dagmara Dominczyk dominates Act 1 as the bold, fiery, yet exhausted Nina, keeping us and the other characters guessing as to Nina's true motivations and intentions. Adam Rothenberg's Gabe is sexy and smart, but with a dark core of self-doubt. Christina Kirk finds myriad ways of keeping Maxine's scatteredness fresh. She's particularly touching in Act 2 when Maxine reads a never-opened letter she sent to Gabe in Russia only to discover that her memory of its contents is a lie. Charles is the most conventionally drawn character, but Gibson Frazier keeps him interesting by stressing his decency and capacity for empathy while suggesting an undercurrent of angst. Nadia Alexander makes a strong stage debut as Svetlana, giving the sullen teenager considerable edge combined with a deep emotional vulnerability.
The detailed realism of John McDermott's handsome interior unit set looks even higher-end than it is in contrast to the shabby state of Rattlestick's tiny theater. Fagan moves his actors around the restrictive stage intelligently, making very effective use of exits through the front door that continue into the audience. Daniel Kluger's sound design, a running accompaniment of the sounds of nature, too often evokes a Tarzan movie. Perhaps that's intentional, given the play's supernatural streak, but the result is confusing and distracting.
I'm not at all sure what Schreck means by her title, but I am sure of one thing: For all her talent, what she's trying to say here remains a big secret.
Presented by and at Rattlestick Playwrights Theater, 224 Waverly Place, NYC. Nov. 14–Dec. 11. Mon., Wed.–Sat., 8 p.m.; Sun., 3 p.m. (Additional performance Tue., Nov. 23, 8 p.m.; no performance Wed., Nov. 24, and Thu., Nov. 25.) (212) 868-4444 or www.smarttix.com. Casting by Calleri Casting.