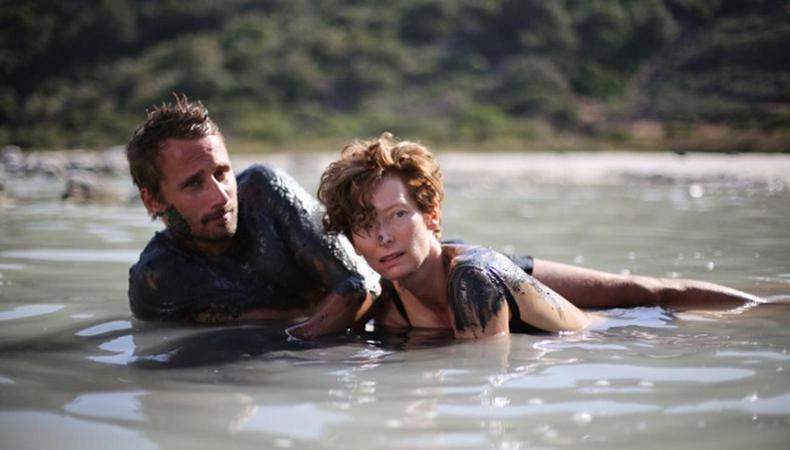 Director Luca Guadagnino's fondest memory of shooting "A Bigger Splash" was leaving the remote, volcanic island off the coast of Italy on which it was shot. The Italian-born director admittedly has a "torn relationship" with his work.
"I love to tell stories," he clarifies, "but the making is less comfortable. I like to be private, and being in the middle of a film crew with the least amount of privacy is the discomfort of shooting a movie. For me, the editing is the great moment when I can bring back ideas and realize the movie for the last time before I hand it to the audience."
Guadagnino doesn't necessarily love filming, but he loves to have filmed. His approach renders his projects sumptuous and captivating, often incorporating the food, the language, and the spirit of his surroundings almost as additional characters in his narrative.
His latest effort, the fourth film he's done with Tilda Swinton, is no different. Set on Pantelleria, "A Bigger Splash" begins as a getaway for his main characters: Swinton's Marianne, an aging, temporarily mute, world-famous rock star recovering from vocal surgery, and her partner, Paul (Matthias Schoenaerts), a documentarian and recovering alcoholic. But crashing their personal Eden minutes into the film is the record producer and Marianne's former flame Harry Hawkes (played brilliantly by Ralph Fiennes), who arrives unexpectedly with his daughter Penelope (Dakota Johnson).
"I decided to go for what I wanted instead of second-guess what I thought the studio would've wanted," says Guadagnino about his casting choices. "I saw 'The Grand Budapest Hotel,' and Ralph Fiennes is an actor I have always loved very, very, very much, but I didn't know he had this comedic levity inside him."
Harry, a rock-and-roll party animal, is "cheated around a very overblown, specific way of being British and English," explains Guadagnino. Developing the motormouth character meant an undoing of the stiff English propriety Fiennes is known for; Harry's dominating personality is conveyed in an explosive performance from the actor.
"I said to Ralph, 'I want someone completely unleashed,' and he was in the process of figuring out this unleashing of himself," explains Guadagnino. "For many years he was making these brooding, self-tortured characters, and in a way he was refreshed by my interest in him for this role. And stunned."
Rounding out the ensemble is Schoenaerts, whose supporting role in "The Danish Girl" begged for more screen time, and Johnson as a moody, sexually charged young woman. She makes the most of her vacation with her father (who she just met a year prior) by stirring the pot over Marianne and Harry's past and prodding Paul's addiction problems and suicide attempt.
Loosely based on the St. Tropez–set 1969 thriller "La Piscine," directed by Jacques Deray, "A Bigger Splash" paints a complex portrait of relationships, regret, and jealousy by breaking down communication.
The choice to change Marianne's occupation from an actor to a rock star unable to speak after vocal surgery was an organic choice for Guadagnino. And because of Swinton's physical mastery, both the gestures and silence of a woman with no voice speak volumes.
But making a film about miscommunication meant keeping the on-set conversations going. "You must listen to the other," says Guadagnino of his actors. "If you don't, better you don't do it. For me, to really understand who is in front of me and to speak to the identity of the person in front of me is crucial. Know your character and your actor—with their fragilities and their vanities and challenges and intelligence. That way everyone is in the same place, on the same level, ready to work from the spirit of camaraderie and achievement. I don't think you should ever judge."
Like this interview? Check out more from creators and Meet the Maker!