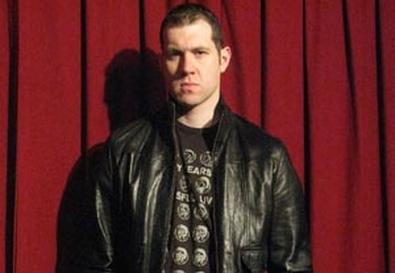 Don't be fooled by the title of Billy Eichner's new one-man show at Joe's Pub, because this gay comic isn't terrified of anything (certainly not of Hugh Jackman's handlers). But Eichner is angry—furious, in fact. When he focuses his rage, Eichner can be laceratingly funny, taking down the gay community with as much relish as he does the homophobes who won't grant him his civil rights. At last, there's a gay man in the public eye—well, he has been on E!—who isn't willing to put on a minstrel show by making anyone over or offering decorating advice. Nor is he willing to toe the party line, choosing instead to mock the gay community's ridiculous belief that they're just like straight people.
Sadly, director Benjamin Salka hasn't done much to keep Eichner on target. Vicious and very funny jokes about leather bars and gay marriage sit uneasily among gags on Oprah's weight and painfully clichéd jabs at Facebook and Twitter. The latter tired quips make Eichner seem like the funny guy you meet in a bar who eventually gets too drunk and shrill.
His evening of stand-up interspersed with songs owes a big debt to Sandra Berhard and Justin Bond, both of whom he acknowledges during a particularly potent attack on the Judd Apatow school of comedy. The songs aren't as successful as his sometimes startlingly original social commentary about being white in a post-Obama world. He does deserve satiric full marks for punking Pete Seeger's "Where Have All the Flowers Gone?" as "Where Have All the White People Gone?" Given time, Eichner could easily become the white, gay Richard Pryor; he's already figured out the alchemy that turns rage into humor.
Presented by and at Joe's Pub, 445 Lafayette St
.,
NYC
.
May 25
–
June 12. Mon
.,
June 1, 7:30 p.m
.;
Mon
.,
June 8, 7:30 p.m
.;
Fri
.,
June 12, 7:30 p.m
.
(
212
)
967-7555
.