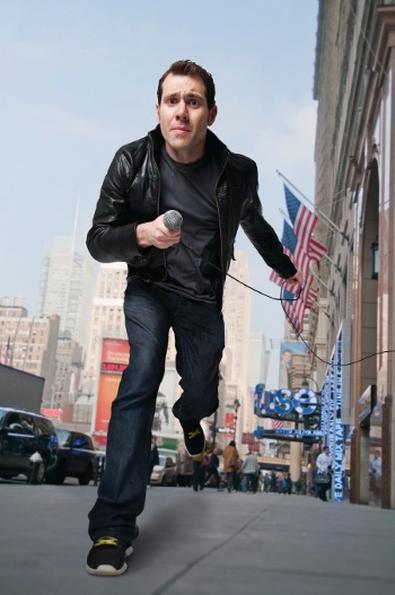 A self-proclaimed "total product of the Internet," comedian Billy Eichner is finally experiencing his big break. Galloping through the streets of New York City, ambushing and quizzing strangers on his pop culture game show "Funny or Die's Billy on the Street," both Eichner and his career have taken off—and neither is slowing down anytime soon.
Now in his third season, Eichner (who also appears on NBC's "Parks and Recreation") is able to comfortably recall a time when he wasn't an Emmy nominee, was accustomed to performing alone at Joe's Pub and Ars Nova, and when the idea of having stars such as Amy Poehler, Olivia Wilde, and Neil Patrick Harris as guests on his show was just as far-fetched as some of the answers New Yorkers give him.
Before the show was picked up by TV network Fuse, Eichner, 35, struggled through a grueling 10 years of doing improv, performing standup all over NYC, doing one-man shows, and making videos for anyone who would watch them. But he always knew it would happen. Eichner describes a series of "close calls," which he says "were frustrating at the time but enough to let me know I was close.
"It sucked," says Eichner, of the years between graduating from Northwestern with a theater degree and finally getting his own show. "I had pilots that didn't get picked up, or scripts that got bought but not turned into pilots, or someone was considering me for a role but then I wouldn't get it. All the typical things you hear about."
But the thing that really "saved" Eichner was his father, who passed away at 80 a few years ago. "I had an older dad for someone my age, which speaks even more to how supportive he was, 'cause he'd come to my live shows and I'd be loud and crazy onstage, but he'd always encourage me to keep going," he says.
Then, after years of taking improv classes at UCB and a "really odd, late-night standup comedy class with all these weirdos," Funny or Die came along, and "put their money where their mouth was," giving Eichner the funds to try out his game show. "I came back with the tape and they said, 'Yeah…this is going to work.' "
After pitching it to various networks, Eichner got the news he'd been waiting for: Fuse would go straight to series on the show.
Since then, Eichner has disproved producers' doubts. "For years I was taking the game show to other producers who were all big fans of mine, but they didn't quite believe that it would really hold up as a TV show, just because they couldn't visualize it," he says. "It took me awhile to figure out how it would, too, but now I think we've proven them wrong."
A prime example of what you can do with raw talent, creativity, and a screaming voice that never quits, Eichner has made himself a household name via unscripted interactions with average New Yorkers. "They have no warning whatsoever and you can see that on their faces, and that's why the show works," he says. "It's real. It's not fake-real."
From the mind of Eichner have come viral segments like "It's Debra Messing, You Gays!" and the Julia Roberts Obstacle Course—which Eichner says is a personal favorite—featuring comedian Rachel Dratch running through a "Double Dare"–like set of challenges based on Roberts' career.
Eichner says his own career would be nothing without the Internet, and that it's a resource that tremendously benefits actors, specifically.
"It gets harder and harder to stand out," says Eichner, "so do not just throw something up online thinking, Oh, this is good enough. If you're a comedian who wants to show some longevity, who wants to prove to the industry that you're a viable talent and not just some random YouTube weirdo, then you really have to make sure your videos are funny."
And take it from Eichner, because not too many people can comb the streets of New York yelling at strangers and get away with it.