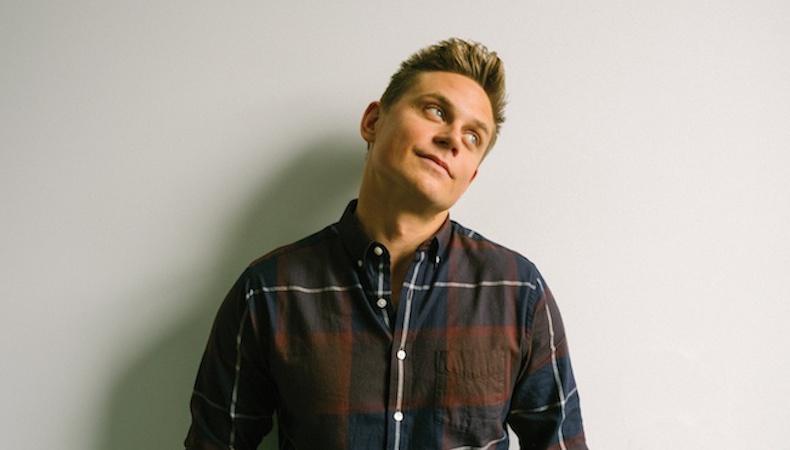 Billy Magnussen may have cut his teeth in New York's theater scene (and got a 2013 Tony nomination for Christopher Durang's "Vanya and Sonia and Masha and Spike" to prove it). But we've especially seen him popping up across film and television in the years since, namely on "The People v. O.J. Simpson: American Crime Story" as Kato Kaelin, in "Into the Woods" as Rapunzel's prince (he'll also play another prince, Prince Anders, in Guy Ritchie's live-action "Aladdin"), and now in "Game Night," as the affable and loyal friend Ryan. Magnussen swung by Backstage HQ earlier this month to discuss his latest R-rated comedy, reminisce on how he began acting in the first place, and offer insight on the audition room and how you can find similar successes within it.
Acting is all about collaboration.
"[Directors] John Daley and Jonathan Goldstein and [screenwriter] Mark Perez came up with this awesome script, and we just kind of played in that world. Me putting little colors to this character that they created is the trick as an actor. How do you make it breathe and live? I think to be a good artist, you have to be open to collaborating, and John and Jonathan were all about that. It was a really great ensemble."
He fell into acting after years of being an athlete.
"I was a big jock [in high school], but then I ripped a hamstring [and] couldn't take a gym class, and they threw me in an acting class. I remember seeing my high school production of 'Grease,' and being like, 'Oh, that's cool, man—I would love to try that.' And then I just kind of got into it. I joined the Thespian Society and I became a state student officer in Georgia. I don't know how I did that, either! And then someone recommended [the University of] North Carolina School of the Arts, to go and audition for it, and I was just fortunate enough that they let me in. I'm entirely indebted to the faculty at that program."
Magnussen's schooling taught him a lifelong lesson about acting.
"It's one thing to be confident and excited in yourself, but to have other people really support you and push you and invest in you, that's the best gift anyone can give you. That gift there has changed my life, and I feel ever-indebted to every teacher I've ever had. If you want me to drop a name—Bob Francesconi at UNCSA. He taught the [Jacques] Lecoq mask technique, and you can't write his class down. There's no rule book or anything, but he taught you to dream, basically, and that tool has been one of the most powerful tools that I've used in the progression of my career. Just to dream and imagine and play."
READ: 7 Movement Techniques All Actors Should Study
You can chart your own path as an actor.
"It's called show business, and there is a business to it of really cultivating or focusing what you want to do. Even when you don't have a 'name' or credibility yet, you still have the power to choose what you want to audition for or what you want to pursue. You have that power. When you're a young artist or whatnot, you constantly want to ask for permission from someone else. The truth is, what makes a good artist is going for it and living it and just making your choice yourself. That's the beautiful thing."
Magnussen has three tips to help you find success.
"There's no secret [to auditioning], it's all subjective. It's really chaotic because people are developing projects in the middle of auditioning it. If you can bring yourself to it, that's what people want to see. They just want to see an authentic person. If it's a specific person [you're auditioning to play], I would recommend doing research and figure out who the guy is and the story behind him. It's just being prepared to strike when opportunity arises. And don't ever burn a bridge anywhere."
Ready for the big screen? Check out Backstage's film audition listings!